(Story by Marco Stoovelaar; Photos by Freek Bouw/Phrake Photography & Rome Braves)




Ray-Patrick Didder hits first Spring Training-basehit; Gianfrance Wawoe added
Nederlands





FORT MYERS, Florida / PEORIA / PHOENIX, Arizona (USA) - On Sunday (March 5), Ray-Patrick Didder connected for his first Spring Training-basehit in his career, while Gianfranco Wawoe was added to the squad of the Seattle Mariners.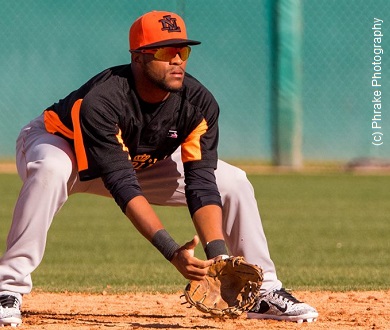 ...Gianfranco Wawoe playing for the Netherlands...
...Team during its stay in Arizona...
(© Photo: Freek Bouw / Phrake Photography)

With the addition of Wawoe, there have now been 15 players with a Netherlands passport, who have participated in Major League Spring Training this year. While the Seattle Mariners played two games today with two split-squads, Wawoe didn't play. Playing at home in Peoria, the Mariners lost 5-4 vs. Oakland Athletics. The other team traveled to Phoenix for a game against Los Angeles Dodgers and also lost, 7-3.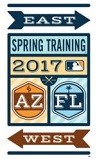 A week ago, Wawoe was on the roster of the Netherlands Kingdom Team during it 2-week stay in Arizona to prepare for the World Baseball Classic. Wawoe then took part in all five exhibition games the Orange squad played. He mostly played at second base, but also saw action as short stop and in leftfield. As Wawoe was not on the WBC-roster, he returned to the Minor League Spring Training-complex of the Seattle Mariners after the Netherlands concluded its stay in Arizona on Sunday, February 26.
Wawoe plays professionally since 2011 in the organization of the Mariners. Last season, he played in Single-A and batted .288. He collected 114 basehits, including 17 doubles and eight homeruns. Wawoe scored 72 runs and batted in 55. In 2015, Wawoe made his Spring Training-debut and then played in two innings. Last year, he participated in four Spring Training-games.
After the Major League-players who are on the Netherlands-roster for the Classic left the Spring Training-camps on Tuesday, Ray-Patrick Didder has been the lone Netherlands player who got into action in more than one game in the past few days. He played last Tuesday and Wednesday, then again on Saturday and today. There were three others, who also played, being infielder Juremi Profar (Texas Rangers), who played on Tuesday, catcher Spencer Kieboom (Washington Nationals) on Wednesday and pitcher Kenley Jansen (Los Angeles Dodgers) on Thursday. On Thursday, Kieboom was designated for assignment.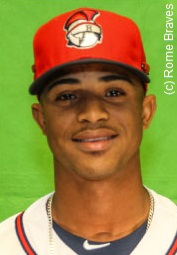 ...Ray-Patrick Didder...
(© Ph: Rome Braves)

Didder was assigned to the Major League-team of the Atlanta Braves on February 27 and made his Spring Training-debut the same day against Detroit Tigers. He grounded out in his lone at bat. The next day, Didder played again against St. Louis Cardinals, entering the seventh inning as new leftfielder, but didn't got an at bat. He again played the following day, this time against New York Yankees. In that game, Didder was a pinch-hitter in the eighth inning, struckout and played in leftfield in the ninth.

Didder got his next playing opportunity on Saturday in the game against Philadelphia Phillies. He played two innings defensively in rightfield, but got no at bat.

Today, Didder again was with the Major League-squad of the Braves for the road-game against Boston Red Sox in Fort Myers. Leading 1-0, Boston added two runs in the bottom of the fifth on back-to-back doubles by Andrew Benintendi and Mookie Betts.

With the Braves trailing 3-0 in the top of the sixth inning and two outs, Didder entered the game as pinch-hitter for Micah Johnson. Didder faced Robbie Ross, who had become the new pitcher for Boston this inning. Didder connected well and hit a double to register his first Spring Training-basehit. Moments later, Didder scored his first run when next batter Kurt Suzuki singled. It was to be the lone run Atlanta scored. Hereafter, Didder remained in the game as the new centerfielder.

Boston went on to win 11-1, thanks to an 8-run rally in the bottom of the seventh inning on seven basehits, including three runscoring doubles.

(March 5)

Related Articles:


Spencer Kieboom returns to Minors; Sicnarf Loopstok added. (March 2)


Kieboom starts for 'Nats'; Lithuanian pitches for Pittsburgh. (March 1)


Spring Training-debut Ray-Patrick Didder; Schoop homers. (February 27)


Jurickson Profar, Spencer Kieboom play first game; Juremi Profar added. (February 26)


Daniel Arribas & Chris Pieters make Spring Training-debut. (February 25)


Didi Gregorius homers in first Spring Training at bat. (February 24)


Xander Bogaerts first Dutch player in Spring Training-action. (February 23)