Pioniers controlled the game from the beginning and supported starting pitcher Lars Huijer with enough runs to register a comfortable win. Last season, Huijer was 10-2 and threw one complete game, also against DSS. On July 28, he threw all seven innings in an 11-0 win and then struckout eleven batters. Tonight, he threw his first complete 9-inning game at the highest level.

The Pioniers-defense turned a double play in the top of the first inning, then the offense opened the score moments later. With one out, Mervin Gario doubled off of starter Sander Helmendach and moved on a wild pitch. He then scored the first run on a grounder from Dudley Leonora.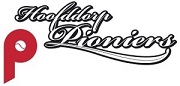 Pioniers added two runs in the third at bat. Brennan Nijhof led off with a walk, moved on a wild pitch and scored on an one-out double by Dudley Leonora. With two outs, the bases got loaded when Quintin De Cuba and Shurman Marlin both walked. Pioniers scored its next run when Helmendach threw another wild pitch. The bases were re-loaded when Sander Paap also walked, but this time, the home team left three runners behind.
Pioniers made it a 4-0 score in the bottom of the fourth inning. With two outs, Mervin Gario walked, moved to third base on a single by Dudley Leonora, then scored on the fourth wild pitch by Sander Helmendach. The last time a pitcher had four wild pitches in one game was in 2011 when it happened twice. On May 29 of that year, Nick Veltkamp (Kinheim) had four and on July 26, Gregory Gustina (Sparta-Feyenoord) became the second pitcher in the 2011 season who had four wild pitches.

The DSS-defense supported Helmendach with a double play in the fifth inning, but then saw Pioniers score two more runs in the sixth. With one out, Mark Smit singled and Brennan Nijhof doubled. A run was then scored on a single by Melvin Gario and that led to a pitching change. Robyn Clara took over, but was greeted with a runscoring single by Dudley Leonora, his third basehit in the game. Hereafter, DSS turned another double play, but Pioniers now led 6-0.
DSS hit only two basehits in the first five innings off of Lars Huijer. In the first, Kevin Nieveld singled with one out, then a double play followed. In the second inning, Jordan Illis also singled with one out, but he was caught stealing.
In the sixth inning, DSS got a runner on third base. With one out, Odion Gouverneur reached on an infield-hit, which was followed by a throwing error. Gouverneur was awarded an extra base on the overthrow, but then stranded on third base.
DSS scored its lone run in the top of the ninth inning. Kevin Nieveld led off with a walk, then moved on a wild pitch and a grounder. He scored on a grounder by Tino van Erk. Hereafter, another grounder followed that ended the game. In his first 9-inning complete game, Lars Huijer needed only 114 pitches.