(Story by Marco Stoovelaar; Photo by Henk Seppen)






Israel upsets South Korea in WBC-opener with 10-inning win
Nederlands



SEOUL (South Korea) - The opening game of the fourth edition of the World Baseball Classic on Monday (March 6) became a classic itself, as South Korea and Israel needed extra innings to decide their game. To make it even more classic, Israel registered a major upset by winning 2-1 in 10 innings. The game was attended by 15,470 spectators and took four hours and eleven minutes (!) to complete.
Four years ago, South Korea was eliminated in the First Round. In 2009, the team lost the Final to Japan after having finished in third place in the first Classic in 2006.
At Gocheok Sky Dome in South Korean capital Seoul, Israel made its WBC-debut and faced Asian powerhouse South Korea. In September last year, Israel became the 16th and final team to qualify for the Classic. At Brooklyn, New York, the fourth Qualifier ended with a convincing 9-1 win for Israel in the Final against Great Britain.

On Tuesday, Israel meets Chinese Taipei, while South Korea will face the Netherlands Kingdom Team. The Orange squad is playing against Israel on Thursday.
Major League-veteran Jason Marquis pitched four innings in the Qualying Final and today was the startig pitcher for Israel against South Korea. Marquis is one of the players of the Israeli roster with Major League or Minor League-experience, including outfielder Sam Fuld, first baseman Ike Davis, catcher Ryan Lavarnway and pitcher Josh Zeid.
The 38-year old Marquis pitched in the Major League for 15 years (2000-2013; 2015) for Atlanta Braves, St. Louis Cardinals, Chicago Cubs, Colorado Rockies, Washington Nationals, Arizona Diamondbacks, Minnesota Twins, San Diego Padres and Cincinnati Reds. The righthander pitched in 377 games and was 124-118 with 1,174 strikeouts. In 2004, he pitched in the World Series for St. Louis Cardinals.
Fuld played in the Majors for eight seaons (2007; 2009-2015) for four clubs and Davis plays in the Majors since 2010. Last year, he bated .214 in eight games for New York Yankees. Davis played for New York Mets in his first five Major League-seasons. Fuld played three seasfons for Tampa Bay Rays and Chicago Cubs. He last played for Oakland A's in 2015.
Lavarnway played five seasons in the Majors, including four with Boston Red Sox. He last played in the Majors in 2015 for Baltimore Orioles and Atlanta Braves. Reliever Zeid pitched in the Majors for Houston Astros in 2013 and 2014.

That something special was in the making became clear very early, as Israel took an 1-0 score in the second inning. After Korean starter Won-jun Chang had retired the side in the first inning, he walked lead-off hitter Nate Freiman in the second, then gave up a double to Zach Borenstein (Triple-A, Arizona Diamondbacks). Chang followed with a strikeout, but then got the bases loaded when he walked Ryan Lavarnway. Chang then also walked Tyler Krieger (Single-A, Cleveland Indians) and that gave Israel an 1-0 lead. It could have been more, but a strikeout and groundout ended the inning. Chang made his professional debut in 2004 with the Lotte Giants, but he now plays for Doosan Bears since 2015.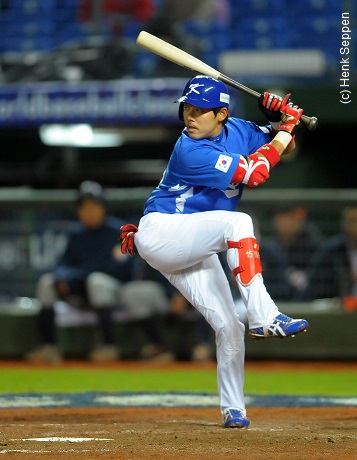 ...Yong-kyu Lee hitting for South Korea...
...during the 2013 World Baseball Classic...
(© Photo: Henk Seppen)

Jason Marquis threw three strong innings for Israel. He gave up a single in the second and third inning, but struckout four batters. In the bottom of the first inning, Marquis faced experienced lead-off hitter Yong-kyu Lee, who lined out to third. Lee is one of the veterans on the Korean squad. He plays professionally in the Korean Baseball Organization (KBO) since 2004 when he made his debut with LG Twins. Since 2014, Lee plays for Hanwha Eagles.

South Korea came alongside in the fifth inning. Zach Thornton (Triple-A, New York Mets), who relieved Marquis in the fourth, walked lead-off hitter Kyoung-min Hur, then hit Jae-ho Kim with a pitch. The 31-year old Kim is another veteran in the Korean squad, as he plays professionally in the KBO since 2004 for Doosan Bears. Hur plays for the Bears since 2012. Hereafter, Jeremy Bleich (Double-A, Phildelphia Phillies) took over the pitching. He began with a strikeout, but then gave up a runscoring single to Geon-chang Seo (pro since 2008, LG Twins) that made it an 1-1 tie. Two pop-outs ended the at bat.

South Korea had two baserunners again in the sixth, but this time a double play finished the at bat.

In the top of the seventh, Israel got the bases loaded. With two outs, Scott Burcham (Single-A, Colorado Rockies) singled, which led to a pitching change. New pitcher Hyun-seung Lee was greeted with a single from Sam Fuld and then walked Ty Kelly (Major League New York Mets). Lee made his professional debut in 2006 and currently plays for Doosan Bears. The inning ended when short stop Jae-ho Kim caught a line drive from Blake Gailen, who plays in an Independent League. In the bottom of the seventh, the Israeli defense turned another double play.

Israel got the bases loaded again in the eighth off of Chang-min Lim, who since 2009 pitches professionally and since 2013 for NC Dinos. With one out, Zach Borenstein walked, then pinch-hitter Ike Davis doubled. To create a force play, Ryan Lavarnway was walked intentionally and that loaded the bases. A force out indeed followed, as Borenstein was forced out at the plate on a grounder by Tyler Krieger, but that kept the bases loaded. Hereafter, Seung-hwan Oh took over the pitching and closed the at bat with a strikeout. Oh made his professional debut in 2005 in the KBO, then made his debut in the Japanese Majors in 2014. Last year, he made his Major League-debut with the St. Louis Cardinals.

In the bottom of the eighth, Tae-kyun Kim led off with a walk and Ah-seop Son singled with one out, resulting in runners on first and third base. Kim is a professional since 2001 and played in Japan in 2010-2011 for Chiba Lotte Marines. He returned to the KBO in 2012, where he plays for Hanwha Eagles. Son made is KBO-debut in 2007 and since then plays for Lotte Giants. He also played for South Korea in the 2013 WBC and the 2015 Premier12. At the Premier12, Korea won the title. Pinch-runner Jae-won Oh (who took over for Kim) then tried to score on a grounder towards third base, but was eliminated at the plate. Oh plays in the KBO for Doosan Bears since 2007.

As the ninth inning also remained scoreless, extra innings followed.

In the top of the tenth, Chang-yong Lim became the new Korean pitcher. The 40-year old righthander plays professionally since 1995 when he made his KBO-debut with Haitai Tigers. He then made his debut in Japan in 2008 playing for Tokyo Yakult Swallows. Lim also pitched in the Major League, making his debut in 2013 with the Chicago Cubs for whom he appeared in six games. Lim returned to the KBO in 2014 and since last year, he pitches for Kia Tigers.

With one out, Lim walked Ike Davis, then gave up a single to Ryan Lavarnway. With runners at the corners, Mike Meyers (Single-A, Boston Red Sox) was inserted as pinch-runner for Davis at third base. A squeeze-attempt by Tyler Krieger followed, but his bunt popped up and ended in an out. But hereafter, Scott Burcham singled through the middle. The ball was nicely fielder by second baseman Geon-chang Seo, but he had no play and with that, Burcham reached on an infield-hit, while Meyers scored to give Israel a 2-1 lead.

Josh Zeid, who had taken over as pitcher for Israel in the eighth inning, returned the to mound in the bottom of the tenth. After lead-off hitter Geon-chang Seo lined out, Zeid ended the inning and the game with two strikeouts to complete the stunning debut-performance by Israel.

As Jason Marquis and Josh Reid both threw less than 50 pitches today, they will be available to pitch again in Thursday's game against the Netherlands. When a pitcher throw 50 or more pitches, he is not eligible to pitch in the following four days. Pitchers who throw more than 30 pitches have to wait one day to become eligible again to pitch. In the First Round, pitchers are limited to 65 pitches per game, they can throw 80 in the Second Round and 95 in each game of the Championship Round. When a pitcher has reached the pitch-count, he is allowed to finish the batter he is facing at that moment.

(March 6)