Pioniers took the lead twice today, but was unable to take some distance, was outhit 8-5, but in the end it won with a 4-3 score.

Pioniers opened the score in the top of the first inning off of Mike Groen. With one out, Mervin Gario singled. With two outs, he stole second base and scored when a throwing error followed.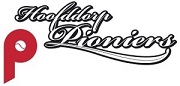 Pioniers-starter Chris Pfau was supported with a double play in the bottom of the first inning, but gave up the tying run in the second. With one out, the lefthander walked Jordan Illis, who then stole second base and moved to third on a grounder by Levine Gabriëls. Illis then scored the tying run on a following infield-hit by Mitchel Dautzenberg. While sliding into second base, Illis sustained a hamstring-injury. After scoring the run, he was taken out of the game out of precaution. With two outs, the bases got loaded when Thomas Bos struckout, but reached on a wild pitch. DSS left three runners behind when Pfau closed the inning with another strikeout. Leaving the three runners turned out to be important, as Pioniers re-took the lead moments later. This time to keep.

In the top of the third inning, Brennan Nijhof led off with a homerun for Pioniers to give his team a 2-1 lead. A week ago, Nijhof had hit his first homerun since 2014 and now, he hit his second homerun in three games.
Pioniers added two runs with two outs in the fifth inning. With one out, Brennan Nijhof walked and Mervin Gario singled, resulting in runners on second and third base. With two outs, Jeffrey Arends singled to bring in both runners and make it a 4-1 score.
In the bottom of the fifth, DSS narrowed the deficit to 4-2. Mitchel Dautzenberg led off with an infield-hit, moved on two grounders and scored on a single by rookie Devano Pieter.
In the eighth, DSS made it a 4-3 score off of reliever Glenn Wassink. Devano Pieter led off with a single and stole second base. He then scored on a single by Tino van Erk, who himself was eliminated at second base.
In the ninth, Maickel Rietel pitched for Pioniers. DSS threatened to come alongside, as lead-off hitter Djewi Appelman reached on an error and moved into scoring position via a sacrifice bunt by Levine Gabrëls. A pop-up followed and Rietel closed with a strikeout to end the game and earn a save.