(Story by Marco Stoovelaar; Photo by Henk Seppen)

Rachid Engelhardt joins HCAW for Urbanus Tournament
Nederlands



BUSSUM (Neth.) - Outfielder Rachid Engelhardt will wear the shirt of HCAW coming weekend during the 35th edition of the annual In Memoriam Charles Urbanus Sr. Tournament. HCAW will host the event at its site in Bussum on Saturday and Sunday and will be joined by L&D Amsterdam Pirates and Hoofddorp Pioniers. All teams will play two games on both Saturday and Sunday, with the first game starting at 10 AM.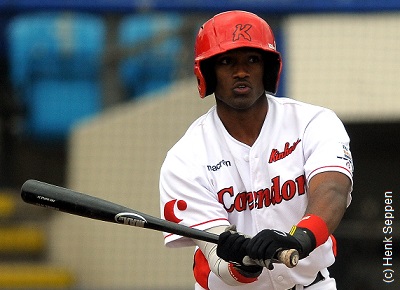 ...Rachid Engelhardt playing for Kinheim in 2013...
(© Photo: Henk Seppen)

Rachid Engelhardt, the brother of former Kinheim-slugger Bryan Engelhardt, played professionally the last three seasons in the organization of the Baltimore Orioles, but he was released last month. The 21-year old outfielder now has been added to the squad of HCAW for the upcoming tournament, which closes the exhibition season on Sunday. Next Thursday, the regular season opens and HCAW then will play its first game at Hoofddorp Pioniers. Engelhardt almost surely will be on the active roster of HCAW this season, but the paperwork has yet to be finalized. However, it was confirmed on Friday (April 7) that he will play for HCAW in the upcoming tournament in Bussum.

Engelhardt signed a professional contract with the Orioles on October 21, 2013 and played at the Rookie League-level in 2014, 2015 and 2016. In these years, Engelhardt played for the teams of the Orioles that are based in the Dominican Republic and play in the Dominican Summer League.
In his first professional season, Engelhardt batted .233 in 43 games, collecting 31 basehits, including five doubles, four triples and one homerun. He scored 16 runs and batted in 21.
The outfielder then played in 39 games in 2015, hittig .212 with five doubles, one triple and one homerun. He scored 21 runs, but batted in only seven.
Last year, Engelhardt played in 46 games and finished with a career-high .259 batting average with 36 basehits, including two homeruns. He scored 19 runs and batted in 13.
When Engelhardt indeed takes the field for HCAW coming Thursday, it will mark a comeback for him with the club. He played for HCAW in 2011 when he made his debut in the Dutch big league. Back then, he played in eight games.
In 2012 and 2013, Engelhardt played for Haarlem-based Kinheim. In his first season there, he batted .203, playing in 37 games. In 2013, the outfielder appeared in 21 games and closed the regular season with a .318 batting average.
(April 7)