(Story & Photos by Marco Stoovelaar)
IN MEMORIAM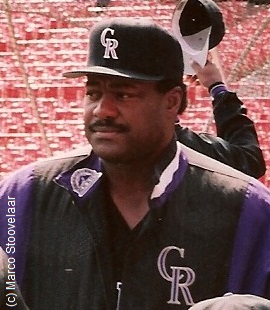 ...Don Baylor...
(1949 - 2017)

Former Major League Player/Coach/Manager Don Baylor passed away
Nederlands
AUSTIN, Texas (USA) - Former Major League player/coach/manager Don Baylor has passed away on Monday (August 7) at the age of 68 following a long battle with multiple myeloma, which was diagnosed in 2003.

Donald Edward Baylor played for 19 seasons in the Major League and was a well-respected powerhitter. As a first baseman, outfielder and designated hitter, Baylor played for the Baltimore Orioles (1970-1975), Oakland Athletics (1976), California Angels (1977-1982), New York Yankees (1983-1985), Boston Red Sox (1986-1987) and Minnesota Twins (1987), before closing his career with the Oakland Athletics in 1988. Baylor won the World Series in 1987 with the Minnesota Twins. He also played in the World Series in 1986 (Boston) and 1988 (Oakland). With that, Baylor became the first player in history to have played in three consecutive World Series for three different teams. In 2007-2009, Eric Hinske became only the second player to accomplish this feat.

Don Baylor was drafted by the Orioles in 1967. In 1970, Baylor led the International League (Triple-A) with 34 doubles, 15 triples and 127 runs, while playing for Rochester Red Wings. In september 1970, he made his Major League-debut. Before the start of the 1976 season, the Orioles traded Baylor to the Oakland Athletics, which brought another slugger to Baltimore, being Reggie Jackson.

1979 was one of his best seasons. Baylor led the American League with 139 runs batted in and 120 run scored, while playing for the Angels, with whom he won the title in the AL West. In that year, he played in the All Star Game and was named Most Valuable Player in the American League. He was the leading hitter in the American League in 1983, 1985 and 1986, winning the Silver Slugger Award.

In his playing days, Baylor was known for crowding the plate, which led to him being hit by a pitch frequently. With the Red Sox, he set the team record with 35 in 1986. In his long career, Baylor was hit a pitch 267 times, which gives him fourth place on the all-time list.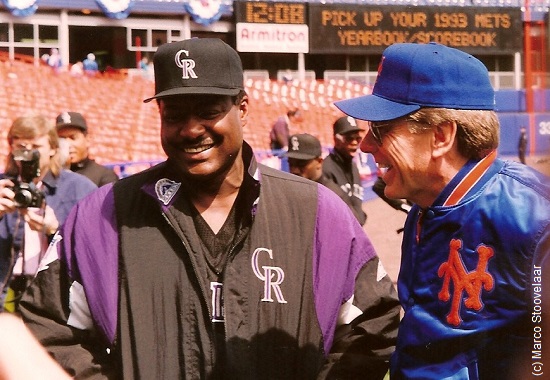 ...Don Baylor as Manager of the Colorado Rockies with...
...Jeff Torborg, Manager of the New York Mets, on April 5, 1993,...
...during interviews on Opening Day in Shea Stadium in New York,...
...before the very-first Major League-game of the Rockies...
(© Both Photos: Marco Stoovelaar)

In his 19 big league-seasons, Baylor played in 2,292 games, hitting 2,135 basehits, including 338 homeruns. He scored 1,236 runs and batted in 1,276.

After his playing career had ended, Don Baylor was the Hitting Coach of the Milwaukee Brewers (1990-1991) and St. Louis Cardinals (1992). He was then named Manager of the new expansion club Colorado Rockies for its inaugural season 1993. Baylor led the Rockies through 1998. In 1995, the Rockies won the Wild Card to reach the postseason for the first time. After the season, Baylor was named National League Manager of the Year.

In 1999, Baylor was the Hitting Coach of the Atlanta Braves and then was the Manager of the Chicago Cubs in 2000-2002. In following years, the former powerhitter remained active in coaching. He was the Bench Coach of the New York Mets (2003-2004), Hitting Coach of the Seattle Mariners (2005), Hitting Coach of the Colorado Rockies (2009-2010), Hitting Coach of the Arizona Diamondbacks (2011-2012) and Hitting Coach of the Los Angeles Angels of Anaheim (2014-2015).

To celebrate his return to the Angels, Baylor was involved in the festivities on Opening Day of the 2014 season as he caught the ceremonial first pitch, thrown by another former Angels-great Vladimir Guerrrero. However, a freak incident happened, as Baylor broke his right femur. While catching the ball, Baylor's leg moved and buckled up. Baylor was unable to stand on his leg and had to be escorted off the field. He underwent surgery the next day and returned as the team's Hitting Coach halfway the season.

Baylor was much-loved and had a warm personality. He always smiled, despite his illness in the past fourteen years. When he was on the field, he always worked with players trying to make them better. Don Baylor was elected into the Angels Hall of Fame in 1990.

(August 7)