(Story by Marco Stoovelaar)




Spencer Kieboom returns to Major League Spring Training
Nederlands




JUPITER / KISSIMMEE, Florida (USA) - Spencer Kieboom was back in the Major League Spring Training-camp of the Washington Nationals on Wednesday (March 8) and got into action in the road-game at the St. Louis Cardinals.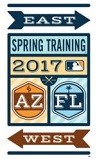 Kieboom began Spring Training on the 40-man roster of the Nationals. Last Thursday (March 2), Kieboom was 'Designated for Assignment' by the Nationals to make room on the roster for newly signed pitcher Joe Blanton. When a player is 'Designated for Assignment' , he is removed immediately from the 40-man roster. This is a contractual term, as most players will be assigned in these situations to a Minor League-team shortly thereafter. However, in order to be assigned to a Minor League-team, a player has to clear waivers. When a player is Designated for Assignment, he is put on waivers and from that moment on, he can be claimed by other teams in a 3-day period. When that doesn't happen, a player has 'cleared waivers' and the club then can proceed with its planned transaction. This also happened to Kieboom. After clearing waivers, on Tuesday (March 7), the catcher was outrighted to Syracuse Chiefs, the Triple-A team of the Nationals.
On Wednesday, Kieboom was assigned again to be with the Major League-team, but this time as an additional Minor League-player for the game against the Cardinals at Roger Dean Stadium. The son of former Dutch big league-catcher Alswinn Kieboom entered the game in the bottom of the seventh inning to become the third catcher for the Nationals. He led off the ninth inning at bat, but then popped out. The Cardinals won 9-3.
Ray-Patrick Didder also saw some action again on Wednesday. At Champion Stadium in Kissimmee, he played in rightfield and centerfield for Atlanta Braves in the home game against Philadelphia Phillies and grounded out in his lone at bat. Atlanta won 3-2.
(March 8)
Related Articles:


Didder hits first SpringTraining-basehit; Wawoe added. (March 5)


Spencer Kieboom returns to Minors; Sicnarf Loopstok added. (March 2)


Kieboom starts for 'Nats'; Lithuanian pitches for Pittsburgh. (March 1)


Spring Training-debut Ray-Patrick Didder; Schoop homers. (February 27)


Jurickson Profar, Spencer Kieboom play first game; Juremi Profar added. (February 26)


Daniel Arribas & Chris Pieters make Spring Training-debut. (February 25)


Didi Gregorius homers in first Spring Training at bat. (February 24)


Xander Bogaerts first Dutch player in Spring Training-action. (February 23)