(Story by Marco Stoovelaar)

DSS wins big against UVV
Nederlands



HAARLEM (Neth.) - DSS registered a big 17-5 victory against Pickles UVV on Saturday (April 8) in the first of two games. The two teams meet again on Sunday in Vleuten, starting at 2 PM.
UVV initially took an 1-0 lead in the first inning off of starter Mike Groen, but DSS came alongside in the third at bat off of starter Jurjen van Zijl.

In the fourth inning, DSS took a 4-1 lead, highlighted by a homerun by former UVV-player Omar Williams. From that moment on, the Haarlem-squad took more distance en route to a big win.
DSS added two runs in the fifth to lift the lead to 6-1, then rallied for six runs in the sixth off of new pitcher Jimmy Osinga.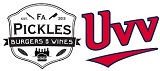 Trailing 12-1, UVV was able to do something back in its seventh, scoring three runs off of reliever Tim Halderman. However, DSS scored another run in the seventh and added four more in the eighth. UVV managed to score one more run in its eighth at bat.
Groen, who was credited with his third victory, threw six innings. His reliever Halderman then pitched the next two innings and Reggie Bomberg closed the game in the ninth.
Van Zijl (5 innings) and Osinga (one inning) were followed on the mound by lefthander Roland Laurens (two innings) and infielder Berend Ruben (one inning).
DSS collected a lot of basehits, including two by Jordan Illis, Mitchel Dautzenberg, Omar Williams and Tino van Erk.
Today's umpires were Henri van Heijningen and René Ras.
(April 8)
Related Articles:


UVV nips Twins in last at bat. (April 2)


Productive HCAW wins comfortable at DSS. (April 2)


DSS strikes in fifth inning against HCAW. (April 1)


Twins turns deficit into win against UVV. (April 1)


DSS unbeaten winner Van de Vegte Memorial. (March 26)


Game Amsterdam Pirates vs. UVV ends in tie. (March 26)


Pioniers, DSS, HCAW win on first day Van de Vegte Memorial. (March 25)


Amsterdam Pirates holds UVV scoreless. (March 25)


Pirates wins twice to win Loek Loevendie Tournament. (March 19)


Neptunus records comfortable win against UVV. (March 19)


UVV and Neptunus play scoreless exhibition game. (March 18)


Two games end in tie at Loek Loevendie Tournament. (March 18)


DSS nips Quick to register first exhibition-win. (March 12)


DSS empty-handed in exhibition game at Quick Amersfoort. (March 11)


Convincing exhibition win UVV against Orioles. (March 11)