(Story by Marco Stoovelaar; Photo by Mississippi Braves)




Curaçao-talent Ozzie Albies returns to action for Braves
Nederlands



KISSIMMEE, Florida (USA) - Ozzie Albies, the talented 20-year old infielder from Curaçao, played in his first game in six months on Thursday (March 9), as he was the lead-off hitter for Atlanta Braves against New York Yankees.
Last year, Albies, who is the number two talent in the organization of the Braves, played for Mississippi Braves (Double-A). In May and June, he also played 56 games for Gwinnett Braves in Triple-A. But he started and ended the season in Double-A. He batted .321 for Mississippi in 82 games, collecting 106 basehits, including 22 doubles, seven triples and four homeruns. The speedy Albies, who is a switch-hitter, scored 56 runs and batted in 33. With his .321 average, Albies not only was the best hitter of Mississipi, he led the entire Southern League and won the Batting Champion Award.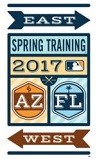 Overall last year in Double-A and Triple-A combined, he played in 138 games, batted .292 and registered 161 basehits, including 33 doubles. Albies scored 83 runs, batted in 53 and stole 30 bases.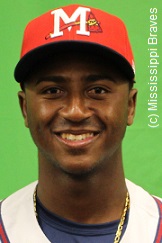 ...Ozzie Albies...
(© Photo:
Mississippi
Braves)

With Mississippi, Albies qualified for the Play-Offs. But on September 7, during one of the games in the Southern League Play-Offs, he fractured his right elbow while checking his swing. The past months, Albies was at the Spring Training Complex of the Braves in Florida to perform conditioning exercises, building up strength again in his right arm.

On Thursday, Albies made his comeback in the home-game of the Braves against the Yankees. He was the lead-off hitter and played at second base.

In the top of the first inning, Brett Gardner led off for the Yankees with a homerun. Later in the at bat, the Braves turned a double play that was started by Albies.

In the bottom of the first, Albies led off and singled in his first at bat in six months. Moments later, he scored the tying run all the way from first base when next batter Johan Camargo doubled. The latter gave the Braves a 2-1 lead scoring on an one-out double by Matt Kemp.

Albies, who turned 20 in January, had another assist in the second inning, then grounded out in his second at bat in the bottom of the third. He then left the game after four innings.

Last year, Albies played in 16 Spring Training-games for the Braves and made a very good impression. He batted .371 (13-for-35) with a double and homerun, scored eight runs and batted in five.

Albies was not the only player from the Netherlands in this game. Aruban Ray-Patrick Didder was the starting centerfielder for the Braves and was 0-for-1. He grounded out in the second inning, then had a sacrifice bunt in the fifth. Didder was replaced when the seventh inning began.

The Yankees won the game with a 8-7 score. Trailing 2-1 after five innings, the Yankees rallied for six runs in the sixth inning. The Braves got three runs back in its sixth when Matt Tuiasosopo hit a 3-run homerun, but the Yankees added a run in the seventh. Atlanta was able to score two more runs in the bottom of the ninth when Tuiasosopo homered again, but ended up just short.

(March 9)

Related Articles:


Spencer Kieboom returns to Major League Spring Training. (March 8)


Didder hits first SpringTraining-basehit; Wawoe added. (March 5)


Spencer Kieboom returns to Minors; Sicnarf Loopstok added. (March 2)


Kieboom starts for 'Nats'; Lithuanian pitches for Pittsburgh. (March 1)


Spring Training-debut Ray-Patrick Didder; Schoop homers. (February 27)


Jurickson Profar, Spencer Kieboom play first game; Juremi Profar added. (February 26)


Daniel Arribas & Chris Pieters make Spring Training-debut. (February 25)


Didi Gregorius homers in first Spring Training at bat. (February 24)


Xander Bogaerts first Dutch player in Spring Training-action. (February 23)