Italy vs. México
Pool D is played at the Estadio de Béisbol Charros de Jalisco in the city of Zapopan, which is part of the Guadalajara Metropolitan Area, located in the Mexican state of Jalisco. The stadium is the home of Charros de Jalisco of the Mexican Pacific League, which has a Triple-A Minor League-designation.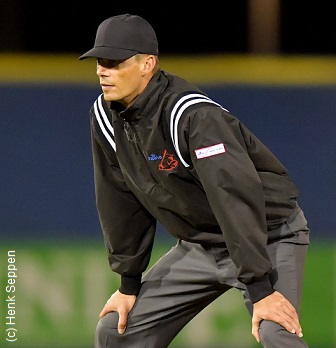 ...Dutch umpire Winfried Berkvens...
(© Photo: Henk Seppen)

The stadium, which also is used for athletics, was built for the Pan American Games in 2011. During the event, it hosted all athletics competitions. Thereafter, it was used as a concert venue and also was turned into a basebal-stadium.

In this Pool, Dutch umpire Winfried Berkvens is one of the international umpires. In today's game, he was at third base in a crew that included American Major League-umpires Dan Bellino and Doug Eddings. The fourth crewmember was Santos Castillo (Dominican Republic). Bellino was behind the plate, Eddings at first base and Castillo at second base. The fifth and sixth members in the 'México-crew' are Michael Ulloa from Spain and MLB-Umpire Quinn Wolcott. Bellino and Ulloa also officiated in the WBC four years ago. Bellino is a Major League Umpire since 2011 Eddings is a Major League-veteran and joined the MLB-staff in 1999 and Wolcott joined in 2014.

In the Italy vs. México game, six homeruns were hit. Four of them were hit by Italian players, accounting for five runs. The two Mexican homeruns were solos.

In the top of the first inning, Esteban Quiroz led off the game with a homerun to give México a quick lead off of starter Alex Maestri, who pitched professionally in the Minor Leagues in 2006-2010. However, in the bottom of the first inning, with one out, John Andreoli (Triple-A, Chicago Cubs) homered for Italy off of starter Yovani Gallardo, who last season was 6-8 in 23 starts for the Baltimore Orioles.

México re-took the lead by scoring a run in the third, then added two more in the fourth, one of them on a homerun by Japhet Amador. Trailing 4-1, Italy struck in the bottom of the fourth. With one out, Daniel Descalso (Major League, Arizona Diamondbacks) singled, then Rob Segedin (Major League, Los Angeles Dodgers) followed with a homerun. With two outs, Chris Colabello also homered to make it 4-4 tie. Last year, Colabello played in 10 Major League-games for the Toronto Blue Jays for whom he played in 110 games during the 2015 season.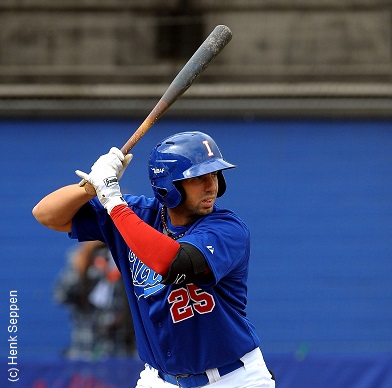 ...Chris Colabello won the European title...
...with Italy at the European Championship...
...2012 in the Netherlands...
(© Photo: Henk Seppen)

México answered with three runs of its own in the top of the fifth off of new pitcher Pat Venditte, who throws both lefthanded and righthanded, which he also did in this inning, depending on the side the hitters batted from. Venditte started the inning lefthanded, but hit lead-off hitter Esteban Quiroz, then gave up a single to Alex Verdugo. Venditte then turned righthanded and struckout Brandon Laird (Major League 2011-2013), then thew lefthanded to Major League-veteran Adrián González, who flied out. González plays in the Majors since 2004 and since 2012 for the Los Angeles Dodgers. As a righthander, he gave up a 2-out single to Japhet Amador which loaded the bases. Venditte put his glove on his other hand again to face next batter Efren Navarro (Major League 2011-2015), but he walked him and that gave México a 5-4 lead. With the bases still loaded and now throwing righthanded again, Venditte gave up a 2-run double to Luis Alfonso Cruz (Major League 2008-2013) that lifted the Mexican lead to 7-4. Venditte then closed the inning lefthanded and got a flyout from Sebastian Elizalde (Double-A, Cincinnati Reds). Last year, Venditte appeared in eight Major League-games for the Toronto Blue Jays, who then traded him in August to the Seattle Mariners, where he pitched in seven more games.

In the bottom of the fifth, Italy got one run back when Drew Butera led off with a homerun. Since 2010, Butera plays in the Major League. During the 2015 season, he was traded to the Kansas City Royals with whom he won the World Series that year. Butera is the son of former Major Leaguer Sal Butera.

In the top of the seventh, México got the bases loaded with two outs, then Sebastian Elizalde delivered a 2-run single that made it a 9-5 score.

In the top of the ninth inning, Jordan Romero (Triple-A, Toronto Blue Jays) took over the Italian pitching from reliever Tommy Layne and retired the side, including two strikeouts. Last year, Layne pitched in 63 Major League-games for the Boston Red Sox and New York Yankees.

With a 9-5 lead in the bottom of the ninth inning, México appeared to have a comfortable lead. However, Italy staged a stunning comeback and rallied for five runs with no outs to win 10-9! And that's what makes baseball (and softball) such a beatiful and attractive sport! Anything can happen at any moment. Like the legendary Yogi Berra always stated: ,,It ain't over 'till it's over''. No game is over before the final out is recorded! That was underscored again today by Italy.

Roberto Osuna (Major League, Toronto Blue Jays) took the mound for México in the bottom of the ninth. He took over from Sergio Romo, the wellknown closer of the San Francisco Giants, who recently signed a contract with the Los Angeles Dodgers. Osuna gave up three consecutive doubles. First, a lead-off double to Francisco Cervelli (Major League, Pittsburgh Pirates), who was then replaced by pinch-runner Sebastian Poma, the son of wellknown former Italian National Team-player Gianguido Poma. Cervelli plays in the Majors since 2008. Hereafter, Chris Colabello doubled, then Alex Liddi delivered a 2-run double that narrowed the deficit to 9-7. Liddi played in the Majors in 2011-2013 (Seattle Mariners) and last year, he played in México. The bases then got loaded when Drew Butera reached on an error and Drew Maggi walked. That all led to a pitching change, as Óliver Pérez was brought in to take over from Osuna. The 35-year old lefthanded Pérez plays in the Majors since 2002. Last year, he threw in 64 games for Washington Nationals. Pérez was greeted with a runscoring single by Brandon Nimmo, who last year made his Major Legue-debut playing for New York Mets. With the bases still loaded, John Andreoli singled through the middle. That brought in Butera to score the tying run, but Maggi also was waved home and scored the winning run sliding head-first across home plate. And that ended a very excited game!