Netherlands vs. Israel
The first baseball-game in history between the National Teams of the Netherlands and Israel also initially was a clash between two veteran righthanders. 38-year old Jason Marquis started fot Israel and 42-year old Rob Cordemans took the mound for the Netherlands. Marquis pitched 15 seasons in the Major League (2000-2013; 2015) for nine different teams. Cordemans has 23 seasons in the Dutch Major League in his luggage, pitching for four different teams. The righthander threw the first twelve years in his career for Neptunus. Last year, he completed his seventh season for Amsterdam Pirates, for whom he will pitch again this year. In his impressive career, Cordemans won 176 games (all-time record) and struckout 1,859 batters. In his 15 big league-seasons, Marquis threw 1,174 strikeout in 1,968 1/3 inning and won 124 games.

Israel is compiled for American players, who all play professionally in either the Major League or Minor League, led by several veteran players.
...Netherlands Manager...
...Hensley Meulens...
(© Photo: Henk Seppen)

Orange Manager Hensley Meulens made three changes on today's starting line-up. He switched Andrelton Simmons from short stop to designated hitter, while Didi Gregorius was the short stop after having been the DH in the previous two games. Yurendell de Caster started at first base instead of Curt Smith.

Marquis, who also started the first game for Israel against South Korea, retired the first batter he faced, but then got two baserunners. Jurickson Profar singled and Xander Bogaerts walked. Hereafter, Wladimir Balentien drove the ball into centerfield where it was caught by centerfielder Sam Fuld. However, Profar was on his way to the plate and was eliminated after rounding third base by first baseman Nate Freiman, who had moved there and completed a double play.

Israel was more successful in its first at bat off of Cordemans. With one out, he walked Ty Kelly (Major League, New York Mets), then gave up a single to Ike Davis (7 years Major League, last year New York yankees). Next batter Nate Freiman (2 years MLB, last year Triple-A) then delivered a runscoring double that opened the score. Davis advanced to third base and scored the next run on a following grounder by Zach Borenstein (Triple-A, Arizona Diamondbacks). This brought Freiman to third base and he also scored, as Ryan Lavarnway (5 years MLB) produced a runscoring single to lift the lead to 3-0. The bases then got loaded when Cody Decker (8 games MLB, last year Triple-A) singled and Tyler Krieger (Single-A, Cleveland Indians) walked, but Cordemans then closed with a strikeout to end the inning.

Lefthander Jake Kalish (Single-A, Kansas City Royals) took over the Israeli pitching in the second inning. He gave up an one-out single to Didi Gregorius, but a pop-fly and strikeout followed.

Orange Manager Hensley Meulens also went to the bullpen in the second inning, as Juan Carlos Sulbaran took over for Cordemans. He walked lead-off hitter Sam Fuld (8 years Major League). Sulbaran struckout the next two batters and a flyout ended the at bat.

The Netherlands Kingdom Team got on the board in the top of the third inning off of new pitcher Joey Wagman (Double-A, Oakland A's). The righthander walked lead-off hitter Randolph Oduber and then gave up an one-out double to Jurickson Profar. Xander Bogaerts then grounded out, but that enabled Oduber to score and narrowed the deficit to 3-1.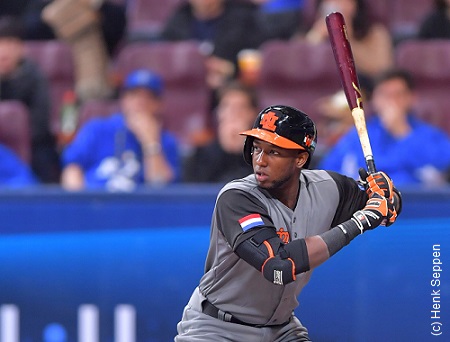 ...Jurickson Profar was 3-for-3 (two doubles) today,...
...but he also was eliminated twice on the basepaths...
(© Photo: Henk Seppen)

Israel got on the bases again in its third at bat. Zach Borenstein led off with a single and Ryan Lavarnway walked, but as three outs followed.

In the top of the fourth, lefthander R.C. Orlan (Single-A, Washington Nationals) became the fourth pitcher for Israel. Orlan, who in 2014 and 2015 played in Single-A in the same team of Dutch/American catcher Spencer Kieboom, retired the side.

In the bottom of the fourth, Sulbaran returned to the mound for this third inning. With one out, he walked Ty Kelly and with two outs, he walked Nate Freiman. That led to a pitching change, as lefthander Jim Ploeger took over. He got a force play-grounder that ended the at bat.

For the fifth time, another pitcher took the mound for Israel in the fifth inning. This time, it was righthander Zack Thornton (Triple-A, New York Mets). He also retired the side, including two strikeouts.

Orlando Yntema became the fourth Dutch pitcher in the bottom of the fifth. He was greeted with a lead-off single by Ryan Lavarnway and he walked Tyler Krieger with one out. No additional runs were given up, as Yntema followed with a strikeout, then a grounder accounted for the third out. But Israel still led 3-1.

As was expected, another pitcher entered the game for Israel in the sixth. Lefthander Alex Katz (Single-A, Chicago White Sox) saw the Dutch reach base again for the first time since the third inning. Jurickson Profar led off with his second double in the game, a line drive into rightfield. Profar unsuccessfully tried to stretch his double into a triple, as he was eliminated at third base (9-6-5). After next batter Xander Bogaerts flied out, Wladimir Balentien walked and Jonathan Schoop singled, but they stranded when Didi Gregorius flied out.

Another pitching change also followed for the Netherlands in the bottom of the sixth inning. Lars Huijer took the mound, but ran into problems quickly, as he got the bases loaded. Lead-off batter Ty Kelly reached on an error by second baseman Jonathan Schoop, then Ike Davis walked. After the two runners had advanced on a wild pitch, the bases got loaded when Huijer hit Nate Freiman with a pitch. Hereafter, Huijer recovered. He got a double play grounder by Zach Borenstein, but that also produced the fourth Israeli run. Huijer closed with a strikeout, but Israel now led 4-1.
...Didi Gregorius was today's short stop for the Orange squad...
...Here, Gregorius forces out Ryan Lavarnway in the 3rd inning...
(© Photo: Henk Seppen)

Righthander Dylan Axelrod (5 years MLB, last year Triple-A , Miami Marlins), the seventh Israeli pitcher, hit lead-off hitter Yurendell de Caster with his second pitch in the seventh inning. De Caster didn't stay on the bases long, as next hitter Dashenko Ricardo grounded into a double play. Randolph Oduber followed with a grounder to make it another quick Dutch at bat.

In the bottom of the seventh, Sharlon Schoop made his first appearance, as he took over in centerfield for Jurickson Profar. Also, Tom de Blok became the sixth Dutch pitcher and did well. After a pop-out, De Blok struckout a batter, but he then gave up a single to Scott Burcham (Single-A, Colorado Rockies). However, he tried to advance to second base and was eliminated there.

In the top of the eighth inning, the Orange squad again got runners into scoring position off of new pitcher Jeremy Bleich, who last year pitched in Double-A/Triple-A for the Philadelphia Phillies, threw in an Independent League also in the Dominican Republic. With one out, the lefthander saw Sharlon Schoop reach on an error, then walked Xander Bogaerts. That led to another pitching change, as closer Josh Zeid was brought in. Zeid (2 years MLB, last year Triple-A, New York Mets) threw the final three innings in the first game against South Korea and then was the winning pitcher. The righthander got the bases loaded, as he walked Wladimir Balentien. Next batter Jonathan Schoop then grounded towards second base. However, a throwing error followed in the attempt to force out a runner and so, a run was scored and the bases remained loaded. The inning then ended when Didi Gregorius grounded into a double play.

New Dutch pitcher Loek van Mil gave up a lead-off single to Sam Fuld in the bottom of the eighth inning. With one out, he advanced on a wild pitch, but Van Mil followed with a strikeout. Another wild pitch brought Fuld to third base, then Nate Freiman walked. Israel left runners at the corners, as Van Mil closed with a strikeout.

Josh Zeid, who was scheduled to pitch the ninth inning for Israel, but already entered the game in the eighth, returned in the ninth. With that, he became the first Israeli pitcher tonight to throw in two different innings. Zeid retired the side and closed the game with a strikeout to earn a save.

With that, Israel remained unbeaten and finished in first place in Pool A, while the Netherlands finished in second place.

The following players got into action:
Andrelton Simmons (DH, 0-for-4, strikeout), Jurickson Profar (CF, 3-for-3, 2 doubles), Sharlon Schoop (CF, 0-for-1, run), Xander Bogaerts (3B, 0-for-2, RBI, 2 walks), Wladimir Balentien (RF, 0-for-2, 2 walks), Jonathan Schoop (2B, 1-for-4, RBI, strikeout), Didi Gregorius (SS, 1-for-4), Yurendell de Caster (1B, 0-for-3), Dashenko Ricardo (C, 0-for-4, 2 strikeouts), Randolph Oduber (LF, 0-for-3, run, walk, strikeout).