(Story by Marco Stoovelaar; Photos by Henk Seppen, Robert Bos & courtesy of Oliver Severino van der Wijst)


Oliver van der Wijst Severino signs professional contract with Astros
Nederlands



AMSTERDAM (Neth.) - Infielder Oliver van der Wijst Severino will soon travel to the Dominican Republic to start a professional career in baseball. The talented player signed a 7-year contract with the Houston Astros on Thursday (March 9).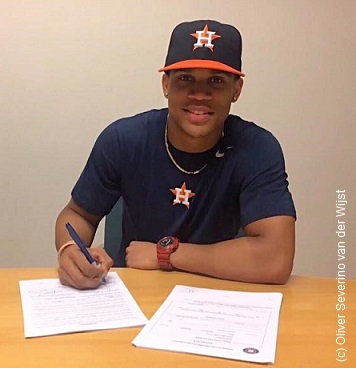 ...Oliver van der Wijst Severino signed a...
...7-year contract with Houston Astros...
(© Photo published with permission)

Van der Wijst Severino, who turned 19 last month, made his debut in the Dutch Major League in 2014. Back then, he was only 16 years old and played in the Rookie League-team of L&D Amsterdam Pirates. He was recalled to the big league-squad and added as an additional player for a road-game against HCAW in Bussum on Thursday, May 15.

In the evening, Van der Wijst entered the game in the top of the eighth inning as pinch-hitter for Roelie Henrique and he immediately hit himself into the record-books. Facing rookie pitcher Daley Paalvast, Van der Wijst Severino connected well on the third pitch he saw and singled in his first-ever big league-at bat. He would advance on a following single by Michael Duursma and moved to third base when Remco Draijer walked and the bases got loaded. However, all three would be left behind. Amsterdam Pirates won the game 6-5. Van der Wijst Severino stayed in the game and played at second base in the eighth and final inning of the game. It would be his lone at bat in the Dutch Majors that season.
After the 2014 season, Van der Wijst Severino transfered to Kinheim. He then played the entire 2015 season in the Rookie League-team of the Haarlem-based club. Last year, Van der Wijst Severino returned to the Dutch big league. This time, he played in his first full season at the highest level when he was an infielder for Kinheim. In the 2016 season, Van der Wijst Severino played at third base, but he signed with the Astros as a short stop.
Last year, he played in 27 regular season-games and batted .173 (14-for-81) with three doubles and three triples. He scored 11 runs and batted in seven, while stealing two bases. Defensively, his 58 assists were third-best in the team. After the 2016 season, Van der Wijst tranfered to Hoofddorp Pioniers with some other players from Kinheim, which withdrew its team from this years big league.
Van der Wijst Severino: ,,This is a dream come true. But is also is only a small part of my big dreams. I want to reach the Majors and then stay in there for a long time.''
...Oliver van der Wijst Severino...
...playing for Kinheim in...
...the 2016 season...
(© Photo: Robert Bos)

In about two weeks, the infielder will travel to the Dominican Repulic. There, he probably will be assigned to the Rookie League-team of the Astros based there.

Van der Wijst Severino: ,,It is a good feeling that you know that you will get your chance. But it will not be different. Being a professional now doesn't mean that I don't have to do nothing anymore. It means that I have to work harder and practice more to get better and stronger than I am now to realize my dreams.''

For some young, talented newly signed players, it might seem a problem of playing in the Dominican Republic, as the Spanish language might be a barrier. Not so for Severino van der Wijst. ,,Spanish is my mother-language, so that is no problem'', he said. ,,So it will not be difficult to play there. But I will have to adjust to the pitches of 97 mph.''

Last year, Van der Wijst Severino played for the Netherlands Junior Team, which captured the title at the European Chaampionship in Gijon (Spain). He played in all six games and led the squad with a .500 batting average (12-for-24), 12 basehits and 11 runs scored. His seven runs batted in were second-best in the team.

After completion of his fine (international) season, Van der Wijst won the Ron Fraser Award in October, the award which is handed out annually to the most talented youth-player. He became the eighth Kinheim-player in history to win this award, but the first since 2009.

In 2015, he also played for the National Junior Team that won the Silver Medal at the European Championship in the Czech Republic. Two years earlier, in 2013, Van der Wijst Severino also won an European title when he played for the Netherlands Cadets Team, which then captured the title in Sweden.

Last year, Van der Wijst Severino was scouted during the MLB European Elite Camp in Regensburg (Germany). This led to an invitation for him to participate with the MLB World Select Team in the Arizona Senior Fall Classic,which is one of the most watched events by professional scouts. Last month, he was offered a contract during a try-out in the Dominican Republic.

(March 9)