UVV took an early 2-0 lead, trailed 3-2, but came alongside in the sixth. UVV then led 5-4 after seven innings, but failed to hold onto it and lost 7-6.

UVV opened the score in the first inning off of starter Donny Breek. With one out, Bryce Cherry doubled, moved on a 2-out single by Sergino Martis and scored on a single by Tijmen Takke.

UVV doubled its lead in the third inning. Lead-off hitter Cecil Comenencia reached on an error and stole second base. He then advanced on a flyout and scored on a sacrifice fly by Bryce Cherry.

The DSS-offense was held scoreless in the first four innings. DSS got on base in each of these at bats, but stranded six runners, including runners on second and third base in the second inning.

DSS then scored three unearned runs in the top of the fifth inning. With one out, Tommy van de Sanden reached on an error, then Koen Halderman walked. A single by Omar Williams and a grounder by Tino van Erk tied the score, then Jordan Illis gave DSS a 3-2 lead with his third single in this game. Williams and Illis played for UVV last season.
UVV came alongside in the bottom of the fifth when Cecil Comenencia tripled with one out and scored on a wild pitch.
In the sixth, DSS re-took the lead off of new pitcher José Moreno. Levine Gabriëls led off with a double, moved on a bunt-single with one out by Mitchel Dautzenberg and scored on a grounder by pinch-hitter Damian Melis.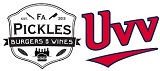 The score changed again in UVV's favor in the bottom of the sixth, also after a pitching change, New DSS-pitcher Lars Vogelaar gave up a lead-off double to Julian Goins, who moved on a wild pitch and scored the tying run on a 2-out single by Steven van Reem. Hereafter, the bases got loaded when Bered Ruben also singled and Brandon Rijnbergen walked. When next batter Rick Kuipers also walked, UVV took a 5-4 lead. Vogelaar closed with a strikeout and so, UVV left three runners behind.
A scoreless seventh inning followed. In this at bat, DSS got the bases loaded with no outs when Omar Williams, Tino van Erk and Jordan Illis singled, but hereafter, a double play and strikeout followed.
DSS then took the lead for the third time in the eighth at bat. With two outs and Damian Melis (fielder's choice) on base, Koen Halderman singled and that brought in new pitcher Kevin van Veen. He was greeted with a 2-un double by Omar Williams that made it 6-5 in favor of DSS.
The Haarlem-squad added an insurance run in the ninth. Kevin Nieveld then walked with one out and went on to score with two outs when Sven van de Sanden reached on an error.
UVV managed to score one more run in its ninth off of closer Reggie Bomberg. With two outs, Bryce Cherry struckout, but reached on a wild pitch. He later scored when Sergino Martis reached on an error.
UVV collected 16 basehits, including four by Mitchel Dautzenberg and Jordan Illis.