(Story by Marco Stoovelaar; Photo by Henk Seppen)




Cuba advances to Second Round WBC; Australia eliminated
Nederlands



TOKYO (Japan) - Cuba nipped Australia 4-3 on Friday (March 10) in the final game for both teams to decide the ranking in Pool B. With the win, Cuba became the second team to qualify for the Second Round, joining pool-winner Japan. With the loss, Australia was eliminated. Australia also had been eliminated in the First Round in the previous three Classics, while Cuba advanced to the Second Round for the fourth consecutive time.

Cuba and Japan now will continue in Pool E, which also will be played in Tokyo. They will be joined by Israel and the Netherlands Kingdom Team, who finished in first and second place respectively in Pool A, which ended on Thursday in Seoul (South Korea).
In the evening, Pool B ended with a 7-1 win for Japan against China. With that, Japan remained unbeaten, while China stayed winless.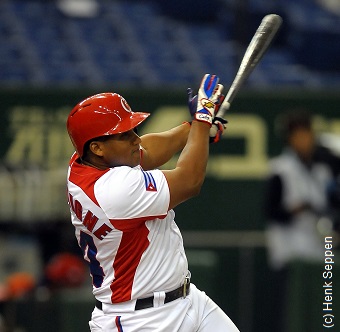 ...Alfredo Despaigne hitting for Cuba...
...during the 2013 WBC...
(© Photo: Henk Seppen)

It was veteran Alfredo Despaigne who decided the game with one mighty swing, as he hit a grand slam homerun in the fifth inning. That accounted for the four Cuban runs and the victory!

After four scoreless innings, Australia opened the score in the top of the fifth inning. Mitch Dening led off with a walk, then stole second base with one out. Moments later, with two outs, he scored on a single by Logan Wade.

In the bottom of the fifth inning, Cuba struck. Lachlan Wells took over the Australian pitching and struckout Frank Morejon and Yoelqui Cespedes. Hereafter, he got the bases loaded when he gave up singles to Roel Santos and Alexander Ayala, then walked Frederich Cepeda. That brought Alfredo Despaigne in the batter's box. With a 2-1 count, the powerhiter drilled the ball into deep left-centerfield for a grand slam homerun! Since 2014, the Cuban played in the professional Japanese competition for Chiba Lotte Marines. This year, he will play for Fukuoka SoftBank Hawks, where he will be a teammate of Dutch pitcher Rick van den Hurk. Earlier this year, Despaigne played in the Cuban Finals for Granma, which captured the Championship-title. After Despaigne's homerun, Dushan Ruzic took over the Australian pitching. He pitched some seasons in the Dutch big league for Neptunus. The righthander closed the inning, then was relieved in the next at bat.

Australia got a run back in the top of the seventh inning when Trent Oeltjen homered with one out. They narrowed the deficit to 4-3 in the eighth. With two outs, Luke Hughes doubled and scored after a pitching change on a following single by Mitchell Dening. Tim Kennelly also singled, but the two runners stranded, as reliever Livan Moinelo closed the inning by striking out Trent Oeltjen.

In the top of the ninth, veteran pitcher Miguel Lahera closed the game for Cuba. After a flyout, he struckout the next two batters to end the game.

In the evening, Japan won 7-1 against China. Japan led 5-1 after three innings, then added two runs in the seventh at bat.

In the second inning, Seiji Kobayashi hit a 2-run homerun, in the third, Sho Nakata hit his second homerun of the tournament.

(March 10)

Related Articles:


Italy wins opener on walk-off single; Dominicans win big. (March 9)


Netherlands empty-handed vs. Israel; finishes 2nd in Pool. (March 9)


Orange in 2nd Round WBC after walk-off win; Israel also in. (March 8)


Netherlands opens WBC with shutout vs. South Korea. (March 7)


Israel upsets South Korea in WBC-opener with 10-inning win. (March 6)


Netherlands Team closes WBC-preparations with loss. (March 5)


Netherlands Team wins big in Korean exhibition game. (March 3)


Netherlands closes exhibition series in Arizona with loss. (February 25)


First game Netherlands vs. Twins ends in tie. (February 24)


Netherlands Team wins big in exhibition game vs. Geckos. (February 23)


Exhibition losses Netherlands Team in Arizona. (February 20)


Orange roster announced for World Baseball Classic. (February 8)


Netherlands Team to prepare in Arizona. (February 8)