(Story by Marco Stoovelaar; Photo by Henk Seppen)








USA needs extra inning to win; Puerto Rico wins big
Nederlands




MIAMI, Florida (USA) / ZAPOPAN, Jalisco (México) - Team USA had a narrow escape in its opening game of the World Baseball Classic on Friday-evening (March 10) against Colombia in Pool C. The team of Manager Jim Leyland trailed 2-0 halfway the sixth inning and was held hitless in five-plus innings. The USA then came alongside in the sixth and won 3-2 in ten innings.
Puerto Rico registered a big 11-0, mercy-rule victory against Venezuela in its opener in Pool D.

At Marlins Park in Miami, the USA, ranked second on the WBSC-Ranking list, opened against Colombia, which is ranked 19th and made its WBC-debut. Four years ago, Colombia finished in third place in its Qualifying Tournament. The American Major League All Stars were unable to be productive in the first five at bats off of starter José Quintana, who threw five-plus innings. Last year, the lefthander was 13-12 in 32 games for the Chicago White Sox. He had an outstanding performance, needed not much pitches and retired the side in four of the first five innings. Quintana first retired the side in the first inning. He then walked lead-off hitter Paul Goldschmidt (Arizona Diamondbacks) in the second, but was supported with a double play. Quintana then retired the side again in the third, fourth and fifth inning. He saw his defense make some fine plays, including two great diving catches by centerfielder Tico Polo, who plays in the Minor Leagues for the New York Yankees
When Quintana took the mound in the bottom of the fifth, Colombia was leading 2-0!
Chris Archer (Tampa Bay Rays) started for the USA and also did very well on the mound, as he retired all 12 batters he faced in the four innings he pitched, including three strikeouts. With that, the first four innings clearly were a pitching-duel.
Mychal Givens (Baltimore Orioles) took over for Archer in the fifth and ran into problems with two outs. He began by striking out Jorge Alfaro (Philadelphia Phillies) and Jhonatan Solano (three MLB-years), but then gave up three consecutive doubles. Jesus Valdez, who plays in México, first doubled and hereafter Adrian Sanchez (Minors Washington Nationals) and Mauricio Ramos (Minors Kansas City Royals) followed with runscoring doubles to make it 2-0 in favor of Colombia. Hereafter, Givens closed with a strikeout. But the USA trailed 2-0 and had registered a basehit yet.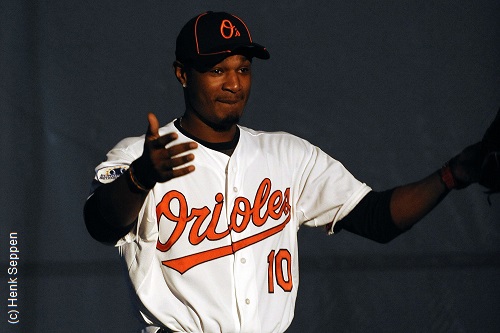 ...Adam Jones batted in two runs for the USA...
...In 2011, he was one of the Major Leaguers who participated...
...in the European Big League Tour in the Netherlands...
(© Photo: Henk Seppen)

New pitcher Luke Gregerson (Houston Astros) retired the Colombian side in the top of the sixth. In the bottom of the inning, Colombian starter José Quintana returned to the mound. He struckout Daniel Murphy (Washington Nationals) and Andrew McCutchen (Pittsburgh Pirates), but then gave up the first American basehit to Brandon Crawford (San Francisco Giants). His single not only ended the No-Hitter, it also ended Quintana's day on the mound, who also was nearing the limit of his pitch-count. He had thrown 63 and 65 are permitted in the First Round. William Cuevas took over, but ran into problems. Cuevas, who last year made his MLB-debut with Boston Red Sox, was greeted with a single by Ian Kinsler (Detroit Tigers), then gave up an RBI-double to Adam Jones (Baltimore Orioles), which made it a 2-1 scored. Moments later, he struckout Nolan Arenado (Colorado Rockies), but the third strike ended in a wild pitch. That enabled Kinsler to score the tying run, while Arenado reached first base. With runners at the corners, pinch-hitter Eric Hosmer (Kansas City Royals) grounded out to end the inning.

In the seventh, Colombia was retired in order, while the Colombian defense turned an inning-ending double play in the home half. In the eighth, two Colombia batters walked with one out, but this time, it was the USA that made a double play. The Americans then got runners in scoring position in the bottom of the eighth. Pinch-hitter Christian Yelich (Miami Marlins) led off with a double and with one out, Ian Kinsler's pop-up in the so-called 'Bermuda Triangle' behind third base/short stop ended in a single. But with runners at first and third base, a strikeout and line out followed.

Colombia left two baserunners in the top of the ninth. With two outs, Jorge Alfaro and Jhonatan Solano singled, but a strikeout followed. The USA was retired in order in its ninth and so, the game went into extra innings.

In the top of the tenth, Colombia stranded a runner on first base. In the bottom of the tenth, Christian Yelich and Brandon Crawford walked with one out. Reliever Guillermo Moscoso (Majors 2009-2013), who had come on in the previous inning, saw the runners advance on a grounder by Ian Kinsler. With runners on second and third base, first base open and one out, it was not opted to walked powerhitter Adam Jones intentionally to set up a force play. Instead, Moscoso pitched to Jones, who delivered again. On a 0-2 count, Jones lined the ball into centerfield for a walk-off single that gave the USA a 3-2 victory.
But the win didn't come easy!

At Zapopan in México, Puerto Rico led only 2-0 after five inings and then added three runs in the sixth. In the next at bat, Puerto Rico rallied for six runs to win 11-0, ending the game via the mercy-rule. Puerto Rico is in 12th place on the World Ranking-list, while Venezuela is in seventh place.

Leading 2-0, Puerto Rico was very productive in the sixth and seventh inning. Carlos Correa (Houston Astros) led off the sixth with a homerun, then Carlos Beltrán (Houston Astros) walked and next batter Yadier Molina (St. Louis Cardinals) also homered to lift the lead to 5-0.

In the seventh, six runs were scored with two outs. Carlos Correa (fielder's choice) was on first base with two outs. He then stole second base and scored on a single by Carlos Beltrán. After a pitching change, Yadier Molina also singled and Javier Baez (Chicago Cubs) followed with a runscoring single. Last year, Baez won the World Series with the Chicago Cubs. Molina and Baez advanced on the throw to the plate, then both scored when next batter Eddie Rosario (Minnesota Twins) doubled. Hereafter, the game ended with a walk-off, 2-run homerun by T.J. Rivera (New York Mets), as the mercy-rule 10-run difference had been reached.

(March 10)

Related Articles:


Cuba advances to Second Round WBC; Australia eliminated. (March 10)


Italy wins opener on walk-off single; Dominicans win big. (March 9)


Netherlands empty-handed vs. Israel; finishes 2nd in Pool. (March 9)


Orange in 2nd Round WBC after walk-off win; Israel also in. (March 8)


Netherlands opens WBC with shutout vs. South Korea. (March 7)


Israel upsets South Korea in WBC-opener with 10-inning win. (March 6)


Netherlands Team closes WBC-preparations with loss. (March 5)


Netherlands Team wins big in Korean exhibition game. (March 3)


Netherlands closes exhibition series in Arizona with loss. (February 25)


First game Netherlands vs. Twins ends in tie. (February 24)


Netherlands Team wins big in exhibition game vs. Geckos. (February 23)


Exhibition losses Netherlands Team in Arizona. (February 20)


Orange roster announced for World Baseball Classic. (February 8)


Netherlands Team to prepare in Arizona. (February 8)