(Story by Marco Stoovelaar)


Netherlands Juveniles open European Championship with win
Nederlands



VLEUTEN (Neth.) - The Netherlands Juveniles Team opened the European Championship in Vleuten (Netherlands) on Monday (July 10) with a 12-5 victory against Germany in Pool A.
The event opened with a big 25-6 victory for France against Austria, also in Pool A.
In Pool B, Italy shutout Poland 15-0 and the Czech Republic registered a comfortable 18-5 win against the Ukraine.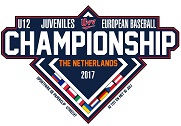 In its opening game, the Netherlands scored three runs in the first at bat, but Germany answered with two runs. The Orange-squad added a run in the third inning, then took more distance from the fourth inning on and led 11-2 halfway the sixth inning.
The Netherlands, which is managed by Peter Herkemij, collected eleven basehits, including four by Boris Hartman, who batted in two runs. Miquel Willem scored three runs.
In the top of the first inning, Miquel Willem led off the game with a triple and scored when next batter Terrance Heemskerk reached on an error. Hereafter, Maxwell Cornelissen was hit by a pitch and the two runners advanced on a balk. They then scored on a grounder by Tygo Rojer and a single by Jamie Beerman.
Leading 3-2, a single by Boris Hartman gave the Orange another run in the fourth at bat. Maxwell Cornelissen added a 2-run double in the fourth inning.
The Netherlands then rallied for five runs in the sixth inning on only two basehits, which were RBI-singles by Jamie Beerman and Boris Hartman. The other runs were scored on basesloaded walks for Ryan Hoogendoorn and Miquel Willem and a sacrifice fly by Amarensio Franka.
Leading 11-4, the Dutch scored its last run in the top of the seventh inning on an error.
(July 10)