(Story by Marco Stoovelaar; Photos by Alfred Cop & Marco Stoovelaar)

DSS empty-handed in exhibition game at Quick Amersfoort
Nederlands



AMERSFOORT (Neth.) - DSS played its first exhibition game of the season on Saturday-afternoon (March 11) against Cityside Apartments Quick, one of the 16 teams that will play in the second highest league ('Overgangsklasse') this year.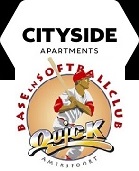 Under fine weather conditions, DSS opened the score in the third inning, but was unable to hold onto it. Quick Amersfoort got one run back in the fifth inning, then decided the game with a 5-run rally in the seventh at bat.
In today's game, both Head Coaches made their debut. Jerry Breek made his debut as Head Coach of DSS, while veteran coach Marco Wels led Quick Amersfoort for the first time. Both share a past, as both were active for Almere '90. Breek pitched for the Almere-based team in 2001 when it played in the Dutch big league. Three years later, Wels became an Assistant Coach, then Head Coach of Almere '90.
DSS was held scoreless in the first inning by Quick-starter Colin van Laar, but then scored twice in the second at bat. Levine Gabriels then doubled and Odion Gouverneur singled, then both scored on a double by Kevin Nieveld.
For DSS, Mike Groen started as pitcher and threw two scoreless innings, as did his successor Gijs Timmer. In the bottom of the fifth inning, Donny Breek became the third pitcher for the Haarlem-based team. In October last year, Breek won the Roel de Mon Award for most talented youth-pitcher. Today, he struckout three batters in the two innings he pitched, but also gave up Quick's first run in the fifth inning. Jos de Jong then doubled and scored on a single by Jules Cremer.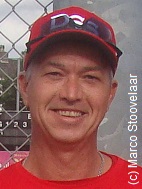 ...Jerry Breek...
(© M.Stoovelaar)

After scoring twice in the second inning, DSS was held scoreless for five innings by Rowald Reemst and Aaron Isenia. After Reemst had pitched the third and fourth inning, Isenia took over. He struckout three batters in the three innings he was on the mound for Quick Amersfoort. Isenia gave up only one basehit, which was a double by Omar Williams.

Trailing 2-1, Quick Amersfoort rallied for five runs in the seventh inning off of Reggie Bomberg, who took over the DSS-pitching in this at bat. The righthander, who last season pitched for Kinheim, struckout three batters in this inning, but also gave up five basehits and five runs. The rally was highlighted by a baseclearing, 3-run double by Remian Denis.

In the top of the eighth inning, DSS scored two more runs off of Jay Jay Muller, who last season pitched in the big league for HCAW. Tommy van de Sanden and Odion Gouverneur then singled and both scored on a single by Thomas Bos, another player who came to DSS after having played for Kinheim last year.

The teams will meet again on Sunday. Initially, the game was scheduled to be played in Haarlem, but instead it will be played again at the site of Quick Amersfoort and starts at 11 AM.

(March 11)