UVV was off to a good start, as it opened the game with two runs in the top of the first inning off of starting pitcher Sander Helmendach. Rick Kuipers led off with a bunt-single and stole second base with one out. Randy Daal then walked and the bases got loaded when his brother Rodney Daal reached on an error. For the latter, this was his first start of the season after he had been sidelined with an injury. UVV scored the first run on a sacrifice fly by Sergino Martis, who became a father a week ago. Tijmen Takke followed with a double to make it a 2-0 score.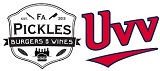 Helmendach began the second inning with two strikeouts, then saw UVV leave two runners behind. In the third at bat, the righthander gave up a lead-off double to Rodney Daal, then walked Sergino Martis, but retired the next three batters.
DSS got a run back in the bottom of the third inning when Levine Gabriëls led off with a homerun.

UVV left two runners behind in the fourth and fifth inning, but then took more distance by scoring three runs in the top of the sixth. Gijs Timmer then took over the DSS-pitching, but he gave up a lead-off infield-hit to Rick Kuipers, who then stole second base and moved to third on a wild pitch. With one out, he scored on a single by Randy Daal. UVV got runners at the corners when Rodney Daal also singled. That was followed by a runscoring wild pitch and a single by Sergino Martis then again gave UVV runners on first and third base. Moments later, the latter was forced out, but that also produced another run and made it 5-1 in favor of UVV. When next batter Steven van Reem reached on an error, it led to another pitching change. Tim Halderman took over and closed the inning with a strikeout.

UVV was retired in order its final three innings, while DSS was silenced by starter Timo van Ancum, who had a strong outing and gave up only one basehit in the seven innings he pitched. The lone hit was the homerun he gave up in the homerun in the third inning. Hereafter, the righthander retired 13 consecutive batters, before DSS reached base again in the seventh. Van Ancum closed the sixth inning with a called strikeout for Odion Gouverneur, whose reaction was enough for Home Plate Umpire René Ras to eject him. With one out in the bottom of the seventh, Van Ancum walked Kevin Nieveld, but he was caught stealing and a flyout ended another quick at bat.

In the eighth inning, Van Ancum was relieved by José Moreno, who then retired the side.

However, in the bottom of the ninth and trailing 5-1, DSS brought the suspense back and came very close to turning the game its way.

Sven van de Sanden led off the bottom of the ninth off of Moreno with a single, then Thomas Bos walked with one out. Devano Pieter followed with a runscoring single, but hereafter, a strikeout accounted for the second out. Omar Williams delivered the next runscoring single to narrow the deficit to 5-3. After Williams was replaced by pinch-runner Daniel Heiligers, the bases got loaded when Tino van Erk walked. That brought out UVV's Head Coach Ty Eriksen to the mound to make a pitching change. Roderick Hennekes took over the pitching, but he walked Djewi Appelman. That made it a 5-4 score and kept the bases loaded. The game then ended when Hennekes closed with a strikeout, meaning three runners were left behind.