Quick opened the score in the top of the first inning off of starter Sander Helmendach, who last season pitched for HCAW. Wesley Bernardus and Jordy Burger led off with walks. The first was then eliminated at the played trying to score on a following single by Niels van Weert, who played in the big league last season for Kinheim. With runners on second and third base, a grounder by Jos de Jong gave Quick an early lead.

DSS came alongside in the second inning off of starter Brian van Laar. He got the bases loaded when Omar Williams led off with a single, Tino van Erk also singled and Jordan Illis walked. The latter was forced out on a grounder by Sven van de Sanden. That brought in the tying run, but also would leave two runners behind.

After two scoreless innings, Quick re-took the lead in the fifth. With two outs, Jordy Burger walked, stole second base and scored on a double by Niels van Weert.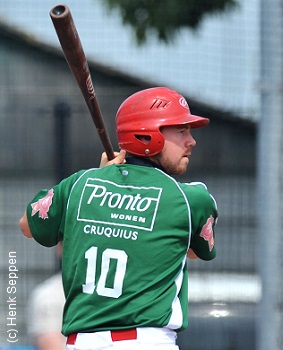 ...Tino van Erk...
...3-for-4, double...
(© Photo: Henk Seppen)

DSS answered with two runs in its fifth at bat and also scored with two outs. Djewi Appelman and Mitchel Dautzenberg both walked and the bases got loaded when Levine Gabriels was hit by a pitch. After a pitching change, Koen Halderman delivered a 2-run single.

Quick made it a 3-3 score it the sixth when Jos de Jong and Remian Denis hit back-to-back doubles.

In the bottom of the seventh, it was DSS that took the lead for the second time by scoring two runs. Tommy van de Sanden led off with a single and scored on a 2-out double by Mitchel Dautzenberg. After another pitching change, Koen Halderman singled in the next run and made it a 5-3 score.

That lead also didn't last long, as Quick came alongside in the top of the eighth off of new pitcher Lars Vogelaar. He walked lead-off hitter Bob Klaarenbeek and then Remian Denis followed with a homerun, which made it 5-5.

DSS answered with two runs in the bottom of the eighth. The bases got loaded when Tino van Erk, Jordan Illis and Sven van de Sanden all singled. Van Erk was 3-for-4 today, including a double. A force play-grounder by Tommy van de Sanden gave DSS a renewed lead, 6-5. Hereafter, Jos de Jong became the new pitcher for Quick. He saw Odion Gouverneur hit a sacrifice fly, but the former big league-pitcher retired all five batters he faced.

Quick narrowed the deficit to 7-6 in the top of the ninth. With two outs, Bas de Jong and Bob Klaarenbeek both singled, then an error on a grounder by Remian Denis accounted for the run. De Jong and Klaarenbeek both also played in the Dutch big league in the past. Bas de Jong played for HCAW and Amsterdam Pirates, as did his brother Jos. While playing for Pirates, Bas de Jong was the leading hitter in the Dutch big league for three consecutive seasons (2013-2015), becoming only the second player in history to accomplish that feat. Quick stranded two runners, as a strikeout ended the at bat.

Despite leading, DSS also used its ninth inning to bat, but was retired in order, ending the game.