After three innings, Neptunus led only 1-0 in today's exhibition game. The Rotterdam-squad then added 15 runs in the next five at bats.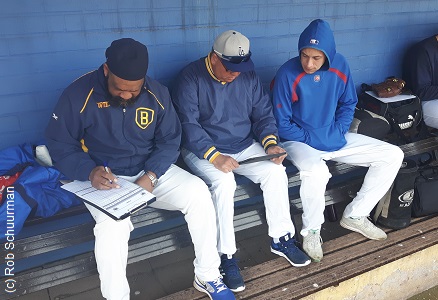 ...HCAW's Head Coach Roeland Henrique (left) pencils...
...down his starting line-up, while Assistant Coach...
...Rudy Dirksen and pitcher Sedley Karel follow the...
...game of the Netherlands Kingdom Team at..
...the World Baseball Classic in Tokyo (Japan)...
(© Photo: Rob Schuurman)

Kevin Kelly started for Neptunus and gave up only one basehit in the three innings he pitched. That was hit by Boyd Tuhumury with one out in the first inning, but he stranded on first base. In the second inning, Kelly was supported with a double play.

HCAW-starter Ian Delemarre saw Neptunus get into scoring position in both the first and second inning, but held the team scoreless. In the first, he walked Christian Diaz with one out, then gave up a 2-out double to Gianison Boekhoudt, but the two stranded. In the second, Delemarre walked lead-off hitter Ruar Verkerk, who would be left behind on third base.

Neptunus opened the score in the third inning. With one out, the bases got loaded when Benjamin Dille, Christian Diaz and Rien Vernooij all singled. A sacrifice fly by Gianison Boekhoudt made it 1-0, but two runners were left behind.

Neptunus rallied for four runs in the fourth inning off of new pitcher Moreno Vork. Ruar Verkerk and Urving Kemp began the at bat with singles. With one out, a single by Jochem Koedijk, an outfield-error (sac-fly), single by Benjamin Dille and a wild pitch accounted for the runs. When Vork struckout the next batter, the inning ended with two outs.

In the fifth, Rien Vernooij, Gianison Boekhoudt and Daniel Fernandes opened the at bat with singles, resulting in one run. A grounder brought in another run and lifted the lead to 7-0. With two outs, Greg Muller was hit by a pitch and that also ended the inning.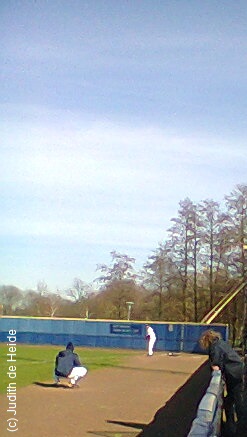 ...It was a nice day to play ball...
(© Photo: Judith de Heide)

In the sixth, Neptunus Head Coach Ronald Jaarsma added an eleventh batter to his batting order. With one out, new pitcher Oscar Meuris got the bases loaded when Greg Muller singled, Jochem Koedijk walked and Shaldimar Daantji also singled. A run was then scored on grounder by Benjamin Dille and Christian Diaz added a 2-run double to make it a 10-0 score. When next batter Rien Vernooij walked, this at bat also was halted with two outs.

A 5-run rally followed in the seventh inning off of Steven van Groningen, who last season pitched for Neptunus. He got the bases loaded when Gianison Boekhoudt and Ruar Verkerk singled and Daniel Fernandes walked in between. A run was then scored when Urving Kemp was hit by a pitch and another one on a grounder by Greg Muller. With one out, rookie Den Seelbach delivered a 2-run single and later scored himself on an error, which lifted the lead to 15-0.

HCAW got into scoring position several times, but was unable to score.

In the top of the fourth, off of new pitcher Laurens Valdez, Boyd Tuhumury walked with one out, but stranded on third base. In the fifth, Berry van Driel took over the pitching and retired the side. He gave up a lead-off single in the sixth to Pascal Zegwaard, who then stole second base, but was later eliminated trying to advance to third base on a comeback-grounder.

In the seventh inning, HCAW got the bases loaded off of veteran righthander Elton Koeiman, who last season pitched for De Glaskoning Twins. Koeiman began with a strikeout, but then walked Rossini Frolijk and gave up a single to Kevin Dirksen After another strikeout, the bases got loaded when Delano Selassa also walked. A pop-fly ended the inning.

HCAW scored its lone run in the top of the eighth. Rookies Koen Werkman and Bram Selderijk led off with singles. With one out, the first scored on a single by Boy Tuhumury. HCAW then again got the bases loaded when Rossini Frolijk walked. This time, this scoring opportunity ended with a flyout.

In the bottom of the eighth, Neptunus scored its final run. While it was not his turn to bat, Urving Kemp was inserted in the batting order to lead off and walked. He later scored on a 2-out single by Rien Vernooij to make it a 16-1 score. This time, the inning ended with three outs and that also concluded the game.