Netherlands vs. Israel
For the Netherlands Team, there were two defensive changes in today's line-up. Shawn Zarraga made his first appearance in the tournament. Zarraga was the catcher instead of Dashenko Ricardo, who had done all the catching for the Netherlands so far. Also, Yurendell de Caster started at first base instead of Curt Smith. Zarraga was 2-for-5 and batted in two runs, while De Caster was 3-for-5 and also batted in two runs. Offensively, Manager Hensley Meulens moved Jonathan Schoop from second to third place in his batting order, while moving Xander Bogaerts from the third to second spot.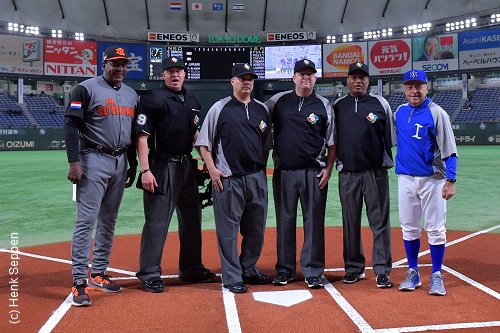 ...Netherlands Team-Manager Hensley Meulens (left) and his...
...Israeli colleague Jerry Weinstein (right) with today's...
...umpiring crew: Cody Blaser (HP, USA),...
...Jens Waider (3B, Germany), Todd Tichenor (2B, USA)...
...and Felix Tejada (1B, Dominican Republic)...
(© Photo: Henk Seppen)

The Orange squad opened the score in the second inning off of Corey Baker, who last season pitched in Double-A and Triple-A in the organization of the St. Louis Cardinals. The righthander then threw in 29 games (26 starts) and was 5-11 with a 5.68 ERA. In the second, Baker he gave up two runs. Baker walked lead-off hitter Wladimir Balentien, but he was forced out on a grounder by Didi Gregorius. Hereafter, Jonathan Schoop was hit by a pitch. After the two had advanced on a grounder by Shawn Zarraga, they scored on a single by Yurendell de Caster.

In the top of the third inning, the Netherlands rallied for four runs. Andrelton Simmons led off with a single and Xander Bogaerts walked. That was followed by a pitching change, as Jeremy Bleich took over. He saw the runners advance on sac-bunt by Jurickson Profar. Wladimir Balentien then delivered a 2-run single and Didi Gregorius followed with an RBI-double. With two outs, Shawn Zarraga doubled in the next run to lift the lead to 6-0.

Another 4-run rally (with two outs) followed in the top of the fourth inning to give the Netherlands a commanding lead. Danny Burawa was the new Israeli pitcher and he gave up an one-out double to Andrelton Simmons. With two outs, Jurickson Profar walked, then Wladimir Balentien and Didi Gregorius delivered again. First, Balentien drove in a run with a single. Next, Gregorius also connected well, as he drove the ball into rightfield for a 3-run homerun that made it a 10-0 score.

The Dutch team left three runners behind in the sixth.

Jair Jurrjens started for the Netherlands and had a fine outing. The righthander threw six innings and gave up only five basehits. He got a baserunner in each inning he pitched, but never ran into problems.

In the first inning, he gave up a 2-out double to Ike Davis, but he stranded on second base. In the next inning, Jurrjens again got a baserunner with two outs when Blake Gailen singled, but a strikeout ended the at bat. In the third, Scott Burcham led off with a single for Israel, but after a line-out, the inning ended with a double play.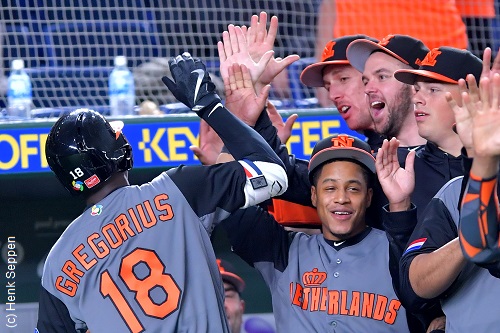 ...Didi Gregorius is welcomed after his 3-run homerun...
(© Photo: Henk Seppen)

Trailing 10-0, Israel scored its first run when Nate Freiman homered with one out in the bottom of the fourth.

Jurrjens returned on the mound again in the fifth. He got another baserunner, this time via an error, but again encountered no problems.

As pitchers are allowed to throw 80 pitches in the Second Round, Jurrjens also pitched the sixth inning for the Netherlands. With one out, he gave up a single to Ike Davis, but retired the next two batters, closing with a strikeout.

Juan Carlos Sulbaran took over in the bottom of the seventh inning from Jurrjens, who had thrown 74 pitches. Sulbaran was greeted with a lead-off double by Nick Rickles, then gave up a runscoring single to Blake Gailen. Tyler Krieger followed with a line drive, which was caught by centerfielder Jurickson Profar. Hereafter, Scott Burcham singled, then Sulbaran was hit hard again, as Mike Meyers lined the ball into rightfield. Wladimir Balentien caught the ball, but hereafter, Sulbaran was relieved by lefthander Jim Ploeger. He got a flyout that ended the inning.

In the top of the eighth inning, the Netherlands reached the 10-run difference off of new pitcher Jake Kalish. With one out, Jurickson Profar doubled and Wladimir Balentien singled. Profar then scored on a sacrifice fly by Didi Gregorius. That led to another pitching change, as Troy Neiman took over. To avoid getting a 10-run deficit and to get out of the inning, Neiman walked Jonathan Schoop intentionally to set up a force play. But hereafter, Shawn Zarraga followed with a runscoring single to make it 12-2 after all.

In the bottom of the eighth, Jim Ploeger struckout pich-hitter Cody Decker, then was relieved by Orlando Yntema. He hit Nate Freiman with a pitch, but a flyout accounted for the second out. Yntema then struckout Nick Rickles to end the inning and the game.

The following players got into action:
Andrelton Simmons (SS, 3-for-5, double, 2 runs), Xander Bogaerts (3B, 1-for-3, run, 2 walks), Jurickson Profar (CF, 1-for-3, double, 2 runs, walk), Wladimir Balentien (RF, 3-for-4, 3 runs, 3 RBI's, walk), Didi Gregorius (DH, 2-for-3, double, homerun, 3 runs, 5 RBI's, walk), Jonathan Schoop (2B, 0-for-3, run, strikeout), Shawn Zarraga (C, 2-for-5, double, RBI), Yurendell de Caster (1B, 3-for-5, 2 RBI's), Randolph Oduber (LF, 0-for-3, strikeout), Sharlon Schoop (PH-LF, 0-for-1, strikeout).