HCAW had some firsts of the new big league-season in the first inning. At 7:31, moments after the game had started, lead-off hitter Roelie Henrique connected well on a delivery from starting pitcher Lars Huijer and accounted for the first basehit in the new big league-season. Seven minutes later, with one out, he also scored the first run when Vince Rooi hit the first homerun of the 2017 season.

With that, HCAW had taken a surprise early lead against and at Pioniers in Hoofddorp.

Pioniers got one run back in its first at bat off of lefthander Jim Ploeger. Lead-off hitter Dudley Leonora reached on an error, stole second base (while the batter struckout), then scored when a throwing error followed after he also had successfully stolen third base. Ploeger followed with two more strikeouts, then also struckout two batters in the second inning.
His teammates provided him with two more runs. In the top of the second inning, the bases got loaded when Sven Jongejans, Raoell Kortstam and Roelie Henrique all singled. A run was then scored on a sacrifice fly by Boyd Tuhumury, but HCAW also left two runners behind.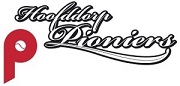 In the third, HCAW lifted the lead to 8-1, scoring five unearned runs. Kevin Dirksen, who played for Pioniers in the past few seasons, led off and reached on an error. He advanced on a passed ball, then scored on a single by Kevin Weijgertse. Hereafter, Lars Huijer hit rookie Delano Selassa with a pitch, but struckout the next two batters. The bases got loaded when Roelie Henrique walked. A run was then scored when Boyd Tuhumury reached on an error and hereafter, Vince Rooi (2-run) and Rossi Frolijk (one-run) followed with runscoring singles. That lifted the lead to 8-1 and brought Pioniers' Head Coach Dè Flanegin to the mound to make an unplanned early pitching change. Pitching ace Lars Huijer was relieved by Glenn Wassink. He got a force play-grounder, but HCAW had taken a commanding lead.

For HCAW, the evening wasn't over yet, as it added six more runs and went on to end the game with a mercy-rule score.

The Bussum-squad was held scoreless in the fourth, but scored three runs in the top of the fifth. Raoell Kortstam led off with a walk and Boyd Tuhumury singled with one out. The two scored when Vince Rooi hit his second homerun of the game!

In the meantime, HCAW-starter Jim Ploeger had a strong outing. In the first five innings, the lefthander gave up only two basehits and strukout ten batters. In the bottom of the sixth, Ploeger began with his eleventh strikeout. But hereafter, he got the bases loaded when Jeffrey Arends and Quintin de Cuba singled and Brennan Nijhof was hit by a pitch. That ended the evening for Ploeger, who was relieved by Steven van Groningen. With one out, he gave up a 2-run double to Glenn Bakker, who was the surprising starting catcher tonight for Pioniers, as he is an outfielder. Two regular catchers were in the starting line-up for Pioniers, but played at other positions, as Quintin de Cuba was the designated hitter and newcomer Sander Paap was the third baseman.

In the top of the sixth, HCAW added two more runs on a force play-grounder by Raoell Kortstam and a single by Boyd Tuhumury.

Leading 13-4, HCAW reached the 10-run difference in the top of the seventh. Rossini Frolijk led off with a single, which brought in new pitcher Darryl Jamoena. He got the bases loaded when he walked Kevin Dirksen and gave up a single to Kevin Weijgertse. A sacrifice fly by Delano Selassa then made it 14-4.

In the bottom of the seventh, Pioniers got runners on second and third base, but was unable to avoid a mercy-rule loss.