UVV opened the score in the bottom of the first inning off of rookie Jan Evertse, who made his debut in the Dutch big league. In the announced starting rotation for this series, he was listed as the starter for the third game coming Sunday, but Head Coach Kevin Roovers apparently changed his rotation.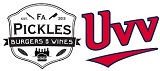 Jelle Blaauw led off the first inning with a double in his first official at bat for UVV. Blaauw, who came to UVV from HCAW, moved to third base on a wild pitch, then next batter Tijmen Takke walked. The bases got loaded when Bryce Cherry (who also made his big league-debut) also walked. Moments later, Takke was forced out at third base on a grounder by Mike Bazuin, but that also led to the first run. Hereafter, UVV left runners behind on second and third base.
UVV-starter Timo van Ancum saw Twins get two baserunners in both the first and second inning. With one out in the first, he gave up singles to Jamie Verheyleweghen and Dennis De Quint, but then retired the next two batters. In the second inning, Van Ancum walked Bob van der Meer and gave up a single to Menno Lenting, but then struckout the next two batters. Twins again left two runners behind when a grounder ended the at bat.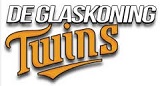 UVV doubled its lead in the bottom of the second inning. With one out, Rick Kuipers and Cecil Comenencia walked. An attempt to execute a double-steal failed, as Kuipers was caught stealing at third base. Comemencia reached second base safely, then advanced on a single by Jelle Blaauw and scored when an error followed.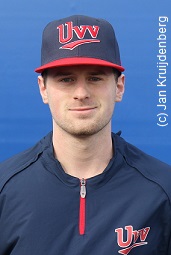 ...Jelle Blaauw...
...4-for-4, 2B, 3B...
...4 Runs, 3 RBI's...
(© Jan Kruijdenberg)

Twins got one run back in the third inning. Jamie Verheyleweghen led off with a single and scored on a following double by Dennis De Quint. Verheyleweghen transfered from UVV to Twins after last season, while De Quint made the same transfer a year earlier.

In the fifth inning, UVV scored another run. Jelle Blaauw led off with his third basehit in the game and moved on a wild pitch. Tijmen Takke was then hit by a pitch, but was forced out on a following grounder by Bryce Cherry. That brought Blaauw to third base and he scored on a sacrifice fly by Mike Bazuin to make it a 3-1 score in favor of the home team.

Jan Evertse, the rookie-starter of Twins, gave up only four basehits in the six innings he pitched with three of them being hit by Jelle Blaauw. Despite that, his team trailed when he left the mound.

When the bottom of the seventh inning began, UVV led only 3-1, but then rallied for eight runs to end the game via the mercy-rule. All runs were scored off of Sharlon Lebacks, who took over the pitching for Twins and made his big league-debut. He walked the first two batters he faced, Jelle Blaauw and Tijmen Takke, who then performed a double-steal. Bryce Cherry followed with his first big league-basehit, then Sergino Martis added an RBI-double with one out. The bases got loaded when Julian Goins walked and another run was scored on a single by Randy Daal. The second out was recorded when Martis was forced out at the plate on a grounder by Rick Kuipers, but Lebacks then walked Cecil Comenencia to bring in another run. With the bases stil loaded, Jelle Blaauw delivered a baseclearing, 3-run double that lifted the lead to 10-1. Moments later, the game ended when when Blaauw scored on a walk-off single by Tijmen Takke.