DSS recorded six basehits more than UVV, but nevertheless ended up short in today's game.

After leaving a runner behind in scoring position in the first inning, it was DSS that opened the score in the top of the second inning. Tino van Erk led off with a single off of starter Jurjen van Zijl and moved to third base on a single by Djewi Appelman, who himself reached second base on a following outfield-error. With one out, Van Erk scored on a grounder by Sven van de Sanden, but Appelman stranded on third base.

DSS-starter Donny Breek retired the side in the first inning, but then gave up two runs in the bottom of the second at bat. With two outs, Bryce Cherry doubled and scored the tying run on a following single by Tijmen Takke. Hereafter, the bases got loaded when Julian Goins was hit by a pitch and Berend Ruben singled. A walk for Rick Kuipers gave UVV a 2-1 lead, but the team left three runners behind when Breek closed the inning with a strikeout.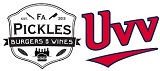 UVV added six runs in the three middle innings. In the fourth, Bryce Cherry led off with a homerun to make it a 3-1 score. UVV then rallied for four runs in the fifth at bat. Rick Kuipers off with a walk and scored on a double by Jelle Blaauw, which led to a pitching change. Tim Halderman took over from Donny Breek, but was greeted with two productive hits from the Daal-brothers. Randy Daal first singled in a run, then his brother Rodney Daal followed with a 2-run homerun to increase the lead to 7-1. Hereafter, three grounders ended the inning.
DSS got two runs back in the top of the sixth inning. Devano Pieter led off with a single and Omar Williams doubled with one out. Tino van Erk and Djewi Appelman then delivered runscoring singles that made it a 7-3 score. With two outs, the inning ended when Appelman was caught stealing.

In the bottom of the sixth inning, UVV scored its eighth run, which would be a crucial one, as it was the difference in the score. Julian Goins led off with a single and Berend Ruben walked. Hereafter, the two runners executed a double-steal and moments later, they were awarded the next base when a balk was called. A discussion between DSS Head Coach Jerry Breek and Home Plate Umpire Stenar van Groningen Schinkel followed regarding the balk-call. And that led to the ejection of Breek. With UVV now leading 8-3, Halderman retired the next three batters.
In the bottom of the seventh inning, Bayron Cornelisse took the mound for DSS. This was the first appearance of the season for the righthander, who started on the roster of Hoofddorp Pioniers. However, Cornelisse and Pioniers separated in April during the exhibition season. Last week, Cornelisse officially transfered from Pioniers to DSS. In his first inning, Cornelisse retired the side.
In the top of the eighth inning, DSS rallied for three runs on four basehits. Also in this inning, DSS-pitcher Reggie Bomberg, who acted as 1B Coach, was ejected by 1B Umpire Jos van Eijsden after making some remarks. Roderick Hennekes started the inning in relief for UVV. He took over the pitching for Jimmy Osinga, who had pitched the seventh inning. Hennekes gave up back-to-back doubles to Kevin Nieveld and Omar Williams, which led to a run. Tino van Erk followed with a single and Levine Gabriëls added an RBI-double with one out that narrowed the deficit to 8-5. That led to another pitching change. Hennekes was relieved by American side-armer Jonah Van Bemmelen, who last season pitched for Pioniers and today made his first appearance for UVV. He saw Sven van de Sanden reach on a throwing error, which gave DSS another run. With two outs, DSS got the bases loaded when Odion Gouverneur walked. The inning ended when a line drive from Devano Pieter was caught by short stop Jelle Blaauw and so, three runners were left behind.
In the bottom of the eighth, it was UVV that left the bases loaded. The home team got the bases loaded with no outs off of Cornelisse. Tijmen Takke led off with a bunt-single and hereafter, pinch-hitter Steven van Reem walked. The latter was replaced by pinch-runner Tal Erel, who not only made his big league-debut, but also became the first Israeli player to play in the highest Dutch division. The bases got loaded when Berend Ruben also walked. Hereafter, Takke was forced out at the plate on a grounder by Rick Kuipers and Cornelisse followed by striking out Jelle Blaauw. Cornelisse then also struckout next batter Randy Daal. As the third strike was not under control of catcher Levine Gabriëls, everyone started to run. Gabriëls forced out Erel at the plate and with that, Daal reached first base on a strikeout-fielder's choice, but that also ended the inning and so, three runners were left behind.
In the top of the ninth, DSS scored another run. With one out, Omar Williams hit his third double in the game. After he was replaced by pinch-runner Thomas Bos, Tino van Erk delivered his fourth basehit of today. Bos moved to third base, then scored on a sacrifice fly by Djewi Appelman and narrowed the deficit to only 8-7. That also was the final score, as the inning and the game ended with a flyout.