(Story by Marco Stoovelaar)


Netherlands Juveniles win big on European Championship
Nederlands



VLEUTEN (Neth.) - The Netherlands Juveniles Team recorded a big 17-6 victory against < b>Austria on Thursday-evening (July 13) on Day 4 of the European Championship Juveniles in Vleuten (Netherlands).
For the Netherlands, this was only its second game in four days. The team opened the event on Monday with a 12-5 win against Germany.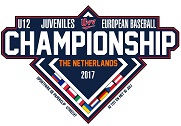 The Orange-squad had no games scheduled on Tuesday, but then was to play against Austria on Wednesday-evening. However, due to rain, two of the four games scheduled for Wednesday were canceled, including the Netherlands vs. Austria-game. Both games were re-scheduled for Thursday. There was room enough on that day, as only two games were scheduled. The two make-up games also fit in, as all teams play only game per day.
The Netherlands will play its next game on Friday-evening against France. That game will be decisive for first place in Pool A, as will be the game between Germany and Austria. A 3-way tie is possible, but when the Netherlands wins, it will finish in first place and qualify for the Final on Saturday.
In the game against Austria, the Netherlands briefly trailed 1-0 halfway the first inning. In the bottom of the opening at bat, the Dutch scored three runs, thanks to a double by Yari van Melick, an error and a grounder by Thibaud Pastor.
The Netherlands then rallied for six runs in both the second and third inning.
With the bases loaded, one out and after a pitching change in the second inning, Jamie Beerman delivered a 2-run double and Maxwell Cornelissen added a 2-run single. With two outs, two more runs were added on a wild pitch and an error.
In the third inning, the Netherlands scored six runs with two outs. A single by Yari van Melick accounted for the first run. Hereafter, a wild pitch, error, runscoring single by Leandro Mata and 2-run single by Miquel Willem increased the lead to 15-3.
Two more runs were added in the fourth, thanks to a 2-run triple by Dieudonne van Zoelen with two outs.
Beerman and Van Melick both scored three runs for the Netherlands. Van Melick also produced three basehits.
(July 13)