Today's game remained scoreless in the first four innings.

UVV left runners in scoring position in the second and third inning off of starter Mike Groen. In the second, Julian Goins reached on an infield-hit with one out and moved on a wild pitch, but stranded on second base. In the third, Rick Kuipers singled with one out, stole second base and then also was left behind.

DSS got closer to opening the score off of Kevin van Veen, who made his first start of the season for UVV. The righthander was supported with a double play in the first inning and retired the side in the second at bat. In the third, Van Veen got two quick outs, but then gave up an infield-hit to Mitchel Dautzenberg. Hereafter, Odion Gouverneur also singled. Dautzenberg advanced to second base and when he continued to third base, a throwing error followed. Dautzenberg then tried to score, but was eliminated at the plate.
UVV then opened the score in the top of the fifth. With one out, Steven van Reem and Berend Ruben hit back-to-back doubles to bring in the first run. Ruben later stranded on third base.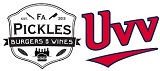 UVV took more distance by scoring three runs in the sixth. Lead-off hitter Tijmen Takke reached on an error and moved on a grounder. The bases got loaded when Bryce Cherry walked and Julian Goins reached on an infield-hit. A run was then scored when Sergino Martis was hit by a pitch and two more were added when Steven van Reem connected for his second double. Hereafter, Lars Vogelaar took over the pitching for DSS and closed with a strikeout, but UVV now led 4-0. Vogelaar got runners at the corners with one in the seventh. He was then relieved by Tim Halderman, who was supported with a double play.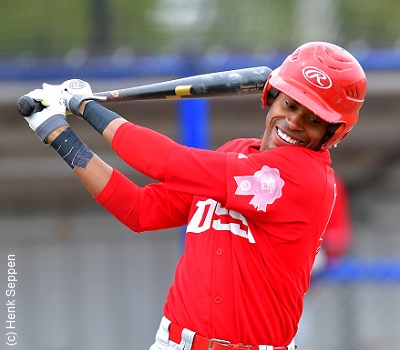 ...Odion Gouverneur...
...2-out, 2-run, walk-off single...
(© Photo: Henk Seppen)

Kevin van Veen continued his fine performance after the scoring opportunity of DSS in the third ended with an out at the plate. In the fourth, fifth and sixth inning, Van Veen allowed only one batter to reach base. In the seventh, DSS got one run back. Kevin Nieveld led off with a single and the bases got loaded when Omar Williams walked and Tino van Erk singled. That led to a pitching change. José Moreno took over and gave up a sacrifice fly to Djewi Appelman, but then loaded the bases again when he hit next batter Levine Gabriëls with a pitch. With only one out, DSS had a chance to do some more scoring, but the inning ended when pinch-hitter Jordan Illis grounded into a double play.

After UVV was retired in order in the eighth inning, it tried to add an insurance run in the ninth off of closer Reggie Bomberg. Berend Ruben led off with an infield-hit, but his pinch-runner Cecil Comenencia was forced out on a grounder by Rick Kuipers. Moments later, Kuipers stole second base, but was caught stealing when he also tried to steal third base.

In the bottom of the ninth inning, DSS stage another late comeback, just as it had done in the previous two games and this time, it turned the game its way. (Former UVV-player) Omar Williams led off with a triple and scored on a sacrifice fly by Tino van Erk. When next batter Djewi Appelman walked, a pitching change followed. José Moreno was replaced by Jimmy Osinga, but he got the bases loaded when he walked Levine Gabriëls and Sven van de Sanden. Another pitching change followed, as Jonah Van Bemmelen was brought in. On Saturday, Van Bemmelen earned a save, but today, he was credited with a blown save. He began with a wild pitch that narrowed the deficit to only 4-3, but then followed with a strikeout. With runners on second and third base, two outs and the suspense rising again, Odion Gouverneur drilled an 0-1 pitch of Van Bemmelen into leftfield for a 2-run, walk-off single that brought in both runners and gave DSS a 5-4 victory.