Initially, it appeared that Neptunus was en route to a victory, as it led 4-0 after four innings. Pioniers then came alongside in the fifth and took charge of the game from that moment on.

Neptunus got a force out at third base in the first inning and had a caught stealing at second base in the second inning, but then opened the score in the third at bat. With one out, Stijn van der Meer singled off of starter Nick Keur and the lefthander then gave up an RBI-double to Benjamin Dille. With two outs, the latter scored the next run on a single by Dwayne Kemp. While trying to field Kemp's hit in short centerfield Dudley Leonora fell on his left shoulder and needed some attending, causing a 5-minute delay, but was able to continue playing.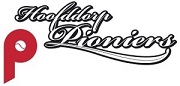 Neptunus added two runs in the fourth. The at bat began with a single from Daniel Fernandes, who played at first base since Thursday after Rien Vernooij's retirement. Coming week, American first baseman Gregory Muller is expected back from the States. It was known in advance that Muller would be absent for three weeks in this period. Also expected to arrive in Rotterdam coming week is new American pitcher Trevor Reckling. Fernandes moved on a sacrifice bunt and a single by Shaldimar Daantji, then scored when a balk was called. Moments later, Daantji scored on a single by Stijn van der Meer to make it a 4-0 score. When next batter Benjamin Dille walked, a pitching change followed. Nick Keur was relieved by Scott Ronnenbergh and the lefthander was supported with an inning-ending double play.

The next five innings belonged to Pioniers. After not getting a runner in scoring position in its first four at bats, the Hoofddorp-squad came alongside in the top of the fifth when the Neptunian infield committed three costly errors, which erased the lead for starter Elton Koeiman. Remarkably enough, the errors were made by veteran infielders Benjamin Dille (2b), Dwayne Kemp (3b) and Stijn van der Meer (ss). With one out, Gianni Frolijk walked and reached second base safely when an error was made on a force play-grounder by Mark Smit. Both scored when Joey Eeman followed with a triple. Shortly hereafter, the rookie was eliminated at the plate trying to score on a grounder towards third base by Brennan Nijhof. With two outs, a single by Mervin Gario was followed by a throwing error, resulting in a run. Hereafter, another error was made on a grounder by Dudley Leonora, which enabled Gario to score the tying run.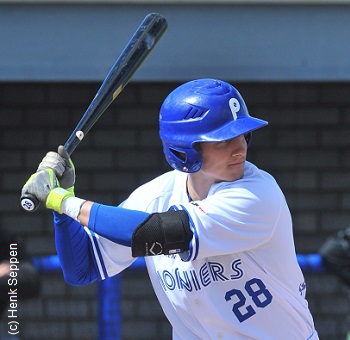 ...Mark Smit...
...game-winning RBI...
(© Photo: Henk Seppen)

After Neptunus stranded a runner in scoring position in the fifth, Pioniers took a 5-4 lead in the sixth inning. With two outs, Gianni Frolijk doubled and scored on a single by Mark Smit. Next batter Joey Eeman also singled, which led to a pitching change. Misja Harcksen took over the pitching from veteran starter Elton Koeiman, who earlier in the week had turned 44. With runners on first and third base, the inning ended when Eeman was caught stealing.

In the bottom of the sixth, Max Draijer entered the game defensively for Pioniers at second base to make his first appearance of the season. With Pioniers leading 5-4, Scott Ronnenbergh began the inning with a walk for Ruar Verkerk and was then relieved by Lars Huijer. He was the scheduled starter for Saturday's game, but that rained out. Huijer began with a strikeout, saw Verkerk being caught stealing and Stijn van der Meer reach on an error, but a flyout ended the inning.

Pioniers added two more runs in the seventh. With one out, Mervin Gario singled and advanced on a wild pitch. He then scored on a single by Dudley Leonora, who scored himself on a 2-out single by Shurman Marlin.

In the bottom of the seventh, Neptunus scored its last run in the game. Christian Diaz led off with a double, moved on a passed ball and scored when Gianison Boekhoudt reached on an error with one out.

Pioniers took more distance in the next two innings. In the eighth, Max Draijer led off with a walk, advanced on a single by Mark Smit and a force play-grounder by Joey Eeman, then scored on a sacrifice fly by Brennan Nijhof. Hereafter, Eeman stole second base, which resulted in a leg-injury for second baseman Benjamin Dille, as he was hit by a spike. In the bottom of the eighth, the Belgian infielder was replaced by pinch-hitter Brian Raap, who made his debut in a Neptunus-uniform. Dille probably will be out for two weeks.

In the ninth, Pioniers scored three more runs to lift the lead to 11-5. Dudley Leonora led off with a single and scored on a following double by Jeffrey Arends, which brought in a new pitcher. Berry van Driel took over from Misja Harcksen and was greeted with an RBI-double from Shurman Marlin. With one out, Max Draijer delivered a runscoring single which brought in the third run in this at bat.

Lars Huijer retired the side in the bottom of the eighth, then Maickel Rietel did the same in the ninth to close the game.