(Story by Marco Stoovelaar; Photo by Henk Seppen)

DSS adds outfielder Denzel Richardson to roster
Nederlands



HAARLEM (Neth.) - DSS has added outfielder Denzel Richardson to its big league-roster for next season. Head Coach Jerry Breek confirmed Richardson's coming, saying that it is a welcome addition to the squad.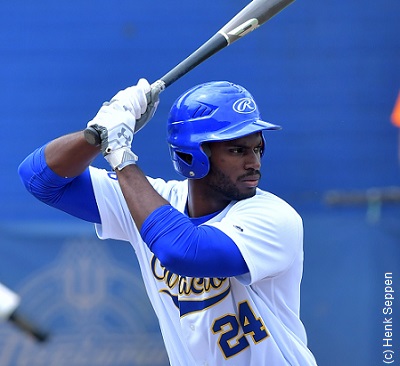 ...Denzel Richardson hitting for Curaçao during...
...the World Port Tournament in July...
(© Photo: Henk Seppen)

This year, the outfielder played for Santa Rosa Indians in Curaçao after having played professionally for five seasons. In July, Richardson played for Team Curaçao during the World Port Tournament in Rotterdam (Netherlands). In the following month, he was a member of the Netherlands Under-23 Team that captured the title at the first-ever Under-23 European Championship.

The 23-year old Richardson, who was born on Saint Martin, made his professional debut at age 18 in 2012 after he had signed with the Colorado Rockies. He played four seasons in the organization of the Rockies and he played the majority of his games at the Rookie League-level.
In his first two seasons in 2012 and 2013, Richardson played in the Dominican Summer League. He batted .211 in his debuting season, then batted .256 the next year. After collecting 23 basehits, scoring 13 runs and batting in eight in 2012, Richardson's offensive stats improved in his second season. He then recorded 32 basehits, including five homeruns, scored 18 runs and also batted in 18.
In 2014, Richardson played in the Rookie League-team of the Rockies in the Pioneer League, hitting .213 for Grand Junction Rockies. He also promoted to Single-A Short Season, playing in 18 games for Tri-City Dust Devils, hitting .200.
2015 was his last season in the Rockies-organization. He then played again for Grand Junction, but appeared in only two games.
Richardson played for two teams in the Independent Frontier League in 2016, which was his best professional season. In 47 games, he batted .262 (44-for-168) with eight doubles and five homeruns, scored 24 runs and batted in 23, while stealing 14 bases.
During the World Port Tournament in July in Rotterdam, Richardson played for Curaçao and appeared in all six games the team played. He batted .150 (3-for-20) and batted in one run.
In August, Richardson was one of four players, who play in the Curaçao Baseball League, who were added to the roster of the Netherlands Under-23 Team for the European Championship in the Czech Republic. The others were pitchers Ross Ismail and Kenny Locadia and outfielder Dennis Gustina. The latter had to be replaced shortly before the start of the event, as he broke his wrist during an exhibition game.
Denzel Richardson was the team's best hitter, as he closed the event with a .448 (13-for-29) batting average, including a double, triple and homerun. He scored 12 runs and batted in ten. Richardson also led the team in runs scored, basehits and runs batted in.
Richardson was the sixth best hiter of the event, but led the tournament with his 13 hits and 12 runs scored. He shared first place with his 12 runs with Vojtech Mensik (Czech Republic).
(November 14)