Both starting pitchers retired the side in the first inning. In the second at bat, Amsterdam-starter Kevin Heijstek was supported with a double play defensively and a run offensively.

DSS-starter Donny Breek walked lead-off hitter Kalian Sams, who then stole second base and advanced to third base on a single by Gilmer Lampe. With one out, Sams scored the first run on a grounder by Danny Rombley.

A 5-run rally followed in the third inning. Amsterdam got the bases loaded when Max Clarijs led off with a walk, Remco Draijer doubled and Zerzinho Croes also walked. A sacrifice fly by Nick Urbanus then produced a run, but the bases were re-loaded when Kalian Sams also walked. Two runs were added when an error followed on a force play-grounder by Gilmer Lampe and Kenny Berkenbosch later added a 2-run single to increase the lead to 6-0.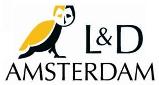 Another 5-run rally followed in the fourth at bat on two big hits. Rashid Gerard and Max Clarijs were both walked by Donny Breek, who was relieved hereafter. Robyn Clara took over, but he was greeted with a 3-run homerun by Remco Draijer, his first since the 2015 season. With two outs and Nick Urbanus (fielder's choice) and Gilmer Lampe (fielder's choice-error) on the bases, Kenny Berkenbosch again batted in two runs, this time with a double.
Trailing 11-0, DSS scored its first run in the top of the fifth inning. With one out, Sven van de Sanden doubled, moved on a single by Djewi Appelman and scored on a sacrifice fly by Levine Gabriëls.

The Haarlem-squad scored another run in the sixth inning. Thomas Bos then walked with one out and the bases got loaded when Kevin Nieveld and Omar Williams both singled. Hereafter, Tino van Erk also singled to bring in a run. However, DSS stranded three runners when Kevin Heijstek struckout the next two batters.
Amsterdam scored two more runs in the bottom of the sixth to reach a 10-run difference, 13-2. With one out, Nick Urbanus singled and scored on a double by Kalian Sams, who then scored himself on a following single by Gilmer Lampe.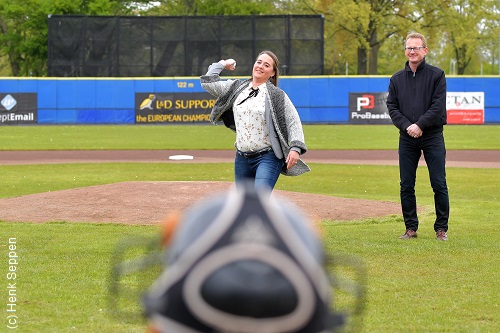 ...Bente van Tiggelen throws the ceremonial first pitch...
...Looking on is Pirates-treasurer Remko de Bie...
(© Photo: Henk Seppen)

For Kevin Heijstek, the day ended after six innings. The righthander had thrown six solid innings in his regular season comeback. On June 4 last year, during the Final of the European Champions Cup, Heijstek left the game in the sixth inning with a severe injury, which ended the season for him. He worked hard on his comeback and he recovered in time to be part of the Netherlands Team that traveled to Arizona in February to prepare for the World Baseball Classic. On February 20, Heijstek made his first pitching appearance again. Today was his comeback in the regular season after having pitched in his last regular season-game on May 26.

In the seventh, designated hitter Gilmer Lampe took the mound for Amsterdam. The outfielder will be used regularly this season as a reliever, but he still has to adjust to his new role. Today, he had problems finding the strike-zone, as he walked four batters. With one out, Lampe got the bases loaded when he walked Tommy van de Sanden, Odion Gouverneur and Thomas Bos. With two outs, a run was scored on a single by Omar Williams, making it a 13-3 score. A following walk for Tino van Erk brought in the next run and with that, the game would at least get a bottom of the seventh inning, as the 10-run difference had been erased. With the bases still loaded, a pick-off attempt by catcher Max Clarijs at first base ended in an error and another run, making it a 13-5 score. A grounder ended the at bat, but the game wasn't over yet.

Moments later, the game ended with a 10-run difference after all, as Amsterdam added two runs. Rightfielder Sven van de Sanden took over the DSS-pitching, but also got the bases loaded quickly. He walked Max Clarijs and Remco Draijer, then gave up a single to Norbert Jongerius. The latter was forced out on a grounder by Nick Urbanus, but that also brought in a run. The bases were loaded again when Kalian Sams received his third walk in the game. Gilmer Lampe then delivered a walk-off single that brought in Draijer and ended the game with a 15-5 score.