Before today's game, the ceremonial first pitch was thrown by Huub de Koning, the general director of De Glaskoning, the main sponsor of Twins.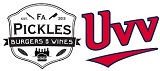 When the game went underway, UVV scored (unearned) one run off of starter Brendan Schoemaker, but also left three runners behind. Lead-off hitter Jelle Blaauw grounded the ball back to the righthander, but he made a throwing error. Hereafter, Schoemaker got the bases loaded when Tijmen Takke singled and Bryce Cherry walked. With one out, the first run was scored when Sergino Martis was hit by a pitch. Three runners were then left behind when an infiield-fly and force out followed.
UVV added a run in the second inning, which also was unearned. Steven van Reem led off with a walk, moved on an one-out single by Jelle Blaauw and scored with two outs when an outfield-error folllowed a single by Bryce Cherry.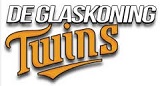 UVV was very productive in the third inning, scoring four runs to take a comfortable lead. Mike Bazuin led off with a walk and Sergino Martis doubled, then a passed ball accounted for the first run. After Julian Goins walked, the next run was scored on a single by Rick Kuipers. And after Steven van Reem also walked, Jelle Blaauw delivered a runscoring single and a sacrifice fly by Tijmen Takke brought in the next run. A 2-out single by Van Reem in the fourth inning lifted the lead to 7-0.

And so, Twins faced another early deficit, but this time much bigger than last Thursday. UVV then led only 2-1 after three innings and 3-1 when the seventh inning began. An 8-run rally in the seventh created a 10-run difference win for UVV.

Today, with UVV leading 7-0, another 10-run loss appeared to be in the making for Twins. However, UVV added only one more run in the remainder of the game, while Twins scored three runs.

Veteran righthander Jurjen van Zijl had a strong outing for UVV. He gave up a 2-out double to Dennis De Quint in the first inning, but then retired 10 batters in a row. In the fifth, Christopher Ge reached on an error, but was forced out on a grounder by Bob van der Meer, who later was caught stealing.

Twins scored its first run in the bottom of the sixth. Pinch-hitter Mick Molenaar led off with a single, moved on a single by Bart Janssen and flyout by Melvin Perdue, then scored on a force play-grounder by Jamie Verheyleweghen.

UVV got the run back in the seventh. Tijmen Takke led off with a triple and scored on a wild pitch, but UVV also would leave three runners behind.

Trailing 8-1, Twins scored its next run in the bottom of the seventh. Dennis De Quint led off with a ground-rule double and advanced on the first big league-basehit by rookie Tair Vrutaal. With two outs, De Quint scored on a pinch-hit single by Gino Jonis, who made his big league-debut.

Twins scored another run in the eighth when Melvin Perdue tripled and scored on a following infield-hit by Jamie Verheyleweghen.