Neptunus got on the bases quickly in its opening at bat off of starter Kevin Heijstek. Stijn van der Meer led off with a walk and Benjamin Dille singled. The two moved on a sacrifice bunt by Christian Diaz, but then were left behind.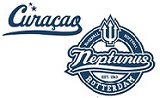 In the bottom of the first inning, Amsterdam Pirates scored twice off of starter Elton Koeiman. Two runs that appeared to be decisive for the game for 8 2/3 inning!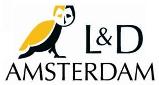 With one out, Koeiman gave up an infield-hit to Zerzinho Croes on a hard-hit ball, which had to be backhanded by short stop Stijn van der Meer. Croes moved to third base on a single by Nick Urbanus, who then moved into scoring position himself on a grounder by Gilmer Lampe. Moments later, Amsterdam led 2-0, scoring two unearned runs. Croes first scored on a passed ball. That brought Urbanus to third base and he also was able to score when catcher Gianison Boekhoudt threw the ball passed Koeiman, who had taken over home plate. Hereafter, Gilmer Lampe hit a hard comeback-grounder off the leg of Koeiman, who was able to retire the batter and continue the game. Also in the early part of the game, Home Plate Umpire Winfried Berkvens was hit on his collar bone by a foul ball, but luckily, he also was able to continue, thanks to some attention from the (female) Amsterdam-trainer. With two outs, Danny Rombley walked, but he stranded when a flyout ended the long first inning, which lasted 25 minutes.
Amsterdam added two runs in the second at bat. Linoy Croes led off with a bunt-single, then Rashid Gerard was hit by a pitch. The two runners moved on a sacrifice bunt by Max Draijer, then Croes scored the third Amsterdam-run on a wild pitch. Hereafter, Koeiman walked Remco Draijer, but he was forced out on a grounder by Zerzinho Croes. However, that also brought in Gerard to lift the lead to 4-0.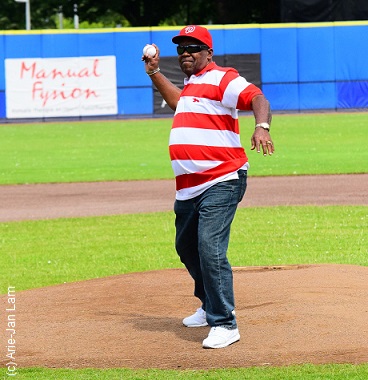 ...Alvin 'Fichi' Fleming throws the...
...ceremonial first pitch...
(© Photo: Arie-Jan Lam - AJL-Fotografie)

In the bottom of the third inning, Gilmer Lampe led off with a line drive homerun into leftfield to make it a 5-0 score!

And so, Amsterdam was leading 5-0 in the third inning and another big score appeared to be in the making. But Lampe's homerun produced the home team's last run in the game. After Lampe had homered, Linoy Croes delivered a 2-out double, which led to an early departure of Koeiman. Czech righthander Jan Tomek took over and he caught an inning-ending line drive off the bat of Rashid Gerard.

In the next five innings, Tomek silenced the Amsterdam-offense, which got into scoring position only two more times during his pitching. However, the 5-0 lead not only appeared to be comfortable but also enough for an Amsterdam-victory. Especially since the Neptunus-offense was not that productive, recording only six hits in the first eight innings. But it then added eight more in the ninth and tenth inning!

Tomek retired the side in the fourth and fifth inning. He gave up a lead-off single to Kenny Berkenbosch in the sixth, but then got three flyouts. In the seventh, with one out, Zerzinho Croes singled for Amsterdam and stole second base, but also stranded. In the eighth, the home team got close to another run. With one out, Kenny Berkenbosch drove the ball into right-centerfield for a double and when an outfield-error was made there, he was able to reach third base. This time, a strikeout and foul-out followed and so, Tomek avoided that Pirates could take more distance. The Czech pitcher threw six strong scoreless innings and gave up only three hits.

In the second, third and fourth inning, Amsterdam-starter Kevin Heijstek allowed only two batters to reach base. Daniel Fernandes singled with two outs in the second and Christian Diaz singled with two outs in the third, but both were left behind on first base.

After having retired the side in the fourth, Heijstek gave up the first run in the fifth. Daniel Fernandes led off with a double, moved on a single by Shaldimar Daantji and scored on a sacrifice fly by Stijn van der Meer.

In the sixth, Heijstek got two quick outs, but then walked Gregory Muller and Ruar Verkerk, which led to a pitching change. Dennis Burgersdijk took over and closed the inning with a strikeout.

In the next two innings, Burgersdijk encountered no problems. He did gave up a lead-off single to Shaldimar Daantji in the seventh, but he stranded on third base.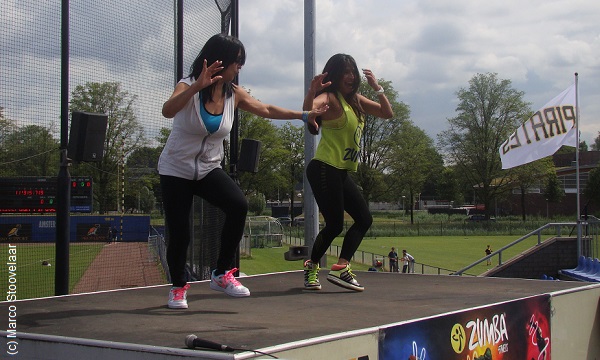 ...Latin dancers performed before the game at the terrace...
(© Photo: Marco Stoovelaar)

And so, the ninth inning started with a 5-1 lead for Amsterdam Pirates, which needed only three more outs to record its second win in three days. The first out came quickly, but then, the home team led the lead slip out of its hands. Daniel Fernandes singled and Shaldimar Daantji doubled, then Stijn van der Meer followed with a runscoring single to narrow the deficit to 5-2. It also led to a pitching change, as Daan Hendrix took over. As has happened frequent times during this season by all teams, the bullpen was unable to hold onto a lead. Hendrix was greeted with a sacrifice fly from Benjamin Dille, which made it a 5-3 score. On the very next pitch, Hendrix gave up a 2-run homerun to Christian Diaz that tied the score at 5-5 and made it a complete new ball game! Hereafter, Dwayne Kemp singled, which led to another pitching change. Nick Veltkamp was brought in, but the lefthander walked Gianison Boekhoudt. He then got a force play-grounder from Gregory Muller that ended the inning, but the game continued.

In the bottom of the ninth inning, Jan Tomek hit Zerzinho Croes with a pitch with two outs and was relieved by Berry van Driel. He got an inning-ending grounder and so, the game went into extra innings.

In the top of the tenth, Daniel Fernandes singled with one out. For the Neptunian leftfielder, this was hit fourth basehit in the game. He stole second base, then scored the go-ahead run (his third run in the game) on a 2-out single by Stijn van der Meer. He then also stole second base and score the next run on a single by Benjamin Dille to make it a 7-5 score.

In the bottom of the tenth inning, Gilmer Lampe led off with a single. After a flyout accounted for the first out, Kenny Berkenbosch hit a hard grounder towards short stop Stijn van der Meer for what appeared to be a double play-grounder. However, at the last moment the ball jumped over Van der Meer into centerfield for a bad hop-single that led to runners at the corners. Moments later, the game-ending double play did come after all. Linoy Croes lined out to third baseman Dwayne Kemp, who got the ball in time to first baseman Gregory Muller to complete the double play. And seal the come-from-behind-victory!