(Story by Marco Stoovelaar; Photo by Henk Seppen)




Dominicans shutout Venezuela
Nederlands



SAN DIEGO, California (USA) - Reigning WBC-champion Dominican Republic shutout Venezuela 3-0 on Thursday-evening (March 16) to win its first game in Pool F in the Second Round of the World Baseball Classic. The Dominicans opened this Pool on Tuesday with a 3-1 loss against Puerto Rico.
For Venezuela, this was its second loss. The team led 2-1 in the eighth inning against the USA on Wednesday, but lost 4-2. While Venezuela is now 0-2, the team is not eliminated yet, as a 3-way tie is still possible for second place. In that case, a tiebreaker-game will decide the second semi-finalist. In order to realize this scenario, the USA has to win first against Puerto Rico in Friday.

The Dominicans opened the score in the bottom of the fifth inning when Gregory Polanco (Pittsburgh Pirates) led off with a homerun off of starter Jhoulys Chacín (San Diego Padres).
In the bottom of the seventh inning, the second run was added off of new pitcher José Castillo (Single-A, San Diego Padres). This time, Polanco led off with a single, but was eliminated when a pop-up by next batter Welington Castillo (Baltimore Orioles) ended in a force out. Short stop Alcides Escobar (Kansas City Royals) fielded the ball and threw it to second baseman Rougned Odor (Texas Rangers) to force out Polanco. With two outs, Castillo advanced when Manny Machado (Baltimore Orioles) walked, then scored on a single by Robinson Canó (Seattle Mariners).
In the eighth, Nelson Cruz (Seattle Mariners) led off with a homerun to lift the Dominican lead to 3-0. Cruz is participating in his third Classic.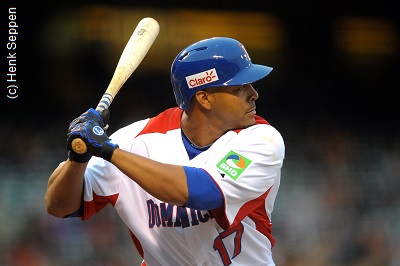 ...Nelson Cruz hitting for the Dominicans during...
...the 2013 World Baseball Classic...
(© Photo: Henk Seppen)

Defensively, third baseman Manny Machado made some spectacular defensive plays. First, he fielded a bunt by Alcides Escobar barehanded and retired him at first base in the fifth. In the next inning, he fielded a line drive down the leftfield-line by Miguel Cabrera (Detroit Tigers) backhanded. The throw (from foul territory) to first was somewhat off the base, but first baseman Carlos Santana (Cleveland Indians) caught it and dove back to the base in time to eliminate Cabrera.

(March 16)

Related Articles:


Netherlands to play exhibition game; Jansen joins team. (March 16)


USA comes from behind to win against Venezuela. (March 15)


Big win Netherlands vs. Cuba; in Semi-Finals after Japan wins. (March 15)


Puerto Rico defeats Dominicans in Second Round-opener. (March 14)


Japan wins vs. Cuba, but Pool is not decided yet. (March 14)


Venezuela comes from behind & eliminates Italy. (March 13)


A dream come true for Dutch WBC-umpire Winfried Berkvens. (March 13)


Netherlands wins convincingly against Israel. (March 13)


Three teams qualify for 2nd Round; Tie-breaker Italy vs. Venezuela. (March 12)


Netherlands ends up short in extra innings vs. Japan. (March 12)


WBC-wins for Colombia, Venezuela & Dominican Republic. (March 11)


USA needs extra inning to win; Puerto Rico wins big. (March 10)


Cuba advances to Second Round WBC; Australia eliminated. (March 10)


Italy wins opener on walk-off single; Dominicans win big. (March 9)


Netherlands empty-handed vs. Israel; finishes 2nd in Pool. (March 9)


Orange in 2nd Round WBC after walk-off win; Israel also in. (March 8)


Netherlands opens WBC with shutout vs. South Korea. (March 7)


Israel upsets South Korea in WBC-opener with 10-inning win. (March 6)


Netherlands Team closes WBC-preparations with loss. (March 5)


Netherlands Team wins big in Korean exhibition game. (March 3)


Netherlands closes exhibition series in Arizona with loss. (February 25)


First game Netherlands vs. Twins ends in tie. (February 24)


Netherlands Team wins big in exhibition game vs. Geckos. (February 23)


Exhibition losses Netherlands Team in Arizona. (February 20)


Orange roster announced for World Baseball Classic. (February 8)


Netherlands Team to prepare in Arizona. (February 8)