(Story by Marco Stoovelaar; Photo by Henk Seppen)




Netherlands to play exhibition game; Jansen joins team
Nederlands



TOKYO (Japan) - After the huge 14-1 victory in seven innings against Cuba on Wednesday (March 15) in Tokyo (Japan), the Netherlands Kingdom Team had to wait for the result of the game between Japan and Israel. That result decided who would advance automatically to the Semi-Finals and whether a tiebreaker-game was needed.

Japan won 8-3 and that decided the ranking in Pool E. Japan finished in first place and the Netherlands finished in second place. With that, Japan and the Netherlands qualified for the Final Round, which will be played in Los Angeles.
Japan and the Netherlands will both first travel from Tokyo to Arizona, where both will conduct several practice sessions in the coming days. Both also will play an exhibition game on Saturday.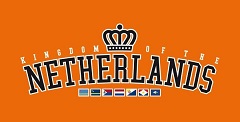 Japan then will play against the Major League-squad of the Chicago Cubs and will face righthanded pitcher John Lackey
The Netherlands Kingdom Team will play on Saturday against the big league-squad of the Arizona Diamondbacks. The Orange squad will face Zack Greinke, who has been announced as starting pitcher of the D-backs. Last season, his first in Arizona, the righthander started 26 games and was 13-7. Greinke won the Cy Young Award in 2009 when he was with the Kansas City Royals and he pitched in the All Star Game in 2014 and 2015 when he was with the Los Angeles Dodgers.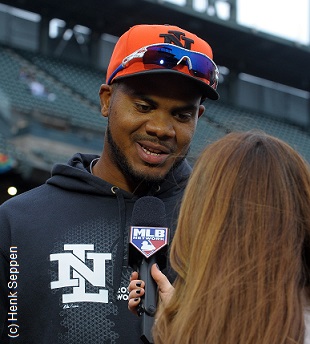 ...Kenley Jansen is interviewed during...
...the 2013 World Baseball Classic...
(© Photo: Henk Seppen)

On Thursday (March 16), it was confirmed that closer Kenley Jansen will be with the Netherlands squad in the Final Round. The closer of the Los Angeles Dodgers also played for the Netherlands in the 2009 World Baseball Classic, but then as a catcher. Later in the year, he was one of the pitchers of the Orange squad during the World Championship. In 2013, Jansen also was added to the Netherlands-roster for the Final Round of the Classic, but then didn't pitch.

(March 16)

Related Articles:


USA comes from behind to win against Venezuela. (March 15)


Big win Netherlands vs. Cuba; in Semi-Finals after Japan wins. (March 15)


Puerto Rico defeats Dominicans in Second Round-opener. (March 14)


Japan wins vs. Cuba, but Pool is not decided yet. (March 14)


Venezuela comes from behind & eliminates Italy. (March 13)


A dream come true for Dutch WBC-umpire Winfried Berkvens. (March 13)


Netherlands wins convincingly against Israel. (March 13)


Three teams qualify for 2nd Round; Tie-breaker Italy vs. Venezuela. (March 12)


Netherlands ends up short in extra innings vs. Japan. (March 12)


WBC-wins for Colombia, Venezuela & Dominican Republic. (March 11)


USA needs extra inning to win; Puerto Rico wins big. (March 10)


Cuba advances to Second Round WBC; Australia eliminated. (March 10)


Italy wins opener on walk-off single; Dominicans win big. (March 9)


Netherlands empty-handed vs. Israel; finishes 2nd in Pool. (March 9)


Orange in 2nd Round WBC after walk-off win; Israel also in. (March 8)


Netherlands opens WBC with shutout vs. South Korea. (March 7)


Israel upsets South Korea in WBC-opener with 10-inning win. (March 6)


Netherlands Team closes WBC-preparations with loss. (March 5)


Netherlands Team wins big in Korean exhibition game. (March 3)


Netherlands closes exhibition series in Arizona with loss. (February 25)


First game Netherlands vs. Twins ends in tie. (February 24)


Netherlands Team wins big in exhibition game vs. Geckos. (February 23)


Exhibition losses Netherlands Team in Arizona. (February 20)


Orange roster announced for World Baseball Classic. (February 8)


Netherlands Team to prepare in Arizona. (February 8)