Today's game remained scoreless in the first three innings, but both teams left runners behind in scoring position.

In the top of the first inning, Nick Urbanus doubled with two outs for Pirates, as did Kevin Nieveld with two outs for DSS in the bottom of the first. Both stranded on second base.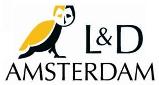 In the third, both teams got a baserunner with one out. Remco Draijer walked for Amsterdam and Thomas Bos singled for DSS, but both were caught stealing.
Pirates then opened the score in the top of the fourth inning. Nick Urbanus led off with a single and stole second base. He scored on an one-out single by Gilmer Lampe, who stranded on second base, as DSS-starter Sander Helmendach struckout the next two batters.

Amsterdam doubled its lead in the sixth inning. Zerzinho Croes led off with an infield-hit and advanced to third base on a single by Kalian Sams. Gilmer Lampe followed with a runscoring single, but that also ended in a double play. While Croes scored, Sams advanced to second base and when he also tried to reach third base, he was eliminated there on the throw by leftfielder Kevin Nieveld. Third baseman Omar Williams then threw the ball to first baseman Tino van Erk, where Lampe got into a rundown and also was eliminated, completing the double play and ending the inning.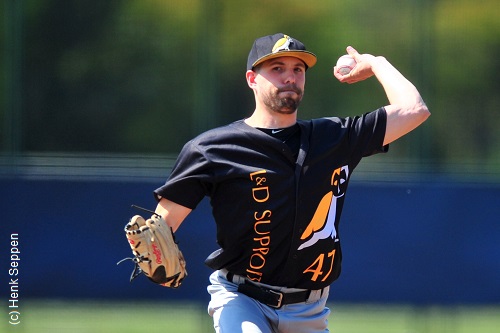 ...Kyle Ward had a great outing for Amsterdam Pirates...
(© Photo: Henk Seppen)

Amsterdam-starter Kyle Ward had a great outing. DSS only got into scoring position off of the lefthander in the first inning. After he had given up the double to Kevin Nieveld in the first inning, Ward faced the minimum of 18 batters in the next six innings. In the third, he gave up an one-out single to Thomas Bos, who was caught stealing moments later. Hereafter, Ward retired the next 13 batters in a row.

Amsterdam Pirates added two more runs in the top of the seventh inning. With one out, Linoy Croes tripled. Next batter Jesse Aussems was hit by a pitch, left the game and was replaced by pinch-runner Norbert Jongerius. That led to a pitching change. Tim Halderman took over from starter Sander Helmendach, but gave up a 2-run double to Max Clarijs, making it a 4-0 score.

In the top of the eighth inning, Amsterdam rallied for seven runs to take a commanding lead. Reggie Bomberg started the inning in relief for DSS, but gave up singles to Kalian Sams and Gilmer Lampe. They respectively scored on a sacrifice fly by Kenny Berkenbosch and a single by Linoy Croes. Hereafter, Rashid Gerard walked and then more runscoring basehits followed. Max Clarijs singled in a run, Remco Draijer followed with a 2-run triple and scored, after another pitching change, on a double by Zerzinho Croes. Gijs Timmer, who took over the pitching after Draijer's triple, saw Pirates score another run on a wild pitch and that lifted the lead to 11-0.

That eleventh run proved to be needed to end the game via the mercy-rule, as DSS scored its lone run in the bottom of the eighth inning. Daan Hendrix relieved Kyle Ward and gave up a lead-off double to Tino van Erk. With one out, he scored on a single by Djewi Appelman. Hendrix kept the 10-run difference intact, as he struckout the next two batters to end the game.