Before today's game, Pioniers officially opened the new season with the introduction of the players and coaches. The ceremonial first pitch was thrown by Nicole Visser-van Ruiten of Decrowear & Gifts, which is a supplier of Macron sportswear and a sponsor of the Pioniers big league-team. Before the game, the sponsor-agreement was officially signed.

HCAW led 2-1 after two innings, but that could have been a bigger lead, as the Bussum-squad left five runners behind in the first two at bats.

In the top of the first inning, Roelie Henrique led off with a single off of starter Nick Keur. Hereafter, the bases got loaded when Seb Visser reached on an infield-hit and Vince Rooi walked. After an infield-fly accounted for the first out, HCAW opened the score on a sacrifice fly by Kevin Weijgertse, but it also left two runners behind.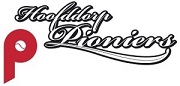 Pioniers came alongside in its first at bat off of Ian Delemarre. Dudley Leonora led off with a double, then Sander Paap was hit by a pitch. With one out, Leonora advanced to third base on a flyout. Paap then stole second base and on the throw, Leonora stole the plate to score the tying run.
HCAW re-took the lead immediately in the second at bat. Rookie Dylan Koster led off with a single and moved to third base on an one-out single by another rookie Delano Selassa for whom it was hit first big league-hit. With two outs, Seb Visser walked and when next batter Vince Rooi also walked, HCAW took a 2-1 lead. Nick Keur closed the inning with a strikeout and with that, HCAW left three runners behind.
Hereafter, a pitching-duel developed between Delemarre and Keur, as the game remained scoreless until the seventh inning.
HCAW was held scoreless by Keur in the third though sixth inning and reached only three times. The lefthander was supported with two double plays. In these innings, Pioniers left three runners behind in scoring position.
...Delano Selasso today hit his first, second and third basehit..
...in his big league-career...
(© Photo: Alfred Cop Fotografie)

Pioniers then came alongside again in the bottom of the seventh inning after a pitching change. For HCAW, Giovanni Tensen took over from starter Ian Delemarre. He saw lead-off hitter Mark Smit reach on an error and and advance on a sacrifice bunt by pinch-hitter Glenn Bakker. Hereafter, the home team got runners on second and third base when Dudley Leonora singled. With two outs, another pitching change followed, as Steven van Groningen relieved Tensen. He got the bases loaded when he walked Shurman Marlin, then also walked Jeffrey Arends, which made it a 2-2 score. A grounder ended the at bat, but it was a new ball game.

Both teams scored in the eighth inning.

First, HCAW took the lead for the third time off of reliever Glenn Wassink. Seb Visser led off with a single, then his pinch-runner Koen Werkman advanced on a wild pitch and scored on a single by Vince Rooi. Scott Ronnenbergh then became the new pitcher for Pioniers. The lefthander got a force play-grounder and his defense turned a double play to end the inning.

In the bottom of the eighth, Pioniers came alongside for the third time. Brennan Nijhof led off with a double, moved on a wild pitch and scored on an one-out double by Mark Smit. He tried to stretch his hit into a triple, but was eliminated at third base. Glenn Bakker followed with a double and Dudley Leonora was hit by a pitch, which brought in another new pitcher. Oscar Meuris took over and got a flyout, meaning Pioniers stranded two runners.

In the ninth, both teams got a scoring opportunity.

In the top of the ninth, off of new pitcher Maickel Rietel (who was the winner the day before), Delano Selassa doubled with two outs and advanced on an infield-hit by Roelie Henrique, but then was eliminated after overrunning third base.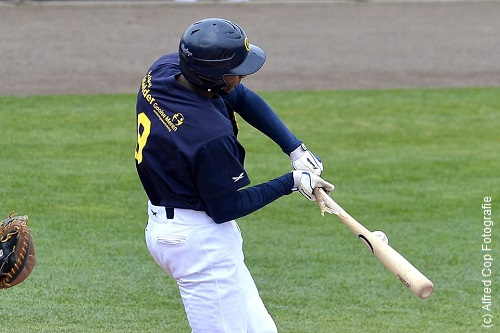 ...The season is over for this bat, which breaks when...
...Roelie Henrique makes contact with the ball...
(© Photo: Alfred Cop Fotografie)

In the bottom of the ninth, Pioniers got the bases loaded with two outs. Oscar Meuris first walked Shurman Marlin and Jeffrey Arends and with two outs, he hit Gianni Frolijk with a pitch. The inning ended with a force out, leaving three runners behind. And with that, the game went into extra innings.

In the top of the 10th, it was HCAW that stranded three runners. With two outs and Kevin Dirksen (fielder's choice) on first base, then bases got loaded when Kevin Weijgertse singled and everyone was safe on a fielder's choice-grounder by Rachid Engelhardt. A flyout ended the at bat.

In the bottom of the 10th, lead-off hitter Glenn Bakker was hit by a pitch. He moved into scoring position via a sacrifice bunt, but then stranded on second base when Meuris closed with two strikeouts.

HCAW was productive again in the eleventh inning and this time, it was able to score again and took the lead for the fourth time. Rookie Darryl Jamoena became the new Pioniers-pitcher, but was greeted with a lead-off triple by Raoell Kortstam, who then scored on an one-out single by Roelie Henrique. With two outs, Henrique stole second base. To create a force play, but also to pitch around powerhitter Vince Rooi, an intentional walk followed, but hereafter, the bases got loaded when Kevin Dirksen received a regular walk. Jamoena followed with another walk, this time for Kevin Weijgertse, which enabled HCAW to add an insurance run. Three runners were left behind when a grounder ended the inning, but HCAW led 4-2.

In the bottom of the 11th, closer Sedley Karel took the mound for HCAW. On Saturday, he also took over with a 2-run lead, but then gave up a 3-run homerun and was credited with a Blown Save. Today, he was more successful. He began with a strikeout, then faced Quintin De Cuba, who had homered off of him the day before. This time, De Cuba singled, but hereafter, Brennan Nijhof grounded into a game-ending double play.

And with that, the longest game so far of the 2017 season ended after three hours and 42 minutes.

And Karel today got credited with his first save. In a preview for the new season in a local newspaper, Karel stated that his goal this season is to set a new record for saves in the big league. The record is 14, which was set in 2002 by Michiel van Kampen and equaled in 2005 by Dave Draijer. Last season, Karel had 11 saves.