In the top of the first inning, Twins got its first two batters on second and third base off of starter Gilian van Lith, but a strikeout and line drive double play followed.

Twins then opened the score in the third inning. Bart Janssen led off with a walk, advanced on a wild pitch with one out and scored on a 2-out single by Jamie Verheyleweghen. The Belgian player then moved to third base when a pick-off at first base ended in a throwing error, but he was left behind.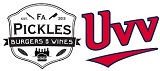 UVV came alongside in the bottom of the third inning off of starter Reynaldo Sarmiento Claro. This run also was the result of a walk. Rick Kuipers led off with a walk. He then reached second base safely when an error was made on a force play-grounder by Cecil Comenencia and scored on a 2-out single by Tijmen Takke. The bases got loaded when Bryce Cherry also singled, but UVV left three runners behind.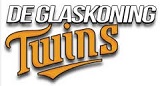 After Twins left runners behind on first and second base in the top of the fourth, UVV took a 2-1 lead moments later. Randy Daal led off with a double and Julian Goins followed with a runscoring triple, but the home team again stranded a runner in scoring position, as the next three batters were eliminated.
This lead also was shortlived, as Twins tied the score in the top of the fifth inning. Nick Peels led off with a single, but was eliminated in a double play after next batter Melvin Perdue popped out. Jamie Verheyleweghen then walked and later scored on a double by Dennis De Quint. Gino Jonis followed with a single, Verheyleweghen was waved home, but was eliminated at the plate, ending the inning.
In the bottom of the fifth, UVV took the lead for the second time when Bryce Cherry hit his first big league-homerun with one out.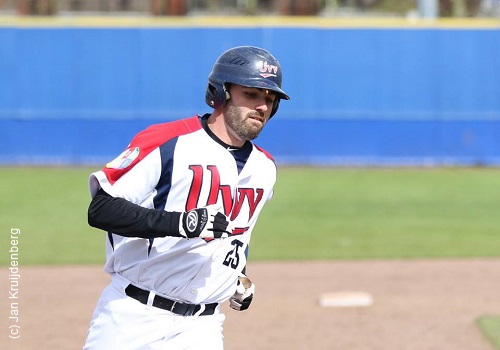 ...Rookie Bryce Cherry was 4-for-5 with a homerun for UVV...
(© Photo: Jan Kruijdenberg)

The UVV-defense turned its third double play in the sixth inning, then added another run in the seventh. In this at bat, Thijs Steenwijk took the mound for Twins and faced his former team, as he played for UVV last season. He hit lead-off hitter Cecil Comenencia with a pitch, who then stole second base with two outs and scored on a single by Bryce Cherry to make it a 4-2 score.

In the top of the eighth inning, Twins appeared to turn the game its way by scoring four runs. The Oosterhout-squad got the bases loaded quickly off of reliever Jimmy Osinga. Pinch-hitter Bob van der Meer led off with an infield-hit, then Gino Jonis and Christopher Ge both walked. That led to a pitching change, as José Moreno took over. He was greeted with a baseclearing, 3-run double by rookie Bram Grooten, which gave Twins a 5-4 lead. Moments later, Grooten advanced on a single by Menno Lenting and scored on a sacrifice fly by Bart Janssen. The inning then ended when Lenting was caught stealing and Moreno closed with a strikeout.

Now trailing 6-4, UVV narrowed the deficit to 6-5 in the bottom of the eighth, but could have scored more runs. Sergino Martis and Mike Bazuin led off with walks. Hereafter, UVV's Head Coach Ty Eriksen made several changes hoping to turn the game its way again. Martis was replaced by pinch-runner Roland Laurens, but his appeance was brief, as he was forced out at third base hereafter on a grounder by Randy Daal. An error then followed on a grounder by Julian Goins, which led to a run. UVV got the bases loaded when another error was made on a grounder by Rodney Daal, who played in his first game. He is recovering from an injury and therefore cannot play fulltime yet. After reaching first base, Daal was replaced by pinch-runner Brandon Rijnbergen. With the bases loaded, a force out at the plate followed on a grounder by Cecil Comenencia and a flyout ended the inning.

In the top of the ninth, José Moreno retired the side and then a suspenseful bottom of the ninth followed. With one out, Bryce Cherry singled, as did pinch-hitter Steven van Reem. Mike Bazuin delivered the third consecutive single to bring in Cherry and tie the score at 6-6. Another pinch-runner entered the game, as (pitcher) Timo van Ancum took over for Van Reem at second base. A successful move, as Van Ancum scored the winning run when Randy Daal followed with a walk-off single, resulting in a 7-6 win and a sweep for UVV.