Neptunus opened the score quickly, as lead-off hitter Shaldimar Daantji drilled the first delivery of starting pitcher Glenn Wassink over the fence down the leftfield-line for a homerun! Hereafter, Wassink walked Stijn van der Meer and gave up a bunt-single to Dwayne Kemp. Next batter Gianison Boekhoudt flied out to centerfielder Joey Eeman, but when the rookie fell backwards after catching the ball, Van der Meer was able to score, making this a sacrifice fly. Kemp was left behind, as two more flyouts followed.

Glenn Wassink made his first start of the season after having made six relief appearances. He was inserted into the rotation after Saturday's game rained out. Pioniers' Head Coach Dè Flanegin decided not to move his scheduled Saturday's starter Lars Huijer to Sunday's game. When he had done that, Sunday's starter Nick Keur could have been available for tonight. Flanegin kept Keur to start on Sunday, but that with, Huijer became unavailable to start tonight, as he is scheduled to start next Thursday in the opener against L&D Amsterdam Pirates. On Sunday, Huijer pitched three innings in relief and Wassink was named to start tonight's game.
In the top of the second inning, Neptunus got its next runner in scoring position. With one out, Urving Kemp singled and stole second base. With two outs, he tried to advance to third base on a grounder towards third by Shaldimar Daantji, but was eliminated.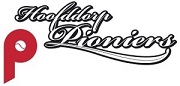 In its first at bat off of Kevin Kelly, Pioniers left a runner behind on second base, but then scored in the next two innings. With two outs in the second, Gianni Frolijk walked and Glenn Bakker singled. Hereafter, Frolijk scored on a single by Joey Eeman, who later was caught stealing.
Neptunus got the run back in the top of the third. Stijn van der Meer led off with a double, moved on a grounder, then scored on a grounder by Gianison Boekhoudt. Neptunus then got the bases loaded when Daniel Fernandes also doubled, Ruar Verkerk walked and Gregory Muller singled. Muller returned on Monday after a 3-week stay in the States for which he got permission from the club, as it was known before the start of the season that he would be absent during these weeks. The three runners were left behind, as a force play ended the at bat.
Pioniers scored its second run in the bottom of the third inning. With two outs, Dudley Leonora and Jeffrey Arends both walked and Shurman Marlin followed with a runscoring single to narrow the deficit to 3-2.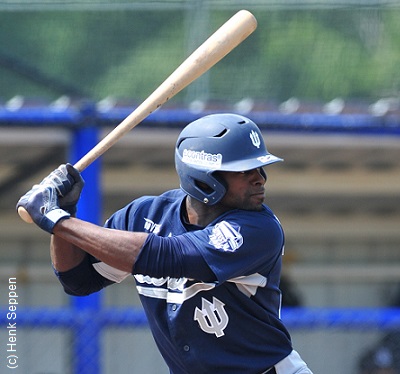 ...Shaldimar Daantji homered twice for Neptunus...
(© Photo: Henk Seppen)

After Glenn Wassink had retired the side in the fourth and fifth inning, it became a new game moments later, as Pioniers came alongside in the bottom of the fifth. Brennan Nijhof then led off with a walk, moved on a sacrifice bunt by Mervin Gario and scored on a 2-out double by Jeffrey Arends.

Neptunus broke the tie with three runs in the top of the sixth inning. Ruar Verkerk led off with a triple and scored on a following single by Gregory Muller to give the Rotterdam-squad a renewed lead. With one out, Muller moved on a sacrifice bunt by Jochem Koedijk, then scored when Shaldimar Daantji hit his second homerun of the evening to make it a 6-3 score. That also meant the end for Glenn Wassink, who was relieved by Scott Ronnenbergh.

Pioniers got a chance to do something back in its sixth at bat, as it got the bases loaded. First, Max Draijer led off with a walk, which led to a pitching change. Kevin Kelly was relieved by Jan Tomek, but the Czech righthander walked next batter Gianni Frolijk. A flyout and strikeout followed, but Tomek then got the bases loaded when he also walked Brennan Nijhof. The three runners were left behind when Tomek closed the inning by striking out Mervin Gario.

After Neptunus had left a runner behind on third base in the top of the seventh inning, Pioniers got a run back in the home of the seventh. With one out, Jeffrey Arends was hit by a pitch, advanced on a passed ball and a wild pitch, then scored on a sacrifice fly by Max Draijer.

Pioniers got into scoring position again in the eighth, but was unable to score. With one out, Joey Eeman walked and Brennan Nijhof singled, which led to runners at the corners. Berry van Driel then took over the pitching and got a grounder that moved Nijhof to second base. A line drive from Dudley Leonora followed, but that was caught by third baseman Ruar Verkerk.

In the top of the ninth, off of new pitcher Darryl Jamoena, Neptunus not only added one insurance run, it scored four. Shaldimar Daantji and Stijn van der Meer led off with singles. Dwayne Kemp then flied out, which enabled both runners to advance, but when an error followed, Daantji could score. With Van der Meer on second base and one out, Gianison Boekhoudt was walked intentionally to set up a force play. A pitching change followed, as Maickel Rietel was brought in, but he was greeted with a 3-run homerun by Daniel Fernandes that lifted the lead to 10-4.

In the bottom of the ninth, Berry van Driel retired the side to end the game and earn a save.