(Story by Marco Stoovelaar; Photo by Henk Seppen)

Bagwell, Raines, Rodríguez elected into Hall of Fame
Nederlands



NEW YORK, New York (USA) - Jeff Bagwell, Tim Raines and Iván Rodríguez are all elected into the National Baseball Hall of Fame. The results of the voting by eligible members of the Baseball Writers' Association of America (BBWAA) were announced on Wednesday (January 18), after being tallied earlier in the day. It was the 73rd time that the baseball writers elected new members for the Major League Hall of Fame. To be elected, players need to have at least 75% of the votes.
The players who were elected on Wednesday join former Major League Commissioner Bud Selig and Atlanta Braves Vice-Chairman John Schuerholz. They were elected early last month by the so-called 'Today's Game Era Committee' (1988 through present). This is one of four new 'veteran' committees that were created last July to succeed to Veterans Committee. The other three are Modern Baseball (1970-1987), Golden Days (1950-1969) and Early Baseball (1871-1949). These committees will rotate in the coming the years to make selections from eligible players, managers, umpires and executives.

All new elected members will officially be inducted into the Hall of Fame in Cooperstown on July 30.
Jeff Bagwell received the most votes. Last year, two players were elected, Ken Griffey, Jr. and Mike Piazza. It marks the fourth consecutive year that two or more players were elected.
Jeff Bagwell was in his seventh year on the ballot. Last year, the first baseman missed only 15 votes to be elected. Bagwell is the second player of the Houston Astros to be elected. The first was Craig Biggio in 2015. Bagwell played his entire 15-year career (1991-2005) with the Astros, playing in 2,150 games. He registered 2,314 basehits, including 449 homeruns and batted in 1,529 runs. Bagwell was the National League Rookie of the Year in 1991, the NL Most Valuable Player in 1994 and played in four All Star Games. In 2005, he played in the World Series, but the Astros then lost to Chicago White Sox.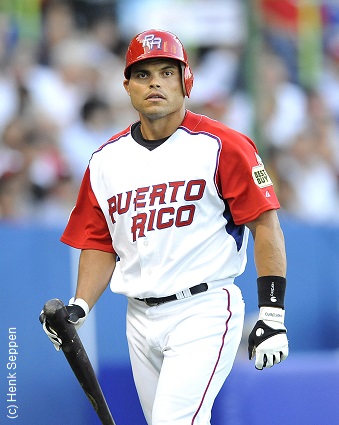 ...Ivan Rodriguez playing for Puerto Rico...
...during the 2013 World Baseball Classic...
(© Photo: Henk Seppen)

Tim Raines was in his tenth and final year on the ballot. Raines, who was a leftfielder, played 23 years in the Major League, including 13 with Montreal Expos. He played his first 12 seasons (1979-1990) with the Expos, then played for Chicago White Sox (1991-1995), New York Yankees (1996-1998) and Oakland Athletics (1999). Hereafter, he was signed again by the Yankees in February 2000, but was released again the next month. In December of that year, he returned to the Expos and played again for the Canadian club in 2001, but concluded that season with Baltimore Orioles. In 2002, he played one more full season in the Majors for Florida Marlins, before retiring. In 2,502 games, Raines collected 2,605 basehits, including 170 homeruns. He scored 1,571 runs and batted in 980. Raines was also known for his speed and stole 808 bases in his long career. Raines played in seven All Star Games and won the World Series with the Yankees in 1996. Raines will be the third player of the Expos in the Hall of Fame. The other are catcher Gary Carter (2003) and outfielder Andre Dawson (2010).

Iván 'Pudge' Rodríguez was a first-time candidate. Rodríguez is considered one of the top catchers and the best in his era. He is only the second catcher in history to be voted into the Hall of Fame in his first year, the other being Cincinnati Reds-great Johnny Bench in 1989. Rodríguez played 21 years in the Major League (1991-2011) for six teams. In the first twelve years of his career, Rodríguez played for Texas Rangers (1991-2002). The catcher then played one season for Florida Marlins, which was followed by almost five seasons with Detroit Tigers (2004-2008) During the 2008 season, he was traded to New York Yankees, then became a Free Agent after the season. In 2009, Rodríguez again played for two teams. He started with Houston Astros, then was traded to Texas Rangers. Pudge concluded his career with Washington Nationals, where he played in 2010-2011. In his long career, Rodríguez played in 2,543 games and got credited with 2,844 basehits, with 311 of them being a homerun. He batted in 1,332 runs and scored 1,354. Rodríguez was the American League MVP in 1999, played in 14 All Star Games and won 13 Gold Gloves. He won the World Series in 2003 with Florida Marlins. Rodríguez again played in the Series in 2006 with Detroit, but then lost to St. Louis Cardinals.

Closer Trevor Hoffman, who was a second-year candidate, ended up just short. Hoffman, who played 18 seasons in the Majors, including 16 with San Diego Padres, earned 601 saves in his long career. In the voting, he finished in fourth place with 74%, trailing Bagwell (86.2%), Raines (86%) and Rodríguez (76%). Finishing in fifth place was outfielder Vladimir Guerrero, who got 71.7 percent of the votes.

(January 18)

Related Articles:


John Schuerholz & Bud Selig elected into Hall of Fame. (December 4, 2016)


Ken Griffey, Jr. & Mike Piazza elected into Hall of Fame. (January 6, 1016)