(Story by Marco Stoovelaar; Photos courtesy of The Herons)

Gé van Berkel inducted into Dutch Hall of Fame
Nederlands



HEERHUGOWAARD (Neth.) - Gé van Berkel has officially been inducted into the Netherlands Baseball and Softball Hall of Fame on Friday-evening (February 17). The induction ceremony was held in an indoor sports facility in Heerhugowaard during a practice session for youth players of The Herons, the club where Van Berkel has long been associated with.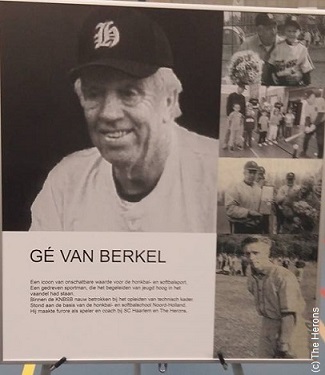 ...The Hall of Fame-plaquette...
...of Gé van Berkel...
(© Photo courtesy of The Herons)

After Ronald van der Putten, Chairman of The Herons, welcomed everyone at the well-visited event and made his opening remarks regarding the Hall of Fame-induction of Gé van Berkel, it was time to officially unveil his Hall of Fame-plaquette. Frits Mulder, KNBSB Member of the Board for Baseball Affairs, handed Van Berkel the Hall of Fame-pin. Gé van Berkel was also addressed by his good friend Dick Lablans, which was an emotional moment. Dick's wife Olga unfortunately passed away last month, she had been the Secretary of the Board of the Hall of Fame the past years.

Van Berkel becomes the 50th person to be inducted into the Hall of Fame. The inaugural class was inducted in 1983. The last time that someone was elected into the Hall of Fame was in 2014 when Loek Loevendie was honored this way. The Hall of Fame is part of the Netherlands Baseball and Softball Museum, which is located in the Pim Mulier Stadium in Haarlem.
Coincidentally, Van Berkel and Loevendie are much alike, as both are active in baseball and softball for many, many years. Both also have been involved in coaching and development of youth players for a very long time. For his many contributions in the field of player development, Van Berkel won the In Memoriam Leen Volkerijk Award in 2010.
Gé van Berkel has been active in baseball for seventy years, including more than forty for his club The Herons, which has its home-site in Heerhugowaard. Since moving from Haarlem to Heerhugowaard in the seventies, he became a club-icon there and that earned him the nickname 'Mr. Herons'. A few years ago, at age 80, Van Berkel retired as a coach, but he still is involved within the club's activities.

At The Herons, Van Berkel coached and trained many youth baseball-players. Several of them continued to develop, reached the Dutch Major League and some even went on to play in the Netherlands National Baseball Team, including pitchers Eelco Jansen and Jeroen Deken.
Gé van Berkel started his baseball-career in Haarlem when he began playing in a youth-team of SC Haarlem at age 10. He later became a talented pitcher and played several games for the representative team of the City of Haarlem. Van Berkel kept on playing and doing other activities for SC Haarlem, until he moved to Heerhugowaard in 1975. At The Herons, Van Berkel became the Head Coach of the main baseball-squad. He guided the team to a higher division, but then focused more on coaching and training youth-players.
In his long affiliation with baseball, Van Berkel was and still is a big promoter of both baseball and softball, especially in the Province of Noord-Holland. Van Berkel started introducing baseball on local schools and also conducted coach-clinics. Besides that, he stood at the basis of the successful baseball- and softball-school Noord-Holland, trainingcamps that are hosted at the site of The Herons. There, players from local clubs in the Province of Noord-Holland could participate in practice-sessions, conducted by some wellknown coaches, including (former) National Team-players.
(February 18)
Related Article:


Loek Loevendie newest member Dutch Hall of Fame (October 4, 2014)