Netherlands vs. Arizona Diamondbacks
The Netherlands faced Cy Young Award-winner Zack Greinke, who had made one start so far during this years Spring Training. On March 3, the 33-year old righthander started against the Los Angeles Dodgers and pitched the first 1 2/3 inning. Greinke stuckout one batter, walked one and gave up one basehit. When he left the mound in the top of the second inning, the Diamondbacks led 2-0 and with that, Greinke became the winning pitcher.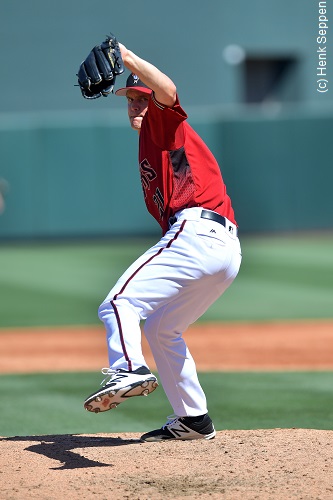 ...Arizona-starter Zack Greinke...
(© Photo: Henk Seppen)

Greinke made his Major League-debut in 2004 with the Kansas City Royals, for whom he played through 2010. He was then traded to Milwaukee Brewers in December 2010. Halfway the 2012 season,Greinke was traded again, this time to Los Angeles Angels of Anaheim. A few months later, he became a Free Agent and signed with Los Angeles Dodgers. After having played three seasons with the Dodgers, Greinke again opted for Free Agency and then signed with Arizona Diamondbacks in December 2015.

Last season, Greinke was 13-7 with a 4.37 ERA having started 26 games. In his career, the righthander is 155-100 with a 3.42 ERA. Greinke won the Cy Young Award in 2009 and played in the All Star Game in 2014 and 2015. On March 1, Arizona-Manager Torey Lovullo announced that Greinke will be his starting pitcher on Opening Day.

Andrelton Simmons led off the game for the Orange squad with a single off of Greinke. The righthander followed with a strikeout for Xander Bogaerts, then was supported with a double play.

Veteran Rob Cordemans was the starter for the Netherlands. With that, he made his third start in an exhibition game. Cordemans gave up singles to Kristopher Negron and Daniel Descalso to put runners on first and third base. A week ago, Descalso participated with Italy in the World Baseball Classic in Pool D in México. There, Italy played a tiebreaker-game last Monday against Venezuela, lost 4-3 and was eliminated. Next batter Chris Owings flied to centerfielder Jurickson Profar in short centerfield. Negron took off from third base, but returned, however, Profar threw the ball past catcher Shawn Zarraga and that enabled Negron to score the first run after all. Descalso advanced to second base, then scored on a following single by Jason Pridie to make it 2-0 in favor of Arizona.

In the second inning, Jonathan Schoop singled with two outs for the Netherlands, but stranded. The Diamondbacks then enlarged its lead to 5-0 by adding three more runs in the bottom of the second inning off of new pitcher Mike Bolsenbroek. The righthander began with walks for Colin Bray and Jake Goebbert. The lead runner was forced out on third base on a bunt by pitcher Zack Greinke. Bray reached third base just in time to beat the throw from catcher Shawn Zarraga. However, he was called out by 3B Umpire Doug Eddings, who also was in México a week ago. There, he was one of the three Major League-umpires in the 6-man crew, which also included Dutch umpire Winfried Berkvens. Hereafter, the bases got loaded after all when Kristopher Negron reached on an infield-hit and then Daniel Descalso delivered a 2-run single. With runners at the corners, Descalso stole second base. Moments later, Negron scored on a sacrifice fly by Chris Owings to make it a 5-0 score. When Bolsenbroek hit next batter Jason Pridie with a pitch, he was replaced by Shairon Martis. The former Major League-pitcher struckout Chris Iannetta to end the inning.

The Netherlands showed some hitting of its own in the top of the third inning, resulting in one run. Yurendell de Caster led off with a single and Kalian Sams followed with a double. Hereafter, Andrelton Simmons hit a sacrifice fly to bring in De Caster and made it a 5-1 score. Shortly thereafter, Sams was picked off second base by Greinke. Xander Bogaerts then singled, but was left behind.

The D-backs got the run back in the bottom of the third inning off of Martis. Oswaldo Arcia led off with a double, but Martis followed with two strikeouts. Arcia then scored on a single by Zack Greinke. That brought in Loek van Mil as new pitcher and he closed the at bat.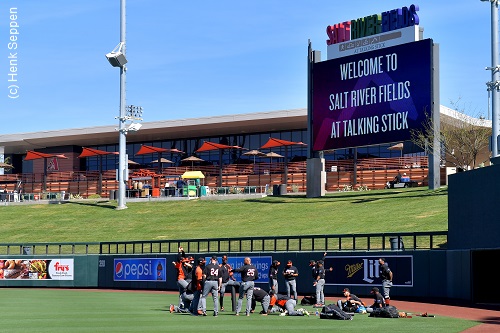 ...The game was played at Salt Rivers Field at Talking Stick,...
...the Spring Training-home of the Arizona Diamondbacks...
(© Photo: Henk Seppen)

After the Orange-side was retired in order in the top of the fourth, Arizona struck with four runs in its fourth off of Van Mil, three of which were unearned. With one out, Chris Owings homered. Van Mil followed with a strikeout, but then gave up a double to Chris Iannetta and walked Oswaldo Arcia. The bases got loaded when an grounder by Colin Bray ended in an error. He grounded to short stop Didi Gregorius, but then first baseman Yurendell de Caster dropped the ball, which loaded the bases. That led to the next pitching change, as Tom de Blok took over for Van Mil. The righthander was greeted with a baseclearing, 3-run double by Jake Goebbert that lifted the lead to 10-1.

In the top of the fifth, Shawn Zarraga led off with a single for the Netherlands. However, with one out, he was eliminated in a double play after Kalian Sams had lined out to third baseman Daniel Descalso.

In the bottom of the fifth, Arizona scored another run. De Blok walked lead-off hitter Kristopher Negron, but retired the next two batters. With Negron on second base, lefthander Jim Ploeger was brought in as new Dutch pitcher. He gave up a runscoring double to Jason Pridie that made it 11-1, but closed with a strikeout.

Zack Greinke left the game after five complete innings. Jorge De La Rosa took over in the sixth, but he walked Andrelton Simmons and Xander Bogaerts. The latter was forced out and the Netherlands stranded runners at the corners.

Arizona added another run in the bottom of the sixth when Stewart Ijames led off with a homerun off Ploeger. With one out, the lefthander hit Jake Goebbert with a pitch. Lars Huijer then became the new pitcher and the Dutch defense ended the inning with a double play.

While Huijer and his successor Juan Carlos Sulbaran held Arizona scoreless in the seventh and eighth inning, the Netherlands scored four runs in the last three innings.

J. Hoover became the third Arizona-pitcher in the seventh inning. With two outs, he saw Curt Smith reach on an error, then gave up a homerun to Kalian Sams that made it 12-3.

In the top of the ninth, off of new pitcher Erik Davis, two more runs were scored. With one out, Stijn van der Meer and Dashenko Ricardo singled, then the bases got loaded when Curt Smith walked. Hereafter, Kalian Sams singled to bring in two runs and made it a 12-5 score. With that, Sams batted four of the five runs the Netherlands scored. He was 3-for-4 today. With runners on first and second base, next batter Dwayne Kemp went after the first pitch of Davis and grounded into a game-ending double play.

The following players got into action:
Andrelton Simmons (DH, 1-for-1, RBI, walk), Dwayne Kemp (PR-DH-2B, 0-for-2), Xander Bogaerts (3B-SS, 1-for-3, walk, 2 strikeouts), Jurickson Profar (CF, 0-for-2), Sharlon Schoop (CF, 0-for-2), Wladimir Balentien (RF, 0-for-2), Randolph Oduber (RF, 0-for-2, strikeout), Didi Gregorius (SS-2B-DH, 0-for-4, strikeout), Jonathan Schoop (2B, 1-for-2), Stijn van der Meer (2B-3B, 1-for-2, run), Shawn Zarraga (C, 1-for-2), Dashenko Ricardo (C, 1-for-2, run, strikeout), Yurendell de Caster (1B, 1-for-2, run), Curt Smith (0-for-1, run, walk), Kalian Sams (LF, 3-for-4, double, homerun, run, 4 RBI's).