In today's game, there were no runs and only three basehits. The pitchers of both teams controlled the game, as they struckout 12 batters combined. It were the three Neptunian pitchers, who were most successfull in this category, as they struckout nine batters. The five pitchers that took the mound in this game, walked six batters combined.

Behind the plate was international umpire Winfried Berkvens. Earlier in the week, he returned from México, where he had been one of the umpires in Pool D in the First Round of the World Baseball Classic.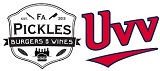 Neptunus reached third base only once and got into scoring position only twice.

With one out in the top of the first inning, Ruar Verkerk singled for Neptunus, but next batter Daniel Fernandes grounded into a double play.

With one out in the second inning, UVV-starter Gillian van Lith saw Shaldimar Daantji reach on an error, but the next two batters flied out.

In the third, Neptunus again reached base with one out. Van Lith then gave up a basehit to Greg Muller, then walked Urving Kemp. Again, two flyouts followed.

In the top of the fourth, Neptunus came closest to scoring a run. Gianison Boekhoudt led off with a walk, advanced on an one-out grouder, then stole third base. But he stranded there, when a flyout ended the at bat.

José Moreno took over the UVV-pitching in the fifth and retired the side. In the sixth, he walked Boekhoudt with two outs, but again, a flyout ended the at bat. Moreno retired the side again in the seventh, which was the last inning of the game.

UVV faced three pitchers and got into scoring position only once today.

Neptunus-starter Misja Harcksen walked Timo van Ancum with one out in the first inning, but he was forced out. In the second, Steven van Reem singled with one out and with that accounted for the lone UVV-basehit. He stranded on first base.

In the third, Cecil Comenencia led off with a walk and advanced on a passed ball to become the lone runner of UVV to reach second base and get into scoring position. He was left behind on second base, as Harcksen struckout two of the next three batters.

In the fourth inning, Stefan Iannelli took over the pitching. He walked Randy Daal with one out, but he was forced out. In the fifth, Iannelli began with two strikeouts, then hit Comenencia with a pitch, but closed with another strikeout.

Berry van Driel pitched the sixth and seventh inning for Neptunus and retired all six batters he faced. Five of them on grounders.