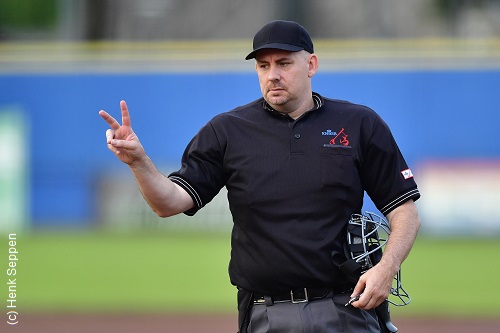 ...Home Plate Umpire Martijn Bosschaart...
(© Photo: Henk Seppen)

Pioniers opened the score in the first inning off of veteran Rob Cordemans. With one out, Mervin Gario doubled and scored on a 2-out single by Jeffrey Arends, who advanced himself on an error. Hereafter, a painful moment followed for Home Plate Umpire Martijn Bosschaart, as he was hit on his left hand by a foul ball from Shurman Marlin. A 3-minute delay followed, as Bosschaart needed some attending (and ice) on his hand. Luckily, Bosschaart, who developed into one of the most talented umpires the past seasons, was able to continue the game.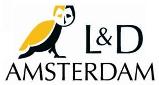 In the next three innings, Pioniers didn't get into scoring position. The team got a baserunner in the second when Sander Paap walked, but he was caught stealing. Pioniers was retired in order in the third. The home team got another runner in the fourth. With two outs, Shurman Marlin singled down the leftfield-line, as the Pirates-defense played the shift and had moved to the rightside of the infield. But Marlin also was left behind.
Pioniers added its second run in the fifth at bat. With one out, Gianni Frolijk doubled, then scored when next batter Joey Eeman reached on a throwing error.
Cordemans kept his cool (as always) and retired the side again in the sixth and seventh inning. He was then supported with three runs in the sixth and went on to win his fourth game of the season.
Pioniers-starter Lars Huijer encountered not much problems in the first five innings, as Pirates got into scoring position only once. In the first inning, the righthander gave up a 2-out single to Nick Urbanus, but he stranded on first base. In the second, Danny Rombley singled with one out, but was forced out. Max Clarijs led off for Amsterdam with a walk in the third, but was caught stealing. And in the fourth, Kenny Berkenbosch reached on an error with one out, but also was forced out. In the fifth, Patrick Bok led off with a single and became the first Amsterdam-runner to get in scoring position after advancing on a sacrifice bunt by Jesse Aussems. But he also was left behind.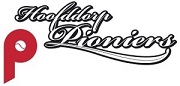 However, the Amsterdam-hitters had good contact. They underscored that in the sixth when the squad produced some hard hits and rally for three runs to turn the game its way.
Zerzinho Croes led off the Amsterdam-sixth with a single and moved on a grounder by Nick Urbanus. After Kenny Berkenbosch walked, Linoy Croes hit the ball into leftfield. There, leftfielder Shurman Marlin misjudged the ball and saw it go over his head for a 2-run triple. Moments later, Croes scored the go-ahead run when Danny Rombley hit a line drive single off of the glove of short stop Max Draijer into leftfield. Rombley moved on a grounder then tried to score on a single by Jesse Aussems, but was eliminated at the plate on a nice throw by rightfielder Brennan Nijhof.
Amsterdam got a chance to add some more runs in the next two innings, but added only one.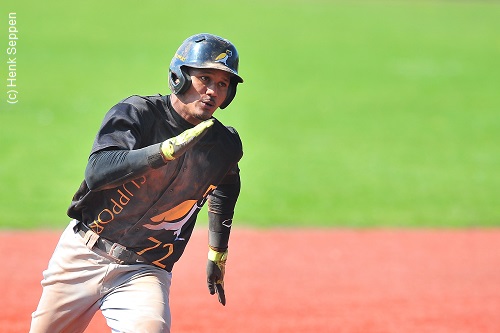 ...Linoy Croes hit two triples for Amsterdam Pirates...
(© Photo: Henk Seppen)

In the seventh, Max Clarijs led off with a walk. Hereafter, Remco Draijer bunted the ball back to pitcher Lars Huijer, but was unable to throw the ball to first base, as there was one there to receive it. And so, Draijer reached on a bunt-single. Another bunt followed by Zerzinho Croes, but that ended in a force out at third base. Two flyouts completed the at bat.

In the top of the eighth, a lot happened. Rookie Angelo Wicklert took over the pitching from Huijer, but was greeted with a lead-off triple from Linoy Croes, his second threebagger in the game. Next batter Danny Rombley was hit by a pitch and when a pick-off attempt ended in a throwing error, Croes scored to make it a 4-2 score. On the error, Rombley advanced to third base. Hereafter, Patrick Bok grounded to second baseman Gianni Frolijk. Rombley took off to score, but was eliminated in a long rundown. In this situation, Bok moved to second base, but then ran towards third base and also was eliminated when he also got into a rundown. And that completed a 4-2-5-1-6-5-2-4 double play. After the second out was made, some players suddenly surrounded 3B Umpire Stenar van Groningen Schinkel and were joined by Head Coach Dè Flanegin. The cause of the discussion was the fact that 3B Mervin Gario had been ejected for making a remark. When Gario was replaced, the game continued. Jesse Aussems singled, but was left behind.

In the bottom of the eighth, lefthander Nick Veltkamp took over the Amsterdam-pitching and retired the side.

In the top of the ninth, Amsterdam left two runners behind, then closer Daan Hendrix took the mound for the team in the bottom of the ninth. He got two quick outs, but then got two painful moments. First, the righthander was hit on his inside-leg by a comeback line drive of the bat of Jeffrey Arends, who reached on an infield-hit. Hendrix was briefly attended, but five pitches later, he was hit on his shin by a comeback-line drive from Shurman Marlin, but he was eliminated and that ended the game. While Hendrix hobbled around, the Amsterdam-players walked on the field to high-five each other, but they couldn't hide their laughs after their closer had been hit twice by a line drive. Luckily, Hendrix didn't got injured.