Starting pitcher Jim Ploeger dominated for HCAW tonight. The lefthander struckout eight batters and gave up only two hits in the seven innings he pitched.

Twins had a surprise starting pitcher tonight. Not one of its regular pitchers took the mound, but one of its outfielders. Nick Peels mostly played in the outfield, but already had made six appearances as a reliever this season. Tonight, he made his first start.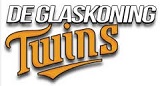 Initially, Peels encountered no big problems in the first inning. He gave up an one-out single to Dylan Koster, but he was caught stealing.

In the second at bat, Peels gave up two runs, which were to be the lone runs tonight. He hit lead-off hitter Kevin Dirksen with a pitch, then gave up a runscoring double to Rossini Frolijk. The latter moved to third base on a single by Seb Visser, then scored on a sacrifice fly by Kevin Weijgertse. A walk for Sven Jongejans followed and with two outs, Visser stole third base, but HCAW left two runners behind.

Peels retired HCAW in order in the third, but the home team got on base again in the fourth. With one out, Seb Visser walked, but he was eliminated on second base on a hit into rightfield by Kevin Weijgertse. Another walk followed, this time for Sven Jongejans, which led to a pitching change. Brendan Schoemaker took over and got a flyout that ended the at bat.

In the remainder of the game, HCAW was unable to take more distance, but hold onto the small lead.

In the fifth, HCAW left runners behind on second and third base. Roelie Henrique led off with a single and moved when a pick-off ended in a throwing error. With one out, Vince Rooi walked and with two outs, a double-steal followed, but the runners were left behind.

In the sixth and seventh inning, a HCAW-runner was caught stealing and in the eighth, the Bussum-squad left two more runners behind on second and third base.

Twins got into scoring position first in the second inning. With one out, Mick Molenaar singled and moved on an outfield-error, then reached third base on a single by Menno Lenting. Moments later, Lenting stole second base, but Jim Ploeger struckout the next two batters to close the inning.

In the third, Ploeger walked Bram Grooten and he stole second base, but then also stranded.

In the next four innings, Ploeger retired the side. After having retired 14 consecutive batters, Ploeger was relieved by Steven van Groningen in the eighth. He gave up a 2-out single to Jamie Verheyleweghen, but was left on first base.

Closer Sedley Karel threw the ninth inning for HCAW. He struckout three batters, but also encountered some problems. He walked lead-off hitter Dennis De Quint, then also walked Melvin Perdue. Karel followed with two strikeouts, but then saw the two runners advance on a wild pitch. With runners now on second and third base, Karel struckout the nex batter to end the game and earn his fourth save of the season.