Neptunus opened the score in the top of the first inning off of starter Timo van Ancum when the UVV-defense committed two errors. With one out, Stijn van der Meer singled. Neptunus then got runners on first and third base when next batter Dwayne Kemp reached on an error. Another error then was made on a force play-grounder by Gianison Boekhoudt, which enabled Van der Meer to score. Another force play followed hereafter and this time, the UVV was successful. Daniel Fernandes hit the ball into centerfield, but there, centerfielder Rick Kuipers got the ball in time on second base to force out Boekhoudt. Kemp later stranded on third base when a grounder ended the inning.

Neptunus got into scoring position again in the second inning. With one out, Urving Kemp and Jochem Koedijk both singled. Hereafter, Shaldimar Daantji grounded into a double play, but it was clear that Kemp was tagged out with an empty glove, as third baseman Rodney Daal had the ball in his other hand.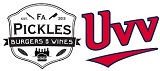 After Van Ancum had retired the side in the third inning, he saw Neptunus get another runner in scoring position in the fourth. With one out, Ruar Verkerk doubled, but was left behind.
Trailing 1-0, UVV got a chance to come alongside in its first at bat off of Diegomar Markwell. With one out, the lefthander walked Jelle Blaauw and then saw Tijmen Takke reach on an error, but they stranded.

In the second inning, Markwell was supported with a double play and he retired the side in the third. But he then saw UVV take a 2-1 lead in the bottom of the fourth. Tijmen Takke led off with a double and Rodney Daal walked. The two advanced on a sacrifice bunt by Randy Daal and both went on to score moments later. Takke first scored the tying run on a wild pitch, while Daal moved to third base. Next batter Steven van Reem then walked and while he was forced out at second base on a grounder by Julian Goins, Daal scored the go-ahead run.
From the fifth inning on, Neptunus got a chance of turning the game its way, but the squad left six runners behind in the fifth, sixth and seventh combined, while UVV added a run.
In the fifth, Neptunus got the bases loaded. Lead-off hitter Jochem Koedijk reached on an error and moved on a sac-bunt. Hereafter, Stijn van der Meer and Gianison Boekhoudt (with two outs) walked, but a pop-up ended the at bat.
In the sixth, the Rotterdam-squad again saw its lead-off hitter reach on an error. Ruar Verkerk struckout, but reached on a throwing error. He was forced out moments later on a grounder by Gregory Muller, then Koedijk walked with two outs. This time, the inning ended when Shaldimar Daantji lined out to first baseman Randy Daal.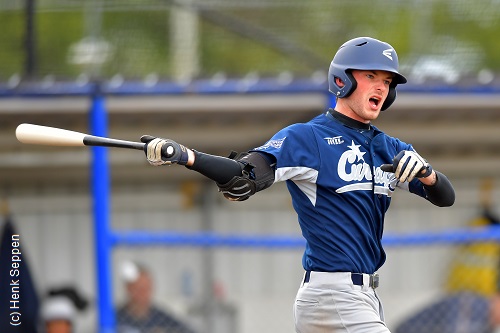 ...Ruar Verkerk hit three basehits, including two doubles...
(© Photo: Henk Seppen)

In the seventh, off of new pitcher José Moreno, Dwayne Kemp singled with one out and stole second base, but was left behind.

After giving up the two runs in the fourth inning, Diegomar Markwell retired the side in the fifth and sixth inning, but then gave up another run in the seventh. With one out, Julian Goins singled and scored on a double by Mike Bazuin to make it a 3-1 score. However, Bazuin, who in the past has played for Neptunus, tried to advance to third base on the throw to the plate, but was eliminated.

In the top of the eighth inning, Neptunus erased the deficit and came alongside. Roderick Hennekes took over the pitching for UVV, but gave up a lead-off single to Ruar Verkerk, followed by a double from Gregory Muller. With one out, Verkerk was eliminated at the plate trying to score on a grounder by Jochem Koedijk towards third base. With two outs, Neptunus got the bases loaded when Shaldimar Daantji walked. Stijn van der Meer followed with a 2-run single that made it a 3-3 score and also led to a pitching change, as Jonah Van Bemmelen took over.

Markwell retired the side again in the eighth and Neptunus took a 4-3 lead in the top of the ninth. With one out, Daniel Fernandes doubled, advanced on a wild pitch and scored when Ruar Verkerk hit his second double in the game. Gregory Muller then walked, but a a double play ended the at bat.

The lead was shortlived, as UVV came alongside in the bottom of the ninth. Diegomar Markwell, who had given up only three basehits, was relieved by Misja Harcksen. He was greeted with a single by Rodney Daal and was replaced by Berry van Driel. Another change followed, as Daal was replaced by pinch-runner Julian Rip, who played in his first game after returning home after completion of his college-season in the USA. With one out, Rip moved on a grounder from Steven van Reem, then scored the tying run on a single by Julian Goins, who himself was left behind on second base.

With six minutes remaining before the expiration of the curfew, the tenth inning went underway.

In the top of the 10th, Neptunus left two more runners behind. Jochem Koedijk led off with a walk and moved on a sacrifice bunt by Shaldimar Daantji. With first base open, Stijn van der Meer was walked intentionally to set up a force play. Hereafter, Van Bemmelen was relieved by Kevin van Veen, who is the scheduled starter for Sunday's game. He got two flyouts that ended the at bat.

Van Driel gave up an one-out single to Sergino Martis in the bottom of the 10th, but his pinch-runner Brandon Rijnbergen stranded on first base.

Neptunus left 15 runners behind, including ten in scoring position.