UVV led 4-1 halfway the fourth inning, but then Neptunus rallied for four runs and turned the game its way.

UVV took an 2-0 lead in the top of the first inning off of starter Kevin Kelly. Lead-off hitter Rick Kuipers reached on an error, then the bases got loaded when Tijmen Takke walked and Bryce Cherry reached on a bunt-single. A sacrifice fly by Mike Bazuin and a grounder by Sergino Martis then gave UVV an early lead.

In the bottom of the first inning, Neptunus cut the deficit in half off of starter Timo van Ancum when Shaldimar Daantji led off with a triple, then scored on a double by Ruar Verkerk.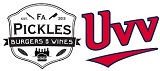 UVV took some more distance by scoring a run in the second and third inning. In the second, Julian Goins tripled with one out and scored on a sacrifice fly by Cecil Comenencia. In the third, Mike Bazuin scored with two outs on a single by Sergino Martis to lift the lead to 4-1.
In the bottom of the fourth, off of new pitcher Kevin van Veen, Neptunus struck with four runs. Daniel Fernandes and Gianison Boekhoudt led off with singles, then the latter was forced out on a grounder by Urving Kemp. Moments later, Kemp stole second base, which was followed by an error that enabled Fernandes to score. A single by Greg Muller and a double by Jochem Koedijk then tied the score. With two outs, Shaldimar Daantji also doubled to give Neptunus a 5-4 lead.
In the fifth, Neptunus added a run when Christian Diaz tripled and scored on a wild pitch.
UVV scored its next run in the top of the sixth off of rookie-pitcher Mike van den Berg, who had taken over in the previous inning. He walked Sergino Martis, then gave up a single to Steven van Reem, but struckout the next two batters. A walk for Cecil Comenencia loaded the bases and a pick-off throwing error by the catcher then led to a run, but UVV stranded two runners.
In the bottom of the sixth, Neptunus rallied for five runs. Rookie Den Seelbach led off with a single. Hereafter, Shaldimar Daantji hit his second triple in the game and scored on a following double by Ruar Verkerk. The latter then moved on a grounder by rookie Ruendrick Pieternella, but was unable to advance on an infield-hit by Christian Diaz. A single by Daniel Fernandes, followed by a throwing error, led to two more runs. Gianison Boekhoudt then walked and Urving Kemp added a runscoring single that lifted the lead to 11-5. While there was only one out, it also ended this at bat.
In the seventh, Neptunus again rallied for five runs, highlighted by a 3-run homerun by Christian Diaz.
In the eighth, UVV was able to do some scoring again off of new pitcher Elton Koeiman. With one out, Berend Ruben tripled and scored on an error with two outs on a grounder by Cecil Comenencia, who later scored himself on another error.
In the bottom of the ninth, Roland Laurens pitched for UVV. With one out, he walked Christian Diaz, then retired the next two batters. While there were three outs, the inning continued and the next batter also was eliminated. With four outs and a runner on base, Greg Muller was the next batter and he homered to lift the lead to 18-7. And that also ended the game.