(Story by Marco Stoovelaar)

Pioniers again wins against RCH-Pinguïns
Nederlands



HOOFDDORP (Neth.) - Hoofddorp Pioniers on Sunday (March 19) played its second game of the weekend against RCH-Pinguïns and won again.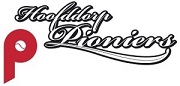 On Saturday, Pioniers won only 6-5 in its first game. Today, a bigger 10-3 victory was registered in a 6-inning game.
On a stormy afternoon, Pioniers collected several basehits to support its three pitchers. ,,There was a lot of wind today'', Pioniers Head Coach Dè Flanegin looked back. ,,That caused the pitchers to be off-balance some time. Today's win was a collective win by the team, hitting, pitching, everything. These were very useful games. Yes, I'm happy with what I've seen.''
Pioniers has a small roster and so, Flanegin frequently will use several players of the second team (former Rookie Team) in the exhibition games and probably also during the regular season. The team currently has to do without powerhitter Brian Raap, who will be out for awhile with a knee-injury. Also, talented infielder Oliver van der Wijst Severino last Wednesday traveled to the Dominican Republic to start his professional career. Van der Wijst recently signed a 7-year contract with the Houston Astros.
(March 19)
Related Article:


Pioniers opens exhibition season with two wins. (March 18)


Oliver van der Wijst Severino signs contract with Astros. (March 9)


HCAW opens exhibition season with small win vs. RCH-Pinguïns. (March 4)