DSS, which committed six errors, trailed 2-1 after four innings, then scored three runs in the fifth. Twins came alongside moments later, but saw DSS score three runs in the sixth, which proved to be decisive. What also contributed were ten walks issued by three Twins-pitchers.

DSS opened the score with one run in the first inning off of rookie Jan Evertse. With two outs, Kevin Nieveld reached on an error, advanced on a single by Omar Williams and scored on an infield-hit by Tino van Erk.

DSS left two runners in the first inning, then stranded two more in the third at bat. With one out, Kevin Nieveld walked and with two outs, Tino van Erk was hit by a pitch. The two moved on a wild pitch, but then were left behind.

Twins reacted with two unearned runs in its third at bat off of starter Mike Groen. After Bram Grooten had led off with a single, an error was made on an one-out force play-grouder by Melvin Perdue, who last year made his big league-debut playing for DSS. Jamie Verheyleweghen followed with a runscoring double that tied the score. Perdue also tried to score, but got in a rundown between third and the plate and was eliminated. With two outs and Verheyleweghen on third base, Dennis De Quint reached on an error, resulting in the next run to put Twins ahead, 2-1.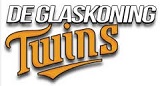 After both teams left a runner in scoring position in the fourth inning, DSS rallied for three runs in the fifth. Mitchel Dautzenberg led off with a double and reached third base on a wild pith. With one out, the bases got loaded when Omar Williams and Tino van Erk walked. Jordan Illis followed with a 2-run double, then another run was added on a fielder's choice-grounder by Sven van de Sanden. A double play followed, but DSS led 4-2.
Twins came alongside in its fifth at bat. With one out, Melvin Perdue and Jamie Verheyleweghen both sigled. After the two had advanced on a wild pitch, they scored on a following double by Dennis De Quint.
DSS staged another 3-run rally in the sixth to take the lead for good. Levine Gabriëls (who was 3-for-4) led off with a single, Odion Gouverneur reached on a bunt-single and the two moved on a sacrifice bunt. A single by Kevin Nieveld gave DSS a renewed lead and also led to a pitching change. Nick Peels took over, but he walked Omar Willliams, then gave up a runscoring single to Tino van Erk and a sacrifice fly by Jordan Illis, which gave DSS a 7-4 lead.
After DSS had left three runners behind in the eighth, Twins got one run back in the bottom of the eighth. Bart Janssen then singled with one out, stole second base, moved on a single by Bram Grooten, then later scored on an error. Twins left a runner behind on third base, which would be its final runner in scoring position.