A week ago, Jim Ploeger struckout 11 batters and gave up only four basehits in 5 1/3 inning in his Opening Day-assignment against Hoofddorp Pioniers. HCAW won 14-4 and Ploeger was the winning pitcher. Tonight, the lefthander struckout 'only' six batters, but took a No-Hitter into the sixth ining. That ended with two outs, but Ploeger earned his second victory of the season.

Ploeger was supported with two early runs in the first inning and controlled the game from that moment. In the bottom of the first inning, off of starter Timo van Ancum, HCAW got the bases loaded quickly. Roelie Henrique and Delano Selassa began with singles and Vince Rooi walked. With the bases loaded, Kevin Dirksen reached on an infield-hit to bring in the first run. Second baseman Randy Daal fielded the ball on the infield/outfielder-border, attempted to force out Rooi at second base, but had no chance. With that, Dirksen was credited with an infield-hit, as Daal also had a slim chance of eliminating the batter, which is why he tried to force out the runner. Hereafter, the next run was scored on a sacrifice fly by Kevin Weijgertse to give HCAW a 2-0 lead.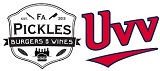 After giving up the single to Dirksen, Van Ancum recovered and also did fine in the following innings. The righthander retired 14 of the next 17 batters, before giving up another run in the sixth inning.

A weird incident happened in the bottom of the second inning. With one out, Koen Werkman reached on an infield-hit, his first big league-hit, but he couldn't savor the moment for long. Moments later, he took off to steal second base, was eliminated and sustained an injury. It appeared that he tripped or was hooked behind the base during his sliding and when he stood up, it was immediately clear that he was hurt. He was holding his right arm, which he kept to his body and walked off the field towards the area behind first base. There, some teammates joined him, Werkman walked across the dug-out and left for the clubhouse. Further examination on Friday will reveal what his injury will be and how long he will be out of action. Last Sunday, Werkman had made his big league-debut.

In the first five innings, Jim Ploeger held UVV hitless. The lone batter to reach base was Randy Daal, who walked twice, but stranded at first base both times. In the sixth, Ploeger struckout the first two batters, but hereafter, Tijmen Takke lined the ball into centerfield for a double, ending his No-Hitter. Randy Daal followed with a single, but UVV left runners behind at the corners.

In the bottom of the sixth, HCAW added its third run. Kevin Dirksen led off with a single, then scored on an one-out double by Boyd Tuhumury.

HCAW scored three runs in the seventh to lift the lead to 6-0. With one out, Seb Visser (who had replaced Werkman as designated hitter) walked. Hereafter, José Moreno relieved Timo van Ancum and walked Roelie Henrique. The latter was forced out on a grounder by Delano Selassa, but Vince Rooi followed with a runscoring double. With two outs and runners on second and third base, Kevin Dirksen popped up the ball near the third base-line for what might have been a catch-opportunity for third baseman Mike Bazuin. Instead, catcher Giovanni Samboe (who made his comeback in the big league) went after it, while it was more difficult for him to catch the ball. In the end, he reached with his glove, but the ball dropped for an infield-hit. As both runners took off on contact, both scored and made it a 6-0 score.

UVV scored its lone run in the top of the eighth inning off of Steven van Groningen, who had taken over the inning before. Jelle Blaauw led off with a walk and Tijmen Takke singled down the rightfield-line. Blaauw advanced to third base and scored on a single by Randy Daal, which led to a pitching change. Giovanni Tensen took over, was supported with a double play and a flyout ended the inning.

In the bottom of the eighth, HCAW scored another run off of reliever Jimmy Osinga. He gave up a lead-off single to Boyd Tuhumury, who then scored on a basesloaded walk for Delano Selassa.

Sedley Karel closed the game for HCAW in the ninth. With a runner on second base and two outs, the righthander closed the game with a strikeout.