(Story by Marco Stoovelaar; Photos by Freek Bouw/Phrake Photography)




Netherlands Baseball Team wins big in exhibition game vs. Geckos
Nederlands



SCOTTSDALE, Arizona (USA) - The Netherlands Kingdom Baseball Team registered a big 15-0 shutout-victory on Thursday-afternoon (February 23) against the Geckos, the team of GateWay Community College from Phoenix (Arizona). While the Orange squad already led 10-0 after four innings, no mercy-rule was used and all nine innings were played. Four years ago, the Netherlands also played against GateWay during its preparations for the World Baseball Classic. Back then, the Dutch won 'only' 6-1.

The team of Manager Hensley Meulens had started its series of exhibition with two losses. On Thursday and Friday of last week, the team lost from South Korean professional teams KT Wiz and NC Dinos. The Netherlands led in both games, but lost 5-2 and 10-9 respectively. On Monday, the initially scheduled game against GateWay CC was cancelled due to rain, but was re-scheduled for today.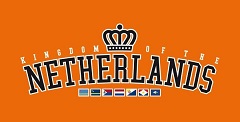 The exhibition series will be closed with two games against LG Twins, another team from the Korean Baseball Organization. These games will be played on Friday and Saturday.
At the Spring Training-complex of the San Francisco Giants, the Netherlands was very productive today and decided the game early with a 6-run rally in the first inning. Strong pitching held the collegiate opponent scoreless. Besides that, the defense supported their pitchers with two double plays. The team was led offensively by Dwayne Kemp, who hit three doubles, while Stijn van der Meer also had three basehits.
In the first at bat, ten batters stepped up to the plate, who put on an offensive show. Six runs were scored thanks to a double by Randolph Oduber, an infield-hit by Stijn van der Meer, double by Dwayne Kemp, single by Nick Urbanus and triple by Dashenko Ricardo. Hereafter, in the second inning, Van der Meer (who again had reached on an infield-hit) scored on an error to make it a 7-0 lead.

In the third inning, Kemp led off with his second double. He and Gianfranco Wawoe then scored moments later on a single by Oduber.
In the fourth, Kemp hit his third double in the game. With this double, he brought in Sharlon Schoop, who had tripled and with this, the lead was increased to 10-0. Schoop played in his first game and also doubled today. Schoop started in leftfield, but later played at third base.
In the sixth inning, the lead was enlarged even more, thanks to a 5-run rally. The final two runs were batted in by Chadwick Tromp with a single in the sixth inning that followed two errors. Tromp was 2-for-2 after taking over as catcher.
Lars Huijer was the starting pitcher and retired the side in the two innings he pitched. Hereafter, Kevin Heijstek pitched the next two innings. The righthander gave up some basehits, but didn't encouter any problems. Kevin Kelly and Mark Pawelek then pitched one inning each and both were supported with a double play.
Hereafter, Berry van Driel (1 inning), Ryan Oduber (2/3 inning), Tom de Blok (2/3 inning) and Loek van Mil (2/3 inning) also pitched for the Orange squad. Van Mil made his first pitching appearance in the exhibition series.
(February 23)
Related Article:


Exhibition losses Netherlands Team in Arizona. (February 20)