(Story by Marco Stoovelaar; Photo by Henk Seppen)




Xander Bogaerts first Netherlands player to see Spring Training-action
Nederlands



FORT MYERS, Florida (USA) - Xander Bogaerts is the first player from the Netherlands to see action during this year Spring Training. On Thursday (February 23), the Boston Red Sox played its first exhibition game of the season and Bogaerts was the starting short stop.

At JetBlue Park at Fenway South in Fort Myers, the Red Sox opened its exhibition season against the Huskies, the team of Northeastern University from Boston. The Huskies play in Division I in college-competition.

On its Spring Training-complex, the Red Sox won 9-6. The BoSox rallied for six runs in the third inning, then gave up two runs in the fourth at bat. Boston added a run in the sixth, then saw the Huskies score twice in the top of the seventh. After Boston scored two more runs in the bottom of the seventh, the Huskies narrowed the deficit to 9-6 by scoring two runs in the top of the ninth. Boston was outhit 9-8.
Xander Bogaerts was the starting short stop for Boston and batted second. He was 0-for-1, walked once and scored a run.
In the bottom of the first inning, Mookie Betts led off for Boston with a walk, then Bogaerts also walked. But they stranded, as a groundout and two pop-outs followed.
Boston was then retired in order in the second inning, but scored six runs in the third. Christian Vasquez led off with a walk, but was forced out on a grounder by Betts. Hereafter, Bogaerts was hit by a pitch. This time, Betts and Bogaerts were not left behind, as next hitter Mitch Moreland homered. Chris Young then singled and Pablo Sandoval doubled. Another 3-run homerun followed, this time hit by Sam Travis.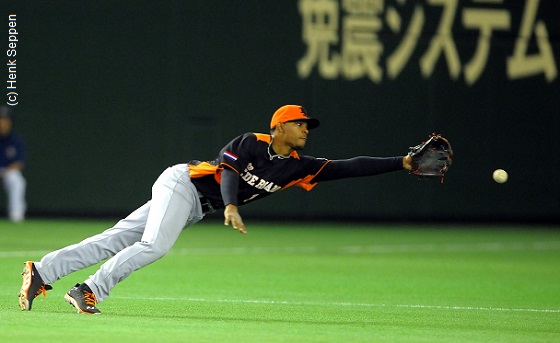 ...Xander Bogaerts playing for the Netherlands...
...during the 2013 World Baseball Classic...
(© Photo: Henk Seppen)

In the bottom of the fourth inning, Bogaerts flied out, then was replaced in the top of the fifth inning.

When Spring Training opened ten days ago, there were nine players from the Netherlands with the Major League-teams. Xander Bogaerts (Boston Red Sox), Didi Gregorius (New York Yankees), Kenley Jansen (Los Angeles Dodgers), Spencer Kieboom (Washington Nationals), Jurickson Profar (Texas Rangers). Jonathan Schoop (Baltimore Orioles) and Andrelton Simmons (Los Angeles Angels of Anaheim) are all on the 40-man Major League-rosters. Bogaerts, Gregorius, Profar, Schoop and Simmons are all on the roster of the Netherlands Kingdom Team for the upcoming World Baseball Classic, which opens on March 6.

On January 25, second baseman Ozzie Albies was invited as non-roster player to be in Spring Training-camp with the Atlanta Braves. Catcher Shawn Zarraga also is a non-roster player. He was invited to be in Spring Training with the Cincinnati Reds on November 25. Last season, Zarraga played in the organization of the Los Angeles Dodgers, but became a Free Agent on November 7.

Of this group, Bogaerts and Zarraga were born on Aruba. Albies, Jansen, Profar, Schoop and Simmons were born on Curaçao. Gregorius was born in Amsterdam (Netherlands) and Kieboom was born in the USA.

It is expected that more players from the Netherlands Kingdom will see action in the upcoming weeks during Spring Training. Last year, 20 players with a Dutch passport participated in Spring Training with 19 of them playing in at least one game. In 2015, there were 21 players from the Netherlands, who were part of Major League-teams during the season's preparations. Fourteen of them played.

(February 23)